Looking Back
August 31, 2022 - NATIONAL DIATOMACEOUS EARTH DAY – NATIONAL EAT OUTSIDE DAY – NATIONAL TRAIL MIX DAY – NATIONAL SOUTH CAROLINA DAY – NATIONAL MATCHMAKER DAY
AUGUST 31, 2022 | NATIONAL DIATOMACEOUS EARTH DAY | NATIONAL EAT OUTSIDE DAY | NATIONAL TRAIL MIX DAY | NATIONAL SOUTH CAROLINA DAY | NATIONAL MATCHMAKER DAY
NATIONAL EAT OUTSIDE DAY | AUGUST 31
Friends, fresh air, and good food are the focus of National Eat Outside Day every year on August 31. Whether at home, a park, a favorite restaurant or food truck, or the beach, food just tastes better when we eat it under the open sky. Read more…
NATIONAL TRAIL MIX DAY | AUGUST 31
Observed annually on August 31st, National Trail Mix Day honors the mix developed as a healthy snack for long hikes. Read more…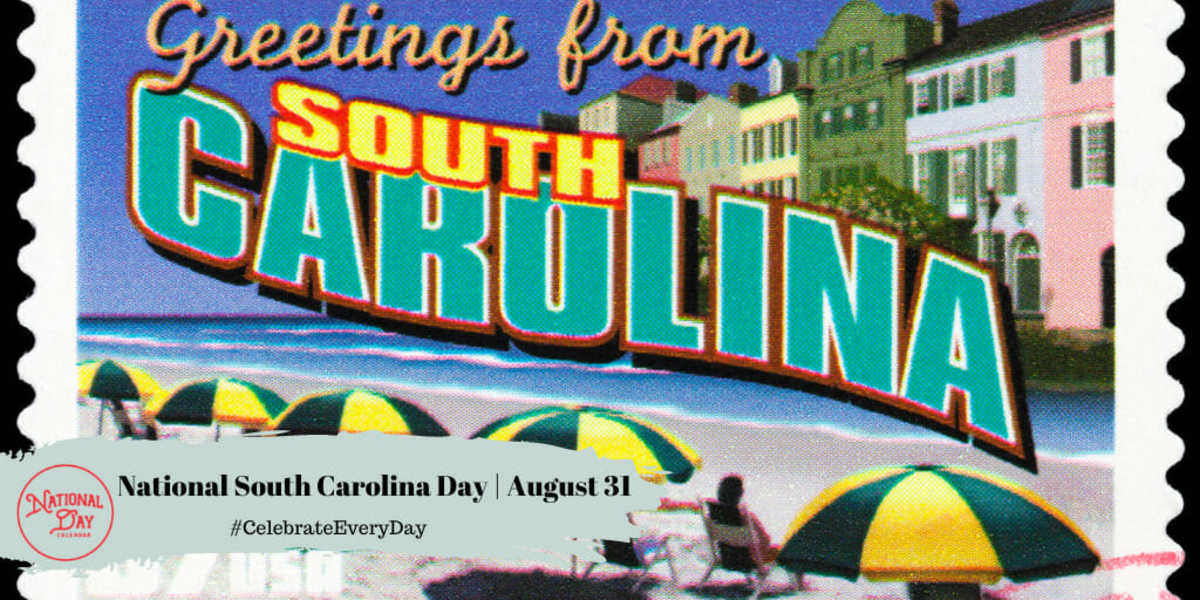 NATIONAL SOUTH CAROLINA DAY | AUGUST 31
On August 31, National South Carolina Day recognizes The Palmetto State and her unique landscapes, bold personalities, and long history. Read more…
NATIONAL MATCHMAKER DAY | AUGUST 31
On August 31st, National Matchmaker Day honors romantics whose dauntless pursuit of perfect purchase for cupid's arrow results in lasting love stories. Read more…
On Deck for September 1, 2022
National Days
National Hotel Employee Day **
International Days
Recipe of the Day
Name: Marinated Pork Chops
Prep: 5 minutes
Marinate: 1 hour
Cook: 20 minutes
Total Prep: 1 hour 25 minutes
Servings: 6
Ingredients:
6 1-inch thick pork chops
1/2 cup olive oil
4 cloves garlic, minced
zest of 1 lemon
juice of 1 lemon
1/4 cup balsamic vinegar
1/4 cup soy sauce
1/4 cup Worcestershire sauce
1 tablespoon Dijon mustard
1 teaspoon onion powder
1/2 teaspoon parsley flakes
1/2 teaspoon kosher salt
1/2 teaspoon freshly ground pepper
Instructions:
Mix all ingredients except the pork chops in a resealable container. Remove 1/4 cup of marinade to use as a basting sauce. Add pork chops and toss until thoroughly coated. Seal the container and chill for at least 1 hour or overnight.
Grill pork chops over medium-high heat, 8 minutes per side. Baste with reserve marinade while grilling.
August 31st Celebrated History
1850
King Kamehameha III declares Honolulu, HI a city and the official capital of the kingdom of Hawaii.
1897
Thomas Edison receives patent No. 589,168 for the kinetoscope camera opening up an era of moving pictures.
1909
Benjamin Shibe receives a patent for his invention of a baseball with a cork center under patent No. 932,911.
1936
Henry Blair receives a patent for a cotton seeder. As the second African American to receive a U.S. patent after Thomas Jennings. The cotton seeder was Blair's second patent.
1910
Glenn Hammond Curtiss completes the first U.S. airplane flight over water. Curtiss is considered the father of the aircraft industry.
1943
The first U.S. Navy ship named after an African American is commissioned. Named after Mess Attendant First Class Leonard Roy Harmon, the USS Harmon honors the sailor's courageous and invaluable service during the Battle of Guadalcanal in 1942.
1946
Warner Bros. debuts Foghorn Leghorn in the Looney Tunes short called Walky Talky Hawky.
1955
General Motors Corp debuts the first solar-powered automobile when Willaim G. Cobb demonstrates the Sunmobile.
1968
Dr. Michael E. Bakey leads the first simultaneous multi-organ transplant. The transplant included a single donor and four recipients.
1979
Time After Time starring Malcolm McDowell, David Warner, and Mary Steenburgen is released. The film combines the imagination of H.G. Well's Time Machine with the pursuit of Jack the Ripper.
August 31st Celebrated Birthdays
Mary Putnam Jacobi – 1842
Jacobi became the first woman to study at the Academy of Medicine in France.
Maria Montessori – 1870
The Italian physician and educator is best known for her educational method. Today, nearly 20,000 Montessori schools provide educational services around the world.
Lizzie Arlington – 1877
Arlington debuts in minor league baseball with the Reading Coal Heavers. Born Elizabeth Stroud, debuts in minor league baseball with the Reading Coal Heavers. During her short-lived career, she played pitcher and second base.
Arthur Godfrey – 1903
Also known as the "Ol' Redhead," Godfrey hosted both radio and television programs.
Helen Levitt – 1913
Levitt was known for her New York street photography.
Richard Gere – 1949
The actor is known for films such as American Gigalo, Pretty Woman, and Primal Fear. He also co-founded the non-profit organization Tibet House.
Fredric March – 1897
Best known for his role in Dr. Jekyll and Mr. Hyde, March also starred in the films The Best Years of Our Lives, A Star is Born and Inherit the Wind.
Marcia Clark – 1953
The U.S. prosecutor rose to fame during the O.J. Simpson murder case.
Sara Ramirez – 1975
The actress is best known for her role as Callie Torres on the television medical drama Grey's Anatomy.
About National Day Calendar
National Day Calendar is the original and authoritative source for fun, unusual and unique National Days! Since our humble beginnings on National Popcorn Day in 2013, we have been tracking the National Days, National Weeks, National Months, and International Days. We became the first calendar of its kind to curate the days all in one place and tell their stories, too! Here at National Day Calendar, we are on a mission to Celebrate Every Day with you! And by you, we mean families, businesses, educators, and strangers we meet on the street. There's more than one day for everyone.
At National Day Calendar, we've found the National Days have a way of inspiring us. We're honored to tell the stories behind the days and provide you with informational ways to incorporate the National Days into your business, family, schools, and home!