Looking Back
August 3, 2022 - NATIONAL GRAB SOME NUTS DAY – NATIONAL WATERMELON DAY – NATIONAL GEORGIA DAY
AUGUST 3, 2022 | NATIONAL GRAB SOME NUTS DAY | NATIONAL WATERMELON DAY | NATIONAL GEORGIA DAY
NATIONAL GRAB SOME NUTS DAY | AUGUST 3
There are many "nut" days throughout the year such as National Almond Day, National Pistachio Day, and National Pecan Day, but August 3rd embraces them all. It's National Grab Some Nuts Day! Read more…
NATIONAL WATERMELON DAY | AUGUST 3
National Watermelon Day on August 3 recognizes the refreshing summertime treat enjoyed at picnics and fairs! And since watermelon is 92% water, it is very satisfying in the summer heat. Read more…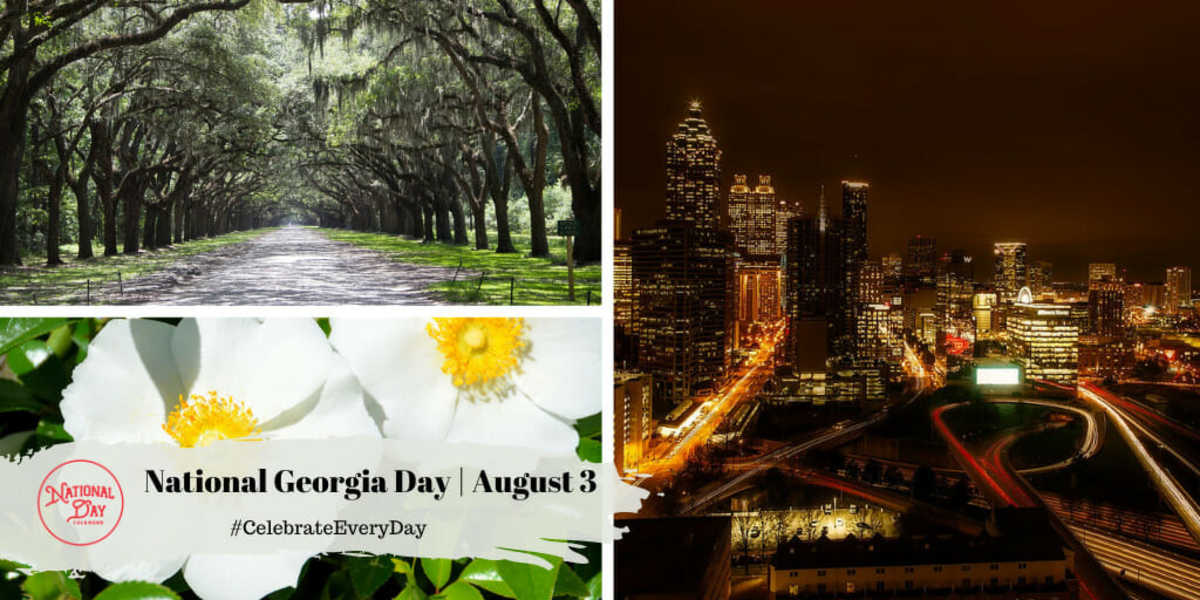 NATIONAL GEORGIA DAY
The 13th colony and the 4th state to enter the Union, National Georgia Day recognizes the natural wonders and immense complexities of this bastion of Southern culture. Read more…
On Deck for August 4, 2022
National Days
International Days
Recipe of the Day
Name: Old Fashioned Date Nut Bread
Prep: 30 minutes
Cook: 50 minutes
Total Prep: 1 hour 20 minutes
Servings: 1 loaf
Ingredients:
3/4 cup chopped dates
1/2 cup chopped walnuts
1/2 teaspoon baking soda
1/4 teaspoon salt
3 tablespoons shortening
3/4 cup boiling water
2 eggs, beaten
1 cup sugar
1 1/2 cup flour
Instructions:
Mix dates, nuts, soda, and salt in a medium bowl. Add shortening and boiling water. Stir until shortening melts. Let stand 20 minutes. Add eggs and vanilla. Mix well. Add sugar and flour gradually. Stir until well incorporated.
Bake in a 350°F oven for 50 minutes or until a toothpick inserted into the center comes out clean.
Cool for 10 minutes before removing to a wire rack to cool completely.
Let stand, wrapped for 24 hours or longer before slicing.
August 3rd Celebrated History
1492
Explorer, Christopher Columbus, sets sail across the Atlantic Ocean in search of a swifter passage to the East Indies. Along with Columbus, his crew sailed in three ships, the Niña, Pinta, and Santa Maria. While he didn't reach the East Indies, they did land on the shores of what is now known as the Bahamas.
1852
Launching intercollegiate athletic events for the first time in U.S. history, Yale College and Harvard University compete in a boating race. The schools' boat clubs raced on Lake Winnepiseogee. The winner? Harvard. The team took home a pair of black walnut oars with silver mountings.
1859
Twenty-six dentists from around the country establish the American Dental Association (ADA). The ADA still functions today, advising on the Nation's oral health.
1900
Harvey Firestone establishes Firestone Tire and Rubber Co. in Acron, OH. The new company produced tires for automobiles under their patented process. It would later go on to supply tires to the Ford Motor Company.
1923
Following the death of President Harding, Calvin Coolidge is sworn into office as the 30th U.S. President.
1936
Jesse Owens wins his first gold medal in the 100-meter dash at the Berlin Olympics. He would go on to win a total of 4 gold medals on the cusp of World War II.
1946
Santa Claus Land opens in Santa Claus, IN. The theme park took a year to construct and is one of the oldest, continually operated amusement parks in North America.
1949
In 1891, James Naismith hung a peach basket creating a new game for physical educations students. Fifty-five years later, the Basketball Association of America and the National Basketball League merge creating the National Basketball Association.
1984
At the 1984 Summer Olympics in Los Angeles, California, Mary Lou Retton scores a perfect 10. Which competition, you ask? She performed her thrilling feat on the vault. She would go on to win a total of 5 medals, more than any other athlete that year.
August 3rd Celebrated History
Elisha Otis – 1811
Otis is the inventor of the first safe elevator designed to carry people and cargo. In 1853, Otis debuted his creation at the Crystal Palace Exhibition in New York.
The Pulitzer Prize-winning journalist is best known for his reports as a war correspondent during World War II.
John T Scopes – 1900
In 1925, a court found Scopes guilty of teaching evolution in his science classes at Rhea County Central High School in Tennessee. He violated Tennessee's Butler Act which prohibited any teachings denying Devine Creation.
Maggie Kuhn – 1905
Kuhn is the founder of the Gray Panthers. She and the organization confronted ageism in America.
Anne Klein – 1923
A trailblazer in the fashion world, Klein launched the Anne Klein & Company in 1968 along with Gunther Oppenheim.
Tony Bennet – 1926
The popular crooner is known around the world for songs such as "I Left My Heart in San Francisco," "It Don't Mean a Thing," and "Stranger in Paradise." He continues to sing with a variety a musical artists, too.
Martin Sheen – 1940
Born Ramón Gerard Antonio Estéves, Sheen has starred in numerous successful films. His television roles have also seen success, such as The West Wing and Grace and Frankie.
Beverly Lee – 1941
As a member of the pop quartet, the Shirelles, Lee and her groupmates earned #1 on the pop charts for their song "Will You Still Love Me Tomorrow." They were also the first all-female group to reach this milestone.
Martha Stewart – 1941
Stewart turned her talent for cooking, decorating, and entertainment into a multibillion-dollar enterprise. In 1999, Stewart made her first billion dollars, earning her the title of the first woman in the U.S. to join the ranks of self-made billionaires.
Mary Ann Esposito – 1942
Esposito hosts Ciao Italia, the longest-running cooking show on television in the United States.
John Landis – 1942
Known for directing such films as The Blues Brothers, Coming To America, and Beverly Hills Cop, Landis also directed Michael Jackson's music videos.
Marcel Dionne – 1950
Over an 18 year career, Dionne played center in the National Hockey League. In 1992, he was inducted into the Hall of Fame.
Joan Higginbotham – 1964
As the third African-American in space, Higginbotham served as a mission specialist aboard the Space Shuttle Discovery.
Tom Brady – 1977
As a quarterback in the National Football League, Brady has played in 9 Super Bowls.
About National Day Calendar
National Day Calendar is the original and authoritative source for fun, unusual and unique National Days! Since our humble beginnings on National Popcorn Day in 2013, we have been tracking the National Days, National Weeks, National Months, and International Days. We became the first calendar of its kind to curate the days all in one place and tell their stories, too! Here at National Day Calendar, we are on a mission to Celebrate Every Day with you! And by you, we mean families, businesses, educators, and strangers we meet on the street. There's more than one day for everyone.
At National Day Calendar, we've found the National Days have a way of inspiring us. We're honored to tell the stories behind the days and provide you with informational ways to incorporate the National Days into your business, family, schools, and home!