Looking Back
August 29, 2022 - NATIONAL LEMON JUICE DAY – ACCORDING TO HOYLE DAY – NATIONAL CHOP SUEY DAY
AUGUST 29, 2022 | NATIONAL LEMON JUICE DAY | ACCORDING TO HOYLE DAY | NATIONAL CHOP SUEY DAY
NATIONAL LEMON JUICE DAY | AUGUST 29
When the sun is blazing high in the sky, National Lemon Juice Day comes along just in time to bring a refreshing squeeze to just about anything. On August 29th, celebrate with a tart drop of lemon juice in your cooking, or beverages, or freshen up the world around you. Read more…
ACCORDING TO HOYLE DAY | AUGUST 29
According to Hoyle Day on August 29 encourages individuals to honor the rules and regulations in particular situations. It's also a day to pay tribute to a man by the name of Edmond Hoyle, an Englishman who was thought to be the first technical writer on card games. Read more…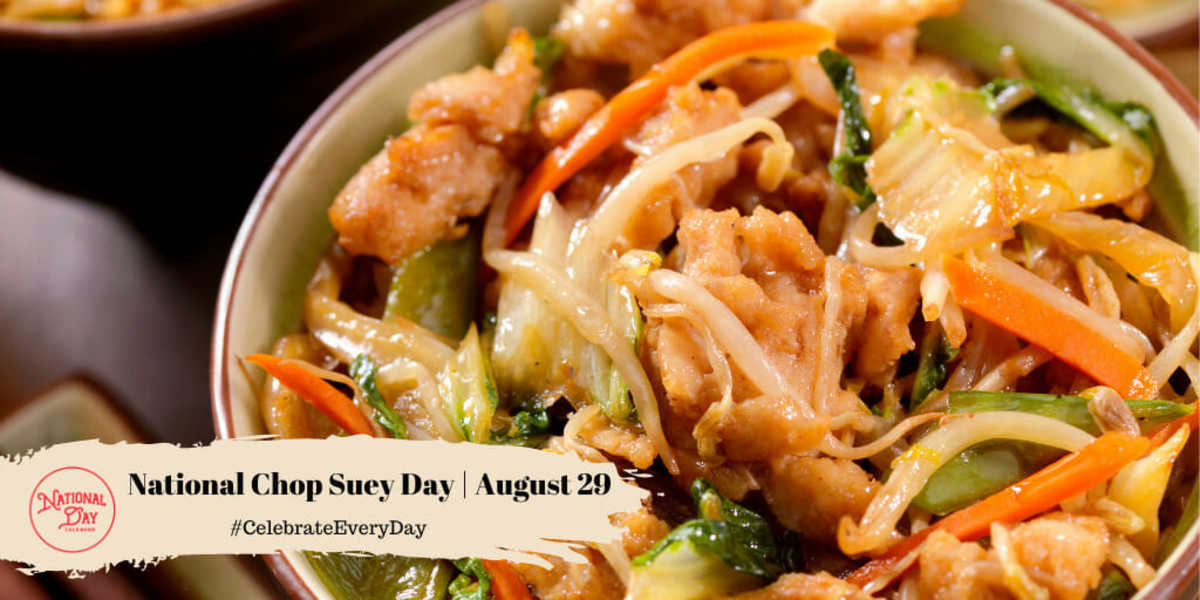 NATIONAL CHOP SUEY DAY | AUGUST 29
Get your chopsticks ready! National Chop Suey Day recognizes this American Chinese culinary cuisine each year on August 29. Read more…
On Deck for August 30, 2022
National Days
International Days
Recipe of the Day
Fresh Black Bean Dip
Prep: 20 minutes
Cook: None
Total Prep: 20 minutes
Servings:
Ingredients:
1 green bell pepper, chopped
1 red or yellow bell pepper, chopped
1 can of corn, drained
1 can of black beans, drained and rinsed
1 jalapeno, finely chopped (removing seeds is optional)
4 Roma tomatoes, diced
½ cup of red onion, finely chopped
3 tablespoons of cilantro
½ garlic clove, finely chopped
½ teaspoon of cayenne pepper (1 teaspoon for additional heat)
Salt and pepper to taste
1 cup of light zesty Italian dressing
Instructions:
In a small mixing bowl, add dressing, cayenne pepper and garlic together and mix well. Set aside.
In a large mixing bowl, add the peppers, onion, jalapeno, corn tomatoes and black beans. stir gently until combined.
Drizzle Italian dressing mixture over ingredients in the large mixing bowl. Stir until all ingredients is thoroughly combined.
Chill for 1 hour to allow ingredients to absorb flavor.
Serve with tortilla chips.
August 29th Celebrated History
1854
Bringing water to otherwise parched areas, Daniel Halladay of Connecticut invents the first commercially successful windmill in the United States. If you see an old wooden windmill on the landscape still towering over some farmland, think of Daniel Halladay.
1862
The Bureau of Engraving and Printing sets to work printing paper money for the first time due to the demands of the Civil War.
1864
Astronomer William Huggins discovers the first chemical composition of a nebula – The Cat's Eye Nebula.
1893
Whitcomb L. Judson receives a patent for a Clasp Locker. However, he wasn't the only one pursuing revolutionary clothing closures. Several other inventors tackled a similar design and purpose. Later known as the zipper, the inventions revolutionize how clothes go on and come off.
1889
Tom Pettitt of Boston and George Kerr of Dublin square off in the first international lawn tennis contest. The event took place following the completion of the United States National Lawn Tennis Associations Nationals Tournament in Newport, RI. Kerr claimed victory over the match with a score of 6-4, 6-1 and 6-1.
1898
Frank Seiberling of Akron, OH, establishes the Goodyear Tire & Rubbery Company.
1909
The world's first air race is held in Reims, France. American Glenn Curtis wins the race.
1933
C.E. Doolin trademarks the product name Fritos.
1953
Speedy Gonzalez makes his animation debut in the cartoon "Cat-Tails for Two."
1958
Four years after being established as a separate branch of the United States Military, the Air Force Academy opens in Colorado Springs, CO.
1964
Roy Orbison releases the single "Oh, Pretty Woman" from the album Orbisongs. Over 25 years later, the film Pretty Woman, brings the song back into popularity.
1965
While orbiting the Earth in Gemini 5, Astronaut Gordon Cooper made a telephone call to aquanaut Scott Carpenter who was submerged in Sealab II. Long-distance charges may apply.
1968
The Gypsy Moths starring Burt Lancaster, Deborah Kerr, and Gene Hackman begins showing in the United States. The film follows skydiving barnstormers through a July 4th weekend.
1985
Theaters begin showing the film Desperately Seeking Susan starring Madonna, Rosanna Arquette, and Aidan Quinn
1995
Janet Jackson releases the single "Runaway."
1997
The DVD rental service, Netflix, launches.
2002
The biographical film Frida starring Salma Hayek, Alfred Molina and Mia Maestro shows in theaters.
2019
Sanhua Aweco creates the longest line of chopsticks in Tychy, Poland. Interestingly, he completed the achievement on National Chop Suey Day.
August 29th Celebrated Birthdays
John Locke – 1632
Considered the "father of liberalism," the philosopher published several papers including "Enlightenment" and "An Essay Concerning Human Understanding." His theories also influenced the fledgling United States.
Oliver Wendell Holmes Sr. – 1809
The physician was a member of the Fireside Poets alongside other great poets Henry Wadsworth Longfellow, William Cullen Bryant, and Ralph Waldo Emerson.
Werner Forssmann – 1904
The German physician made landmark strides in cardiac medicine when he proved a catheter could be inserted into the heart. In 1956, he along with André Cournand and Dickinson Richards were awarded the Nobel Prize in Physiology or Medicine.
Ingrid Bergman – 1915
The Swedish actress is best known for her roles in Casablanca, For Whom the Bell Tolls, and Murder on the Orient Express.
Otis Boykin – 1920
The inventor and engineer's work on electrical resistors influenced the world of medicine, computers and more.
Joan Sindelar – 1931
Known for her reliable bat and slick running, Sindelar played 4 seasons in the All-American Girls Professional Baseball League.
John McCain – 1936
John McCain served in the United States Navy during the Vietnam War and was a Prisoner of War for over 5 years. After his release, he entered the political arena and was elected to the United States House and later to the Senate. In 2008, he ran for president under the Republican ticket against Barack Obama.
James Brady – 1940
As White House Press Secretary under President Ronald Reagan, Brady was shot during an attempted assassination attempt on the President.
Karen Hesse – 1952
The author earned the Newbery Medal for her book Out of the Dust. She's published numerous other young adult books including Phoenix Rising, Safekeeping and Aleutian Sparrow.
Michael Jackson – 1958
The award-winning musical artist began his career as part of the family group, Jackson Five. He would go on to produce numerous albums such as Thriller, Bad, and Invincible.
Brian Chesky – 1981
Chesky is the founder of Airbnb.
About National Day Calendar
National Day Calendar is the original and authoritative source for fun, unusual and unique National Days! Since our humble beginnings on National Popcorn Day in 2013, we have been tracking the National Days, National Weeks, National Months, and International Days. We became the first calendar of its kind to curate the days all in one place and tell their stories, too! Here at National Day Calendar, we are on a mission to Celebrate Every Day with you! And by you, we mean families, businesses, educators, and strangers we meet on the street. There's more than one day for everyone.
At National Day Calendar, we've found the National Days have a way of inspiring us. We're honored to tell the stories behind the days and provide you with informational ways to incorporate the National Days into your business, family, schools, and home!