Looking Back
August 22, 2021 - NATIONAL BE AN ANGEL DAY – NATIONAL TOOTH FAIRY DAY – NEVER BEAN BETTER DAY – NATIONAL BAO DAY – NATIONAL SURGICAL ONCOLOGIST DAY – NATIONAL PECAN TORTE DAY
AUGUST 22, 2021 | NATIONAL BE AN ANGEL DAY | NATIONAL TOOTH FAIRY DAY | NEVER BEAN BETTER DAY | NATIONAL BAO DAY | NATIONAL SURGICAL ONCOLOGIST DAY | NATIONAL PECAN TORTE DAY

NATIONAL BE AN ANGEL DAY
On August 22nd, National Be An Angel Day encourages good deeds and kindness to others. By supporting those in need and inspiring others to kindness, we display an act of an angel here on earth.
The day also recognizes those who've been angels to us. Sometimes we have a terrible day. Whether its bad news or poor planning, we all have them. A kind word, a hug, or even a pleasant atmosphere makes a difference.
Other times, days, even weeks, can be devastating. A loss, illness, or overwhelming news takes the wind from our sails. Those angels provide comfort at a time when we need it most.
The same happens to the people around us. We don't always know what others may be enduring. We can be an angel in big and small ways. Whether we know a person's concerns or not, merely offering to join them for a meal may relieve their stress. Having someone to listen to often is something we need most.
Noticing someone's efforts is another way we can be an angel. Letting them know you're impressed with their stamina, talent, progress – fill in the blanks. These positive comments provide morale-boosting energy.
Any time we see someone in need, the opportunity arises to offer help. Assist an elderly neighbor with lawn care. Don't overlook the single parents when setting up play dates. Their children – and the parents – need social interaction, too.
Also, when you value someone's time, effort, and presence, don't hesitate to tell them. We may be individual people, but we don't thrive alone. Look out for each other.
HOW TO OBSERVE #BeAnAngelDay
Be someone's angel. Offer an ear to listen, a hand to lift them up, or a shoulder to hold them up until they can stand again. Give patience when you least feel like giving it. Hear the pain below the complaint or the exhaustion under the frustration. Notice the worry, not the anger. Look with eyes that see the whole person, not just the fraction of a moment. Hold a hand when there's nothing else that can be done. Dry a tear. Thank an angel. Use #BeAnAngelDay to share on social media.
NATIONAL BE AN ANGEL DAY HISTORY
In 1993, Jayne Howard Feldman created National Be An Angel Day to encourage acts of kindness

NATIONAL TOOTH FAIRY DAY
Wiggle a loose tooth and maybe the tooth fairy will collect it on August 22nd during National Tooth Fairy Day. Since the day is celebrated twice a year, recognize the tooth fairy again on February 28th.
This childhood favorite evolved with a group of healthcare fairies during the mid-1920s. From bath fairies to Fairy Wand Tooth Whitener, they encouraged kids through a wave of advertisements and health classes. These ads and classes spoke to children about eating their veggies, brushing their teeth, and getting fresh air.
In 1927, Esther Watkins Arnold brought the tooth fairy to life in an eight-page playlet. She named the playlet The Tooth Fairy. At the same time, Sir Arthur Conan Doyle published photographs of two girls surrounded by "verified" fairies. He claimed that fairies and gnomes existed and the pictures supplied the photographic evidence.
When is National Fairy Tale Day? Well, there isn't one, but there is Tell A Fairy Tale Day!
The following year, Arnold's play began performing. Childen, primed with vivid imaginations, placed their freshly lost teeth under their pillows at night. The anticipation of a visit from the tooth fairy lives on today.
Over the years, the tooth fairy theme varied. In 1942, columnist Bob Balfe wrote in the Palm Beach Post about the tooth fairy. He gave his children War Stamps to put in their books when they lost a tooth. This alternative became popular during a time when giving to the war effort was a motivating factor.
Today, the tooth fairy jingles much less than ever. The average payout for a lost tooth ranges from $3 to $4. However, if Dad is on duty or if the tooth disappears during the night with no time to break a large bill, the amounts climb higher.
HOW TO OBSERVE #ToothFairyDay
Support your friendly neighborhood tooth fairy. Take care of your teeth and leave a few healthy baby teeth behind. Share your tooth fairy stories, real or imagined. Use #ToothFairyDay to post on social media. Download this coloring page, color, and then post to social media.
NATIONAL TOOTH FAIRY DAY HISTORY
While our research did not unearth the source of either the February 28th or the August 22nd observance.

NEVER BEAN BETTER DAY
If you've waited for a Never Bean Better Day to enjoy the unconditional love of your canine companion, August 22nd is the day! Just like our ever-joyful pets, the day casts away the worries and spreads enthusiasm for life.
The celebration encourages both the spirit of generosity and sharing the joys of life with delight. Go out into the world with your family pet and plant the bean of love everywhere you go. Share it generously, like dogs do when they take care of us when we are sick or down. They give us all their love with abandon in the forms of licks and snuggles. Sometimes our furry friends do tricks and antics only canines know how to do. Other times, they even perform their own love song or woo woo. Every day should be a Never Bean Better Day to share all the love your dog stores up!
When is National Dog Day?
HOW TO OBSERVE #NeverBeanBetterDay
In recognition of the celebration, share the Bean wuv. Fetch up some fun and make a difference like Bean, a very special therapy dog, does every day in providing comfort and joy to so many through his physical and virtual presence. Help someone by sharing your time, talent or treasure or just by making someone's day by getting them to play … human or canine!
Follow Bean's tail on Facebook at Never Bean Better @neverbeanbetterwoo, Instagram, and Twitter. Be sure to spread the Bean wuv by using the #NeverBeanBetterDay and
@neverbeanbetter to share your never bean better moments on social media. Get out and fetch up some fun! Make every day a Never Bean Better day!
NEVER BEAN BETTER DAY HISTORY
The Drager Group, Inc. founded Never Bean Better Day to recognize the unconditional love dogs bring to human lives. The observance honors the birth of a special therapy dog, Bean, who eagerly spreads his Bean wuv everywhere he goes. Bean improves the lives of those who need it most. Visit NeverBeanBetter.com to learn more about Bean and his many talents, canine and not so canine.
The Registrar at National Day Calendar declared Never Bean Better Day to be observed on August 22nd annually beginning in 2017.
NATIONAL BAO DAY
On August 22nd, National Bao Day guarantees your taste buds will be shouting "Wow!" Why? Because ancient Chinese gastronomic delicacies often cause oohs and ahhs on food holidays.
At first one might consider it to be just a simple steamed bun. Dumplings aside, this is the flavorful Chinese dough used to make bāozi, or bao. It's also stuffed with savory meats or sweets. More than a side dish, bao is a type of sandwich. And, this delicious meal grabs attention in the United States. That's why it's gaining popularity at every mealtime of the day.
There are excellent reasons, too! Created as an elegant package, bao fits in the palm of the hand making it portable. Bao satisfies with all our favorite flavors. From spicy to sweet, BBQ and Thai, this little sandwich covers breakfast, lunch, supper, and dessert. Still hungry? They're great snacks and perfect for sharing, too.
HOW TO OBSERVE #NationalBaoDay
Still not wowed? Learn more about bao cuisine. Enjoy a tasty bao or six. Remember, they're perfect for sharing, so invite friends and family, too! Use #NationalBaoDay to share on social media.
NATIONAL BAO DAY HISTORY
Wow Bao founded National Bao Day to celebrate the ancient Chinese tradition of bao and to raise awareness about the variety of contemporary bao restaurants opening around the country giving diners an opportunity to enjoy the diversity of flavors. Wow Bao chose August 22nd for the celebration of bao as it is the anniversary of the launch of their first bao-centric restaurant in Chicago. They now have ten restaurants and are growing!
Follow them on Facebook.
The Registrar at National Day Calendar declared National Bao Day to be celebrated annually in 2017.

NATIONAL SURGICAL ONCOLOGIST DAY
National Surgical Oncologist Day recognizes the accomplishments of every lifesaving surgeon who specializes in abolishing cancer!
Surgical oncologists help to both diagnose cancer and cure it through surgery. They may perform a needle biopsy to take a sample or perform surgery to remove all or parts of the cancerous tissue. At the same time, they work with a team of experts to provide you with the best possible care available.
Surgical oncologists also strive to learn more and better understand the variety of cancers we face daily. As experts in their field, they continuously seek improvements in care for their patients. From cutting edge techniques to the latest in research and therapies, surgical oncologists push toward a cure every day. Their dedication and leadership in the field of oncology make a difference in the lives of cancer patients today and tomorrow.
HOW TO OBSERVE #SurgicalOncologistDay
Donate to your favorite cancer charity such as Lean On Me Breast Cancer Network. Show appreciation to your favorite surgical oncologist. Let them know what made a difference in your care. Share successful and compassionate surgical oncology stories using #SurgicalOncologistDay, #SurgicalOncologist on social media.
NATIONAL SURGICAL ONCOLOGIST DAY HISTORY
In March of 2019, Jenni Cherlin & the Lean On Me Breast Cancer Network founded National Surgical Oncologist Day to recognize the hard work and dedication of surgical oncologists everywhere.
About Dr. Dwight Carlton De Risi
August 22nd honors Dr. Dwight Carlton De Risi. He is a world-renowned surgical oncologist with over 30 years of experience in his field. Dr. De Risi was born on August 22, 1947. He is the first trained surgical oncologist on Long Island, specializing in diseases of the breast. After growing up on Long Island, he attended Seton Hall University and received his doctorate from Georgetown University School of Medicine. Dr. De Risi completed his residency at North Shore University Hospital. He earned his graduate surgical oncology fellowship degree from Roswell Park Cancer Institute in Buffalo, NY – America's first cancer institute and the first in the United States to be accredited by the Society of Surgical Oncology.
A Leader in His Field
Having treated tens of thousands of patients over the years, Dr. De Risi remained a leader in his field, introducing and popularizing cutting edge surgical and diagnostic techniques, which have now become standards of care. He has been recognized and honored for his accomplishments by several organizations, including Seton Hall Pre Medical Honor Society Alpha Epsilon Delta. The community knows Dr. De Risi to be compassionate and hold late office hours. He attributes his success to his family (which includes his wife Donna, and his four children Darren, Drew, Dara, and Deirdre), his incredible office staff, and the love and support from his dedicated patients.
Through the efforts of his loyal supporters, Dr. De Risi created the non-profit support group called Lean On Me Breast Cancer Networks Inc. Since May of 2000, over seventy volunteers have helped guide and comfort several thousand newly diagnosed breast cancer patients. These volunteers provide a vital to a patient's journey from diagnosis and treatment to wellness. Additionally, the organization plans several exciting and enjoyable fundraising events throughout the year. These events help patients realize the importance of living each day to its fullest.
The Registrar at National Day Calendar proclaimed National Surgical Oncologist to be observed on August 22nd annually.
NATIONAL PECAN TORTE DAY
National Pecan Torte Day recognizes a delicious pecan treat on August 22nd. Of the pecan recipes, the torte delivers a decadent dessert that's also versatile.
As a baked specialty, tortes become the centerpiece of desserts. Tortes provide a delicious choice of fillings such as whipped cream, buttercream, mousse, jam, fruits or nuts. The baker often glazes and garnishes the torte once it is cooled. Generally made with little to no flour, tortes use ground nuts or breadcrumbs, along with sugar, eggs, and flavorings instead.
The pecan tree is the only nut tree native to North America.
Pecan Benefits
While sweetening up your pecans tends to dilute the benefits, keep in mind that indulging in moderation is ok. However, we know how difficult that can be when you #CelebrateEveryDay. Pecans do deliver some healthy perks, though.
First off, pecans pack in more than 19 vitamins and minerals. Some of the ones with some nutritional punch include vitamins A, B, and E. Add to that folic acid, calcium, potassium, and zinc and pecans deserve several celebrations.
When is National Pecan Day?
Beyond the vital nutrients mentioned above, pecans also provide healthy fats in abundance. These oils are essential to heart health.
Combine the high fiber content with the natural energy provided by pecans, and this feel-good nut sends good vibes all day long. So, even if you celebrate with a small slice of pecan torte, add extra pecans on the side to balance out those naughty calories.
HOW TO OBSERVE #PecanTorteDay
Following are a few recipes for you:
Mocha Pecan Torte
Pecan Pumpkin Torte
Chocolate Pecan Torte
Use #PecanTorteDay to post on social media.
NATIONAL PECAN TORTE DAY HISTORY
We were unable to find the creator of National Pecan Torte Day.
On Deck For August 23, 2021
National Days
International Days
August 22nd Celebrated (and Not So Celebrated) History
1647
An ancestor of the Instant Pot, the pressure cooker is invented by Denis Papin. He called it a "steam digester."
1851
In the first America's Cup, the yacht America representing the New York Yacht Club took the first place honors over the Royal Yacht Squadron.
1864
The first Geneva Convention is ratified by 12 countries in an effort to improve war-time conditions for those on the battlefield.
1865
Making cleaning more efficient, one of the first patents for liquid soap is issued to William Sheppard. The "Improved Liquid Soap" received patent No. 49, 561.
1894
Mahatma Gandhi founds the Natal Indian Congress to advocate against discrimination of Indians in South Africa.
1902
President Theodore Roosevelt sets out on a tour of New England by car. The event marks the first time a U.S. president greets the public by automobile.
1906
Victor introduces the first Victrola. The wooden cabinet with an internal horn to project sound played recordings from a disc.
1911
Ole Evinrude granted patent no. US58233610A for his Marine Propulsion Mechanism. His design is one of the first commercially successful outboard motors for boats.
1939
Julian Kahn granted patent no. US101783A for an "Apparatus for Mixing a Liquid with a Gas" – specifically whipped cream.
1950
Professional tennis player, Althea Gibson becomes the first African American invited to compete in the U.S. Nationals. While she did not win the tournament, the following year, she would not only win the U.S. Nationals but also become the first African American to win Wimbledon. She would go on to many more firsts as well.
1986
The Stephen King and Rob Reiner film Stand By Me is released nationally.
2004
Edvard Munch's works "The Scream" and the "Madonna" are stolen from the Munch Museum in Oslo, Norway. Two years later, the artworks are recovered.
2004
During the Athen's Olympics, the marathon runs the same course as the 1896 games.
Recipe Of The Day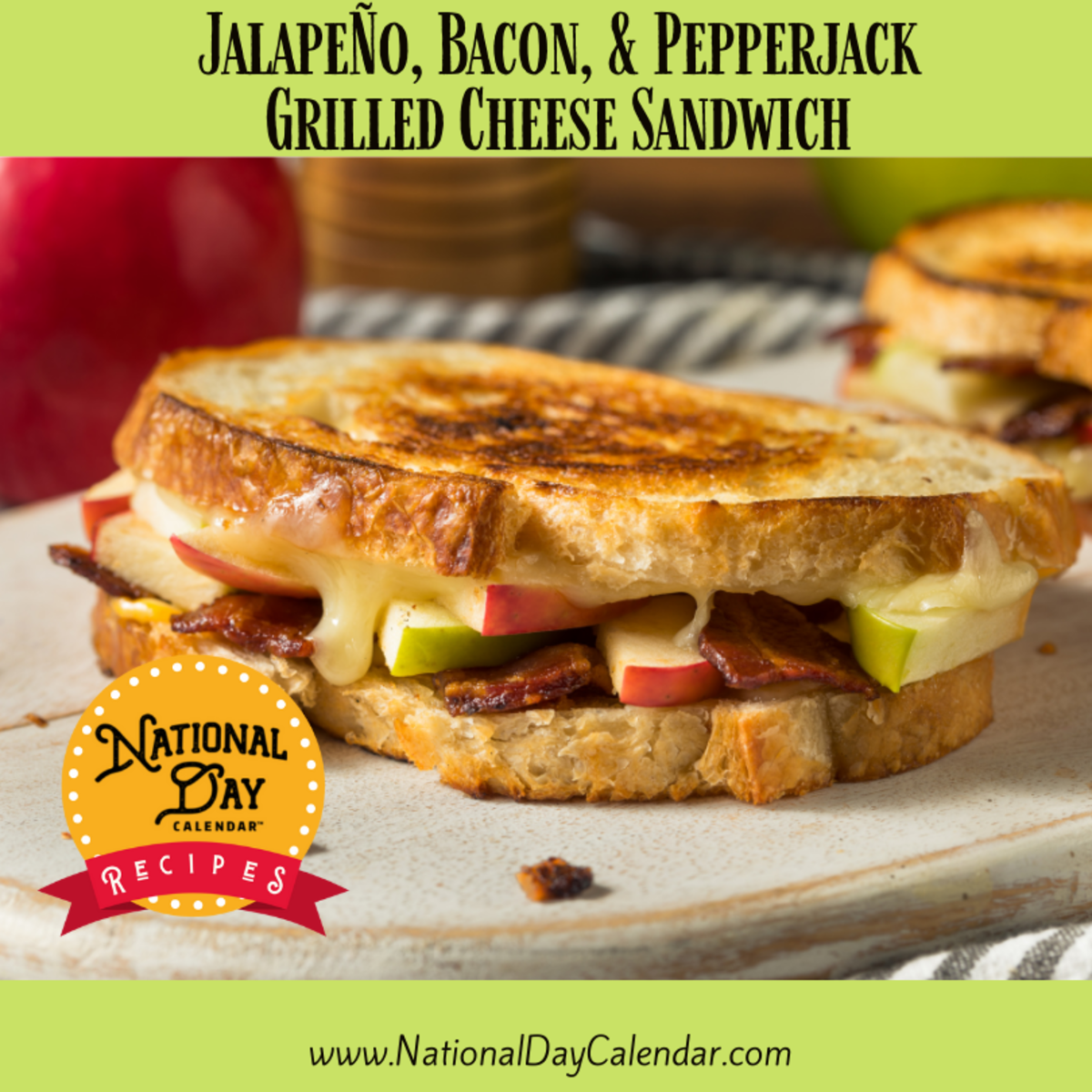 Jalapeño, Bacon & Pepperjack Grilled Cheese Sandwich
Prep time:
Cook time:
Total:
Servings: 1 Sandwich
This recipe calls for double cheese using pepper jack and cream cheeses with tangy red pepper jelly and thinly sliced apples, topped with bacon, and grilled into gooey goodness.
Ingredients
2 slices Abigail's Oven Jalapeño Cheddar sourdough
Pepper jack cheese
Butter
Tart apple (Granny Smith works great, but any apple will work)
Cooked bacon (3 slices per sandwich)
Cream cheese
Red chili pepper jelly
Instructions
Heat a skillet to medium heat. Butter at least one side of each slice of bread (could do both if you want it extra buttery). Smear cream cheese on one slice, then place 3 slices of crispy bacon on the cream cheese. On top of the bacon, place a half-inch (1 cm) thick slice of pepper jack cheese, covering the entire piece of bread, then top with 3-5 very thinly sliced tart apples.
Place that half of the sandwich in the skillet and lower the heat to medium-low. On the remaining slice, smear red chili pepper jelly, then place it on top of the other half of the sandwich in the skillet with the red chili pepper jelly next to the apple slices. Press the sandwich down with a pancake turner or sandwich press, and toast until golden brown.
Flip the sandwich over, and toast until the other side is golden and the cheese is melted (sometimes covering the pan will evenly distribute the heat and help melt the cheese faster). Remove from the skillet and enjoy this amazing sandwich with a fork and knife and a hearty soup on the side With Tomato Basil Soup on the side, this is a comforting and filling sandwich for lunch or dinner, or just about anytime.
Recipe Credit: Darryl Alder
August 22nd Celebrated (and Not So Celebrated) Birthdays
Charles Francis Jenkins -1867
The prolific inventor focused his attention on the movie and television industry. In fact, his joint invention of the projector and their showing rooms may have helped launch the movie theater. He was also the first to move a car's engine from under the seat to the front of the car.
Willis Rodney Whitney – 1868
As a chemist, researcher and engineer, Whitney would establish the General Electric Company laboratory.
George Herriman – 1880
The cartoonist and artist is best known as the creator of Krazy Kat and Ignatz Mouse.
1893 – Dorothy Parker
The witty journalist, writer and poet was a frequent contributor to Vogue, Vanity Fair and The New Yorker.
Edith Prada – 1912
The noted archaeologist and art historian focused her career on the study of Ancient Near Eastern seals. Her work brought enormous insights and revelations through her scholarly work.
John Lee Hooker – 1917
In a career that spanned 60 years, the "King of Boogie" brought an ever-evolving style to the world of Blues. Known for his skill on the electric guitar, some of his best songs include Hobo Blues, I'm in the Mood, and Let's Talk it Over.
Mary McGrory – 1918
The prolific columnist and journalist is known for her sharp wit and as a trailblazer in the political arena.
Norman Schwarzkopf – 1934
The four-star Army general led the Allied Forces to victory during the first Persian Gulf War. The highly decorated Schwarzkopf (also known as Stormin' Norman due to his reported temper) would earn the rank of general in the late 1970s after serving in Vietnam. During the Persian Gulf War, his leadership of the coalition forces led to a swift resolution of the war.
Valerie Harper – 1939
Best known for her role as Rhoda Morgenstern on The Mary Tyler Moore, Harper would go on to win a Tony Award for her role in the play Whose Life Is It Anyway.
Paul Gottlieb Nipkow – 1940
The German engineer contributed to the success of the mechanical television with his invention of the Nipkow disk.
Bill Parcells – 1941
In 19 seasons as a head coach in the NFL, Parcells coached teams to division championships and Super Bowl appearances with two Super Bowl wins.
About National Day Calendar®
National Day Calendar
® is the authoritative source for fun, unusual and unique National Days! Since our humble beginnings on National Popcorn Day in 2013, we now track nearly 1,500 National Days, National Weeks and National Months. In addition, our research team continues to uncover the origins of existing National Days as well as discover new, exciting days for everyone to celebrate.
There's a celebration for everyone. While National Road Trip Day satisfies the itch to wander, many pet days let us share our love of animals. National 3-D Day and National Astronaut Day honor the advancement of technology, too. Every food day you can imagine (National Avocado Day, for example), will keep you celebrating, also!
Be sure to stay in the know by signing up for our e-mail updates. Also, follow us on Facebook, Twitter, and Instagram.
Our Ambassador Program is another way #CelebrateEveryDay®! Whether you become an ambassador or follow one of the savvy ambassadors, their fun videos and posts will keep you prepared for every holiday.