Looking Back
August 19, 2022 - INTERNATIONAL BOW DAY – NATIONAL POTATO DAY – NATIONAL SOFT ICE CREAM DAY – NATIONAL AVIATION DAY
AUGUST 19, 2022 | INTERNATIONAL BOW DAY | NATIONAL POTATO DAY | NATIONAL SOFT ICE CREAM DAY | NATIONAL AVIATION DAY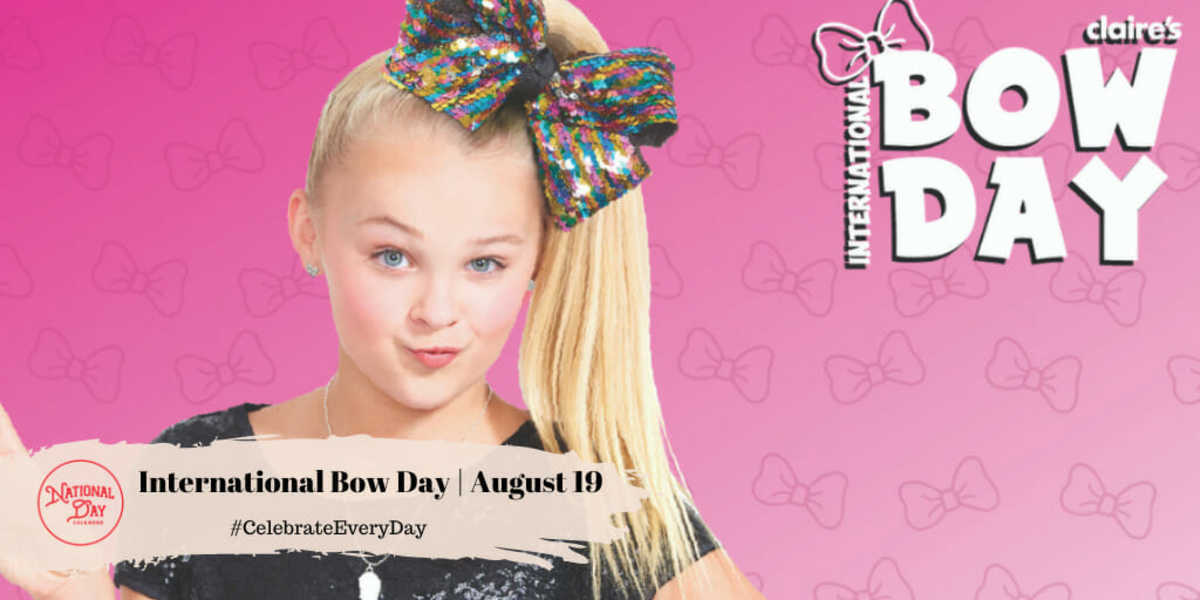 INTERNATIONAL BOW DAY | AUGUST 19
On August 19, International Bow Day recognizes the accessory that has been changing fashion for centuries – bows! Adding accessories makes just about any look so much better. Read more…
NATIONAL POTATO DAY | AUGUST 19
Ah, spuds. On August 19th each year, the humble potato takes center stage. In truth, though, doesn't it steal the show at nearly every meal? Read more…
NATIONAL SOFT ICE CREAM DAY | AUGUST 19
National Soft Ice Cream Day on August 19th gives us a tasty way to cool off on a hot summer day. Whether you enjoy it in a bowl or on a cone, grab some soft serve and enjoy! Read more…
NATIONAL AVIATION DAY | AUGUST 19
National Aviation Day on August 19th recognizes the pioneers of human flight. Read more…
On Deck for August 20, 2022
National Days
International Days
Recipe of the Day
Name: Pecan PiePrep: 15 minutes
Cook: 45 minutes
Total Prep: 60 minutes

Servings: 6-8
Ingredients:
1 cup brown sugar
1 1/4 cup corn syrup
4 eggs, beaten
4 tablespoons butter
1 teaspoon vanilla
1 1/2 cup pecans
Instructions:
Preheat oven to 350°. Mix brown sugar and corn syrup in a medium saucepan. Boil until sugar melts. In a medium bowl mix eggs, butter, vanilla, and pecans. Slowly pour the sugar mixture into the egg mixture. Beat together. Pour into pie crust and bake 45 minutes.
August 19th Celebrated History
1839
At a joint session of the Académie des Sciences and the Académie des Beaux-Arts in Paris, Louis Daguerre reveals the process for his photographic process.
1856
Gail Borden patents his process for making condensed milk – patent no. 15,553.
1861
James Tyndall completes the first ascent of the Weisshorn – the 5th highest peak in the Alps.
1880
Paul Boynton and George Fearn compete in an international swimming race. The race required Boynton to swim 12 miles and Fearn to swim 10. Boynton wins due to Fearn suffering cramps.
1887
Dmitri Mendeleev (founder of the modern-day periodic table) makes a solo ascent by balloon for the sheer purpose of observing a solar eclipse.
August 19th Celebrated Birthdays
Seth Thomas – 1785
Thomas pioneered the mass production of clocks.
Charles Hires – 1851
The Philadelphia pharmacist developed a drink he called root beer.
Charles Comiskey – 1859
Beginning his professional baseball career as first baseman for the St. Louis Brown Stockings, Comiskey would go on to be a founding owner of the Chicago White Sox.
Orville Wright – 1871
As a Dayton, Ohio native, Wright, along with his brother Wilbur, would be the first to successfully fly a motor-powered plane.
Gabrielle Coco Chanel – 1883
Founder of the Chanel brand, the French fashion designer's line of products lives on.
Ogden Nash -1902
Nash's light-hearted poetry brought a particular style of humor to the poetry world. He also worked at the publishing house Doubleday and on the staff of the New Yorker.
About National Day Calendar
National Day Calendar is the original and authoritative source for fun, unusual and unique National Days! Since our humble beginnings on National Popcorn Day in 2013, we have been tracking the National Days, National Weeks, National Months, and International Days. We became the first calendar of its kind to curate the days all in one place and tell their stories, too! Here at National Day Calendar, we are on a mission to Celebrate Every Day with you! And by you, we mean families, businesses, educators, and strangers we meet on the street. There's more than one day for everyone.
At National Day Calendar, we've found the National Days have a way of inspiring us. We're honored to tell the stories behind the days and provide you with informational ways to incorporate the National Days into your business, family, schools, and home!