Looking Back
August 14, 2021 - NATIONAL V-J DAY – NATIONAL SPIRIT OF '45 Day - NATIONAL CREAMSICLE DAY – NATIONAL BOWLING DAY – NATIONAL GARAGE SALE DAY – NATIONAL NAVAJO CODE TALKERS DAY
AUGUST 14, 2021 | NATIONAL V-J DAY | NATIONAL SPIRIT OF '45 DAY | NATIONAL CREAMSICLE DAY | NATIONAL BOWLING DAY | NATIONAL GARAGE SALE DAY | NATIONAL NAVAJO CODE TALKERS DAY
NATIONAL V-J DAY (Victory over Japan Day)
National V-J Day on August 14th commemorates the day in 1945 when news broke around the world the Imperial Government of Japan would surrender ending a long a grueling world war. In Europe, the date was August 15 due to the time zone, but regardless, the celebrations that broke out were no less zealous.
Since 1939, the entire world had been enduring the strife of war. The first rumblings began in 1937 but by the end of 1941, the United States would join the war they had vowed remain out of. After the bombing of Pearl Harbor by Japan on December 7th, 1941, the United States declared war and fully supported all fronts.
Learn about the war in the Pacific. Tour Pearl Harbor or read accounts of the efforts. Other ways to join the observance include:
Read about V-J Day in From Pearl Harbor to V-J Dayby Clayton D. James and Anne Sharp Wells.
Make plans to visit World War II memorials across the country including The National World War II museum in New Orleans.
WatchThe Last Days of World War II produced by the History Channel.
Watch newsreels sharing news on the victory and celebrations that followed.
Use #VJDay to share on social media.
NATIONAL VJ DAY HISTORY
In the United States, President Harry S. Truman announced the victory in a press conference at the White House later that day. The peace treaty was officially signed on September 2, 1945. A year later on August 2nd, Truman signed a proclamation declaring August 14, 1946, asVictory Day.
NATIONAL SPIRIT OF '45 Day
National Spirit of '45 Day honors the can-do attitude of an entire generation affected by the trials and hardships of World War II. Observed every year on August 14, communities around the country hold events and memorials. Each one honors those who have inspired us, sacrificed, and preserved our nation for future generations.
The day ideally sets out to illustrate the people of the Greatest Generation. Over the years, iconic images have been imprinted on our minds. However, they only tell a part of the story. Still, thousands more remain to be told. Spirit of '45 Day urges us to explore the history. Listen to the stories. Get involved and help preserve the memories of those who lived it.
Around the world, servicemen and women stepped up to the task in the Pacific, Europe, the Mediterranean or Africa. At home, men and women provided valuable food, parts, and labor. Everyone did their part. The youngest of them managed farm work and took on duties on the homefront. Often, supplies of certain items were low – rubber for tires or leather for shoes for example. And gas, too. Rationing was not uncommon.
The generation innovated. They sacrificed. And roles shifted. While they did, technology advanced, too. As a result, manufacturing faced a new horizon.
Those motivated to do their duty often did so at a personal cost. While migrating great distances, sometimes the only means of communication was the post office. Journalists filled in the blanks via radio and newspaper. Their words filled the airwaves or emptied bottles of ink onto pages with their stories. And the nation paid attention.
HOW TO OBSERVE #SpiritOf45Day
Even though 75 years have passed, so much can be learned from those who endured World War II. Some of those lessons are still being learned today. The Spirit of '45 Organization provides a place to register and find events for the upcoming Spirit of '45 Day. They also share past Spirit of '45 events to keep the inspiration, honor, and preservation alive.
Visit with one of the Greatest Generation and record an interview.
Dive into history and uncover the untold stories by touring theNational World War II Museum in New Orleans.
Learn about people like Betty Wason or the contributions of the USO.
Help create a wall of honor with the Spirit of '45 organization.
Share using #NationalSpiritOf45 on social media.
NATIONAL SPIRIT OF '45 DAY HISTORY
In 1996, a project paired children with seniors to document their memories from World War II. Started by Warren Hegg and the Spirit of '45 Organization, the project grew. Soon they realized many shared a common story.
In 2009, spokesman Ernest Borgnine and Edith Shain* talked about a day honoring the World War II generation. A year later in 2010, Congress passed a joint resolution in commemoration of the 65th anniversary of the day President Truman announced the end of World War II.
*Edith Shain is one of the women who claims to be the woman kissing the sailor in the iconic Times Square photo.
NATIONAL CREAMSICLE DAY
National Creamsicle Day on August 14th celebrates the creamy citrus dessert on a stick. During the height of summer, what better way to enjoy refreshment than with a creamsicle!
"Creamsicle" is the brand name of an ice cream treat. It consists of vanilla ice cream on a Popsicle stick with an outer coating of sherbert. While many other flavors now exist, the original flavor was orange.
Today, recipes abound with creamsicle flavors. From beverages to desserts, the flavor has long been a favorite.
An 11-year-old Frank Epperson inspired the creation when he invented the original popsicle back in 1905. After mixing up a powdered soda, he left the beverage overnight with the stirring stick in it. Temperatures dropped unusually low that night and the next morning, Epperson found the liquid frozen on the stick. He dubbed the creation the Epsicle. Sometime later, he changed the name to Popsicle.
Several generations have enjoyed the fruity, frozen treats and they continue to do so!
HOW TO OBSERVE National Creamsicle Day
Pick up some creamsicles and share them with some friends. Try making a creamsicle-inspired recipe. We've provided a couple for you to make. Share your perfected recipes.
Three Ingredient Low-Fat Creamsicle Cake
Orange Creamsicle Cupcakes
Be sure to share using #NationalCreamsicleDay to post on social media.
NATIONAL CREAMSICLE DAY HISTORY
We have been unable to find the origins of this holiday.
Creamsicle FAQ
Q. How many calories are in a Creamsicle?
A. 100 calories.
Q. Are there different sizes of Creamsicle?
A. Yes. They also come in sugar-free.
Q. Can I make a Creamsicle at home?
A. Yes. We found several recipes online. One you might try is this homemade one from Cindy Shopper.
NATIONAL BOWLING DAY
On the second Saturday in August, National Bowling Day encourages everyone to set up the pins. Now go throw strikes!
While bowling-style games likely existed in ancient civilizations, we probably owe the modern game of bowling to Germany. Kegels were used much like batons for protection or sport. Participants would place the kegels at the end of an alley. Each person then rolled a stone, attempting to knock down the kegels. It was believed that by knocking down the kegel, their sins would be forgiven.
Other lawn games such as bocce and petanque may also be precursors to bowling. One such bowling game was called ninepins. American literature first mentions ninepins in Washington Irving's Rip Van Winkle.
Bowling, like many sports, attracted gamblers. As a result, the game came under the scrutiny of legislatures and city councils. In 1841, Connecticut passed a law prohibiting ninepin bowling alleys. Circumventing the law, alleys added one pin to the line-up. Very little about the game has changed since.
In 1905, the game introduced the first rubber compound bowling ball. Up until then, players threw wooden balls made of lignum vitae. However, this modern ball launched a whole new era of bowling.
During the 1988 Summer Olympics in Seoul, Korea, bowling was featured as a demonstration sport. However, the game never returned to the Olympics again.
HOW TO OBSERVE #NationalBowlingDay
Gather a group of friends and family and go bowling together. Throughout the country, bowling alleys offer discounts and deals to celebrate the day. Whether you decide to go during the day or at night, bring several friends. It doesn't matter how well you play either. The point is to have fun.
There are other ways to celebrate the day, too!
Read up on bowling in Pin Action by Gianmarc Manzione or in Bowling Across America: 50 States in Rented Shoes by Mike Walsh.

Take a bowling class to learn how to improve your skills.

Teach someone how to bowl.

Give a shout-out to your favorite bowling alley.

Watch the documentary A League of Ordinary Gentleman by Christopher Brown.
Use #NationalBowlingDay to post on social media and alert others.
NATIONAL BOWLING DAY HISTORY
The Bowling Proprietors' Association of America, Inc. sponsored the first National Bowling Day in association with the General Cigar Company and NBC-TV in 1956. Attracting millions of bowlers, the event raised money for the American Red Cross through hundreds of bowling tournaments in 48 states. On October 14, 1956, the televised Final Bowl Off on National Bowling Day in Macon County, Illinois featured bowling stars Bill Lilian and Anita Cantaline of Detroit.
The event never repeated, but National Bowling Day traditions have started once more. Continuing in the same spirit as the 1956 event, the modern era#NationalBowlingDaytakes care of others while taking down those pins. One example was the Million Pin Challenge. Donations helped provide half a million meals to Feeding America to fight domestic hunger.
NATIONAL GARAGE SALE DAY
National Garage Sale Day on the second Saturday in August recognizes the perfect time to sell our good but used items. Set up the tables and price your things. Or, head out around the neighborhood looking for great deals.
A successful garage sale requires a little planning and organization.
Sort like items together.

Keep prices reasonable, but don't undersell. Also, don't price anything less than a quarter. Who wants to make small change?

Clearly price items.

Be willing to negotiate. You don't want to pack up the items again, do you?

Wash and fold the clothes. Clean items sell more quickly than musty, wrinkled clothes.

Place clearly marked signs in ideal locations. (Check your local ordinances. Some cities only allow signs on boulevards or not at all.)

Be prepared with plenty of small bills.

If you advertise, be clever. A humorous note about your vast collection will catch garage sale hunter's eyes more quickly than the ho-hum, everyday ad.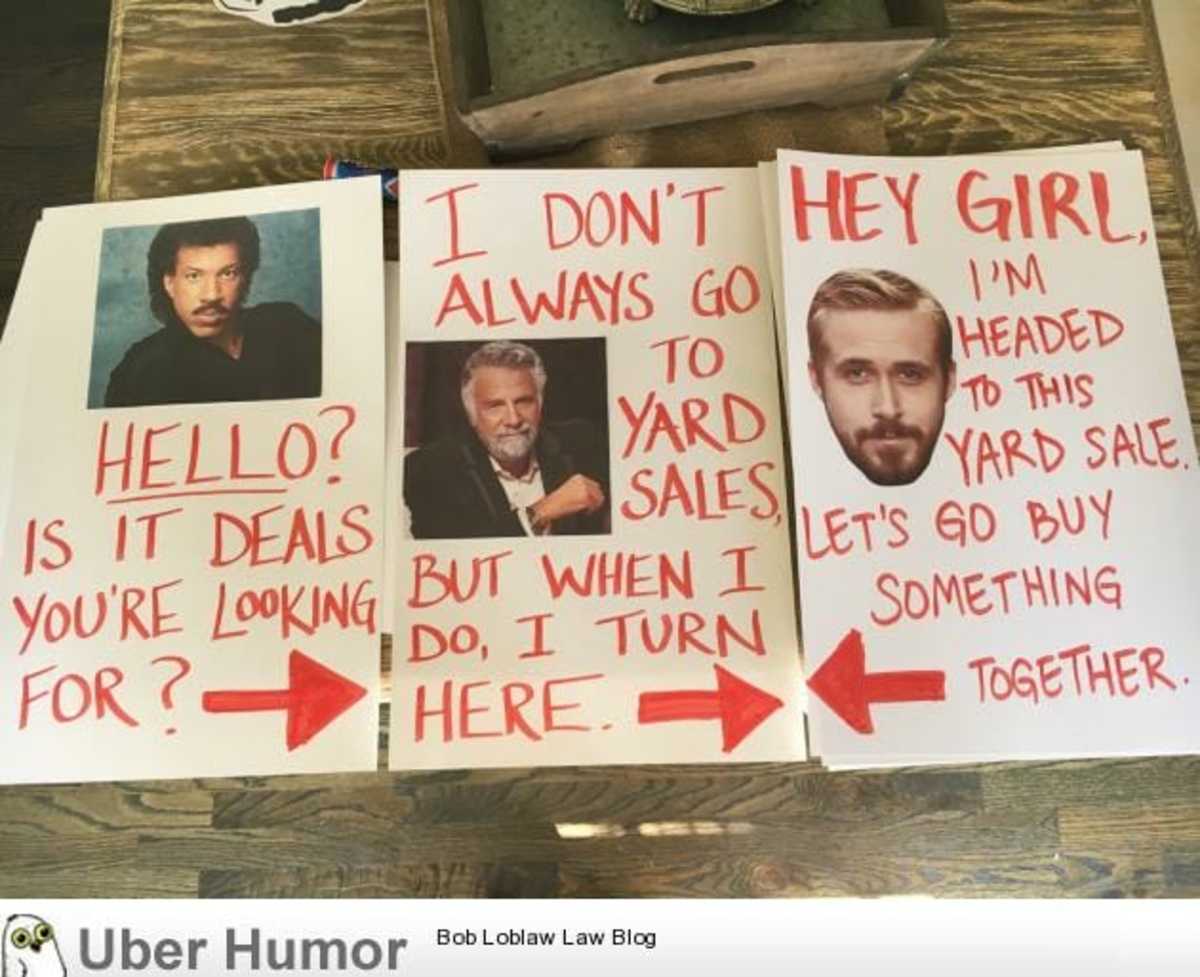 For the savvy shopper, garage sales offer an inexpensive way to update their decor. They also help young families obtain gently used items for their children and homes.
HOW TO OBSERVE #NationalGarageSaleDay
Get out and seek some deals. Or better yet, clean out the attic and basement. Put some prices on those antiques and make some money. How else can you celebrate the day? We'll show you how:
Post your greatest finds. Whether it was an Antique Roadshow-worthy deal on collector's item or the toy your child loves more than anything, tell the story.

Host a garage sale as a fundraiser for a charity.

Share the most impressive garage sale signs you see.

Share your tips for browsing garage sales and making deals.
No matter how you celebrate, be sure to use #NationalGarageSaleDay to share your great deals on social media.
NATIONAL GARAGE SALE DAY HISTORY
C. Daniel Rhodes of Alabama created National Garage Sale Day in 2001. After seeing neighbors having sales on different weekends, Rhodes thought coordinating sales on the same weekend would be convenient. He is also the founder of Mulligan Day and Brother's Day.

NATIONAL NAVAJO CODE TALKERS DAY
Each year on August 14th, National Navajo Code Talkers Day honors the contributions of the Native Americans who brought their unique abilities to the World War II effort. The day also highlights their impact on U.S. code and the Native American language that made it possible.
While code talkers were instrumental during World War II, the United States military used the Native American language in their coded messages before. During World War I, the Choctaw tribe's language was called upon to relate coded messages.
One member integral in creating the military code was Philip Johnston. While he was not Navajo, Johnston did speak the language fluently. He also recruited the native speakers necessary to the Code Talker's success.
Initially, there were 29 Code Talkers, including Charlie Sosie Begay, Roy Begay, Samuel H. Begay, Eugene Crawford, Oscar Ilthma, and Lloyd Oliver, to name a few. However, that number would grow. Until 1968, the program remained classified. At that time, the United States presented the original 29 Navajo Code Talkers with Congressional Gold Medals. Additionally, the remaining Navajo Code Talkers were presented with Congressional Silver Medals.
HOW TO OBSERVE #NavajoCodeTalkersDay
Celebrate the Navajo language. Recognize the incredible efforts of the Navajo Code Talkers by attending online and public events. While celebrating their invaluable contributions, also discover more about their history:
Explore their history by reading Navajo Code Talkersby Nathan Aaseng orUnsung Heroes of World War II: The Story of the Navajo Code Talkers by Deanne Durrett.
Watch a documentary with interviews and backstories.

Navajo Code Talkers: The Epic Storydirected by Allan Silliphant
True Whispers: The Story of the Navajo Code Talkersproduced by Yvonne Russo.

Visit a museum with some up close and personal details. The World War II Museum in New Orleans and the Navajo Code Talker Museum in Tuba City are two great places to start.
Don't forget to share stories and experiences using #NavajoCodeTalkersDay on social media.
NATIONAL NAVAJO CODE TALKERS DAY HISTORY
In 1982, President Ronald Reagan proclaimed National Navajo Code Talkers Day to recognize all the tribes for their contributions during the war. In his address, Reagan recognized other tribal nations for their contributions to war efforts, mentioning the Choctaw, Chippewa, Creek and Sioux by name.
On Deck For August 15, 2021
National Days
International Days
August 14th Celebrated (and Not So Celebrated) History
1756
Daniel Boone and Rebecca Bryan marry in North Carolina. They would later move west, blazing trails and leading a pioneer life.
1820
Edward Delafield and John Kearney Rodgers found the first specialty hospital in the United States. The New York Eye Infirmary treated both eyes and ears and in 1964 the name changed to The New York Eye and Ear Infirmary to include the otology specialty.
1846
A meteorite weighing 2.3 kilograms (approximately 5 pounds) falls in Cape Girardeau, Missouri.
1885
The first patent ever issued in Japan went to Hotta Zuisho. Along with Zuisho's anticorrosive paint, Japan issued seven other patents that day. Zuisho would go on to obtain a U.S. patent for his paint as well.
1908
Folkestone, Kent, England hosted the first international beauty pageant, Miss European. The event still takes place and travels from city to city. In 2019, Naples, Italy hosted the pageant.
1935
Congress passes and President Franklin Roosevelt signs the Social Security Act. The sweeping legislation created a pension program based on and supported by workers' income.
1937
After 10 years of work, the Appalachian Trail from Georgia to Maine is completed. More than 2,000 miles of trails and paths entice hikers from all over the country.
1938
The Student of Prague becomes the first feature-length film to broadcast on BBC television. Many of the themes and subplots are mirrored in the animated film series Shrek.
1939
The White Sox win their first night game at Comisky Park.
1945
Japan surrenders and the announcement becomes known as V-J (Victory in Japan) Day.
1964
Muhammad Ali and Sonji Roi marry. They divorced less than two years later.
1986
After a 43 year military career, Rear Admiral Grace Murry Hopper retires from active duty in the U.S. Navy. Known as the "grandmother of the computer age," Hopper was a pioneer of computer language.
1993
The New York Yankees retire the number of left-handed outfielder Reggie Jackson. Known as Mr. October for bringing in the big hits in the postseason, Jackson earned 5 World Series Championships.
1995
After challenging the all-male admittance, Shannon Faulkner becomes the first woman cadet to attend the Citadel in its 152-year history. However, 6 days later to would leave the military college located in Charleston, South Carolina.
Recipe Of The Day
Kale and Spinach Dip
Prep: 15 minutes
Cook: 30 to 35 minutes
Total Prep: 45 to 50 minutes
Servings: 8-10
Ingredients:
1- 8 oz package softened cream cheese
1/2 cup mayonnaise
1/2 cup milk
1 tablespoon oil
1/2 cup finely chopped carrots
1 cup red onion
2 cloves garlic, smashed
1/2 lb kale, roughly chopped
1/2 lb spinach, roughly chopped
1/2 teaspoon salt
1/2 teaspoon freshly ground pepper
1/2 tsp red pepper flakes (optional)
Instructions:
In a large frying pan, heat oil over medium heat. Add garlic and onion and cook until union is soft (about 3 minutes). Add kale and spinach and cook until both are wilted (about 8-10 minutes). Remove from heat set aside to cool.
In large bowl, add cream cheese, mayonnaise and milk together and mix until smooth. Stir in carrots, salt, pepper and red pepper and mix well. Add Kale and spinach and mix until everything is equally distributed. Chill for at least 1 hour.
Serve with toasted baguette slices or crackers.
Recipe credit: Amy LaVallie, National Day Calendar
August 14th Celebrated (and Not So Celebrated) Birthdays
Doc Holliday – 1851
Known as a gambler and dentist, Holliday's given name was John Henry. His associations with Wyatt Earp and other colorful characters earned him a reputation as a gunfighter, too.
Ernest Thayer – 1863
Best known for his baseball poem "Casey," Thayer also worked as a columnist and pursued philosophy.
Ernest Everett Just – 1883
As a biologist and educator, Just was a pioneer in embryology. He graduated from Dartmouth University and after joining the faculty at Howard University, he would go on to many achievements as the director of the biology department.
John Ringling North – 1903
While his uncles founded the Ringling Brothers Circus, North made the circus the glamorous show it became.
Ethel Lois Payne – 1911
Known as the "First Lady of the Black Press," Payne reported on the Civil Rights movement in the Chicago Defender. Her journalism and activism eventually gained her entry as the first African American woman in the White House Press corps.
Russell Baker – 1925
Humorist, journalist and satirist, Baker wrote for The Baltimore Sun and The New York Times. In 1979, he earned the Pulitzer Prize for commentary.
Thomas Meehan – 1929
Playwright Thomas Meehan wrote the books for popular musicals. Three of them, Annie, Hairspray and The Producers, earned him Tony Awards.
Steve Martin – 1945
Actor and comedian Steve Martin began his career writing comedy sketches that earned him an Emmy Award. He appeared on The Tonight Show and Saturday Night Live several times. His acting credits include The Jerk, All of Me, ¡Three Amigos!, Father of the Bride, and many others.
Danielle Steel – 1947
As an author of romance novels, Steel holds the title of the bestselling author alive. She published her first novel in 1972.
Gary Larson – 1950
The cartoonist Gary Larson is best known for his syndicated Far Side cartoons.
James Horner – 1953
Horner is one of the best-known composers in the world thanks to his contributions to the movie industry. He earned an Academy Award for Best Music for Titanic. Some of his other scores include Apollo 13, An American Tail, Glory, just to name a few.
Magic Johnson – 1959
For 13 seasons, Earvin "Magic" Johnson played point guard for the L.A. Lakers. He was also a member of the U.S. Olympic Dream Team. His roles on both teams earned him two inductions into the National Basketball Hall of Fame.
Halle Berry – 1966
Berry has earned both critical and commercial success with a variety of roles in movies and television. Her Best Actress Oscar award came after her role in Monster's Ball. She also starred in Catwoman, the James Bond film Die Another Day, and Spike Lee's Jungle Fever.
Tim Tebow – 1987
The former NFL quarterback turned baseball player in 2016 when he attended open tryouts. He has spent the following years playing on New York Mets minor league teams.
About National Day Calendar
National Day Calendar® is the authoritative source for fun, unusual and unique National Days! Since our humble beginnings on National Popcorn Day in 2013, we now track nearly 1,500 National Days, National Weeks and National Months. In addition, our research team continues to uncover the origins of existing National Days as well as discover new, exciting days for everyone to celebrate.
There's a celebration for everyone. While National Road Trip Day satisfies the itch to wander, many pet days let us share our love of animals. National 3-D Day and National Astronaut Day honor the advancement of technology, too. Every food day you can imagine (National Avocado Day, for example), will keep you celebrating, also!
Be sure to stay in the know by signing up for our e-mail updates. Also, follow us on Facebook, Twitter, and Instagram.
Our Ambassador Program is another way #CelebrateEveryDay®! Whether you become an ambassador or follow one of the savvy ambassadors, their fun videos and posts will keep you prepared for every holiday