Looking Back
April 7, 2022 - NATIONAL GIRL ME TOO DAY – NATIONAL BEER DAY – NATIONAL BURRITO DAY - NATIONAL NO HOUSEWORK DAY – NATIONAL COFFEE CAKE DAY – NATIONAL ALCOHOL SCREENING DAY
APRIL 7,2022 | NATIONAL GIRL ME TOO DAY | NATIONAL BEER DAY | NATIONAL BURRITO DAY | NATIONAL NO HOUSEWORK DAY | NATIONAL COFFEE CAKE DAY | NATIONAL ALCOHOL SCREENING DAY

NATIONAL GIRL, ME TOO DAY
National Girl, Me Too Day on April 7th recognizes the strength and endurance of women of all ages and is an opportunity to show support for each other. Take a moment to look at the women around us. Neighbors, shopkeepers, sisters, even strangers. If you ask any one of them a… Read more…
NATIONAL BEER DAY
National Beer Day on April 7th annually, recognizes the world's most widely consumed alcoholic beverage. Following water and tea, it is the third most popular drink overall. One of the world's oldest prepared beverages, beer possibly dates back to 9500 BC when cereal was… Read more…
NATIONAL BURRITO DAY
National Burrito Day on the first Thursday in April celebrates the tasty and versatile Mexican dish wrapped in a tortilla. A burrito is a heavy tortilla wrapped around meat, cheese, tomato, rice, beans, vegetables, and…Read more…
NATIONAL NO HOUSEWORK DAY
National No Housework Day directs us to put down the cleaning solution and toss aside the laundry. For one day each year on April 7th, the housework can wait. Take a break from the sweeping, dusting, and dishes. Dirty windows? They will… Read more…
NATIONAL COFFEE CAKE DAY
On April 7th, National Coffee Cake Day gives us a reason another reason to linger over a cup of joe. We can also break out some of our favorite recipes and deliver a heartwarming, home-baked item to a friend or two. As many bakers know, coffee cakes take very little time to make and bring a lot of… Read more…

NATIONAL ALCOHOL SCREENING DAY
Every year, National Alcohol Screening Day raises awareness about the harmful effects of alcohol abuse and alcohol dependency. Each year on the Thursday of the first full week in April, these screens offer anonymous and confidential opportunities for those with… Read more…
On Deck for April 8, 2022
National Days
International Days
Recipe of the Day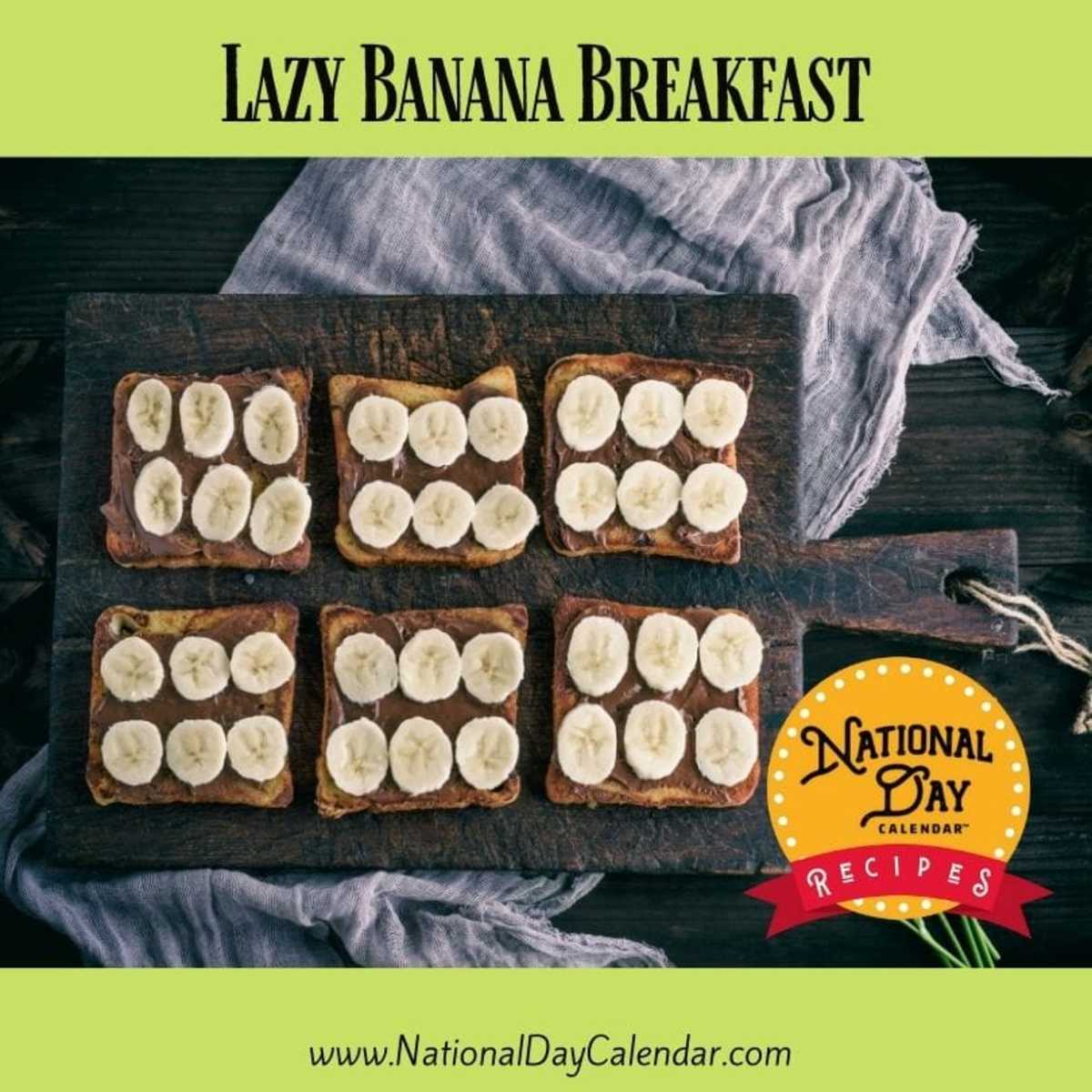 Lazy Banana Breakfast
Prep time: 5 minutes
Cook time: 10 minutes
Total: 15 minutes
Servings: 6
Ingredients
6 slices of bread
6 tablespoons chocolate hazelnut spread
2 bananas, sliced
1 tablespoon cinnamon sugar (optional)
Instructions
Toast bread. Slice bananas. Spread one tablespoon of chocolate hazelnut spread on each slice of toast. Top with sliced bananas. Sprinkle with cinnamon sugar if desired.
April 7th Celebrated (and Not So Celebrated) History
1933
President Franklin Roosevelt took the first step toward ending Prohibition and signed a law that allowed people to brew and sell beer, in the United States, as long as it remained below 4.0% alcohol by volume (ABV). Beer drinkers celebrated and were happy to be able to purchase beer again for the first time in thirteen years.
1940
The United Nations establishes the World Health Organization.
1949
The musical South Pacific opens on Broadway. Its critical success leads to 10 Tony Awards.
April 7th Celebrated (and Not So Celebrated) Birthdays
Walter Camp – 1859
Known as the "Father of American Football," Walter Camp played an integral role in molding the sport into the game athletes play today. From the line of scrimmage to the creation of the quarterback, Camp played, coached, and developed rules valuable to establishing a lasting, competitive sport.
Billie Holiday – 1915
Born Eleanora Fagan, the American jazz singer rose to stardom in the 1930s singing with Duke Ellington and saxophonist Lester Young. The saxophonist would give her the nickname "Lady Day" which she would use in her autobiography Lady Sings the Blues.
Francis Ford Coppola – 1939
Award-winning director, writer, and producer, Francis Ford Coppola, brought memorable films to the big screen during the 1960s and 70s including The Godfather series, Patton and Apocolypse Now.
Jackie Chan – 1954
Born in Victoria Peak, Hong Kong as Chan Kong-sang, Jackie Chan began his career in the film industry as a child actor in a Bruce Lee film. Since then, the stuntman turned filmmaker brought his action-packed abilities to the U.S. with films like Rush Hour and The Karate Kid.
About National Day Calendar
National Day Calendar® is the original and authoritative source for fun, unusual and unique National Days! Since our humble beginnings on National Popcorn Day in 2013, we have been tracking the National Days, National Weeks, National Months, and International Days. We became the first calendar of its kind to curate the days all in one place and tell their stories, too! Here at National Day Calendar, we are on a mission to Celebrate Every Day with you! And by you, we mean families, businesses, educators, and strangers we meet on the street. There's more than one day for everyone.
At National Day Calendar, we've found the National Days have a way of inspiring us. We're honored to tell the stories behind the days and provide you with informational ways to incorporate the National Days into your business, family, schools, and home!
Be sure to stay in the know by signing up for our e-mail updates. Also, follow us on Facebook, Twitter, and Instagram.
Our Ambassador Program is another way #CelebrateEveryDay®! Whether you become an ambassador or follow one of the savvy ambassadors, their fun videos and posts will keep you prepared for every holiday.
© National Day Calendar® 2013 – 2021