(Last Updated On: March 31, 2023)
APRIL 3, 2023 | NATIONAL IEP WRITING DAY | NATIONAL FIND A RAINBOW DAY | WORLD PARTY DAY | NATIONAL CHOCOLATE MOUSSE DAY | NATIONAL FILM SCORE DAY | NATIONAL TWEED DAY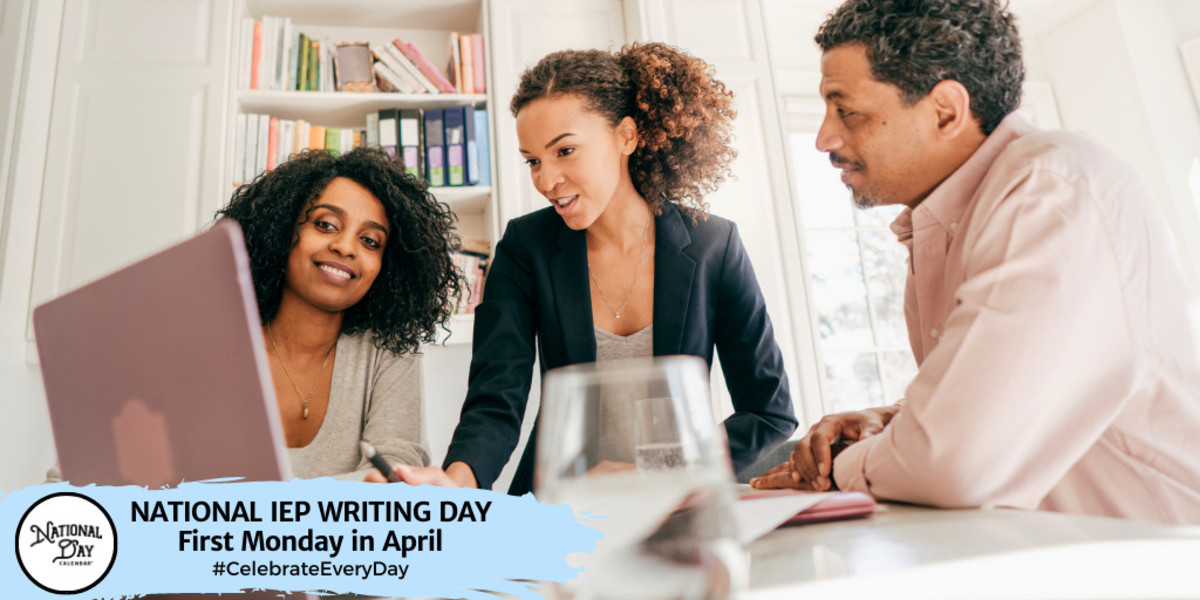 NATIONAL IEP WRITING DAY | First Monday in April
The first Monday in April is National IEP Writing Day to honor all special education teachers and team members who write Individualized Education Programs (IEPs) for students with disabilities. Read more…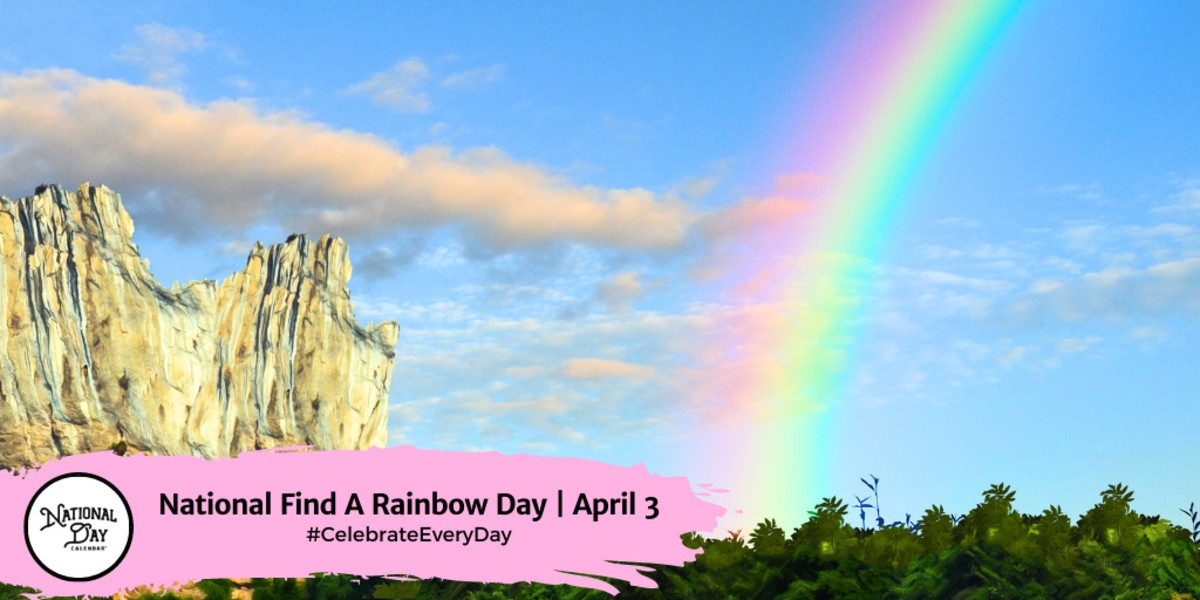 NATIONAL FIND A RAINBOW DAY
Each year on April 3rd, National Find a Rainbow Day challenges us to look to the sky and find a colorful ray of hope cast across it. Read more…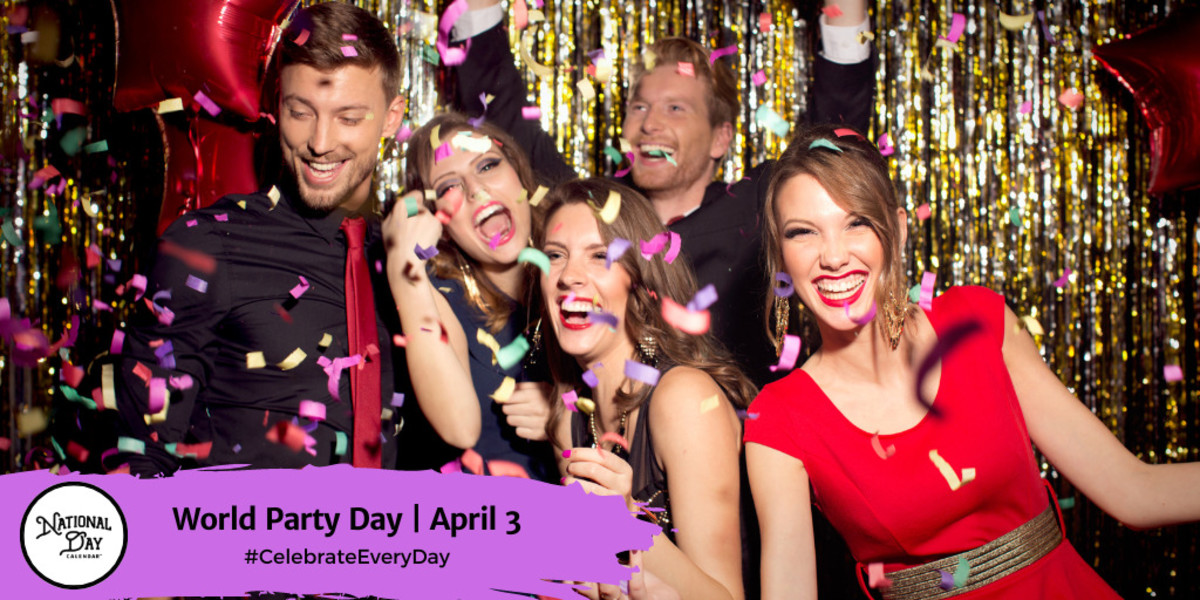 WORLD PARTY DAY
World Party Day on April 3rd encourages a coordinated effort of joyful human celebration around the globe. Read more…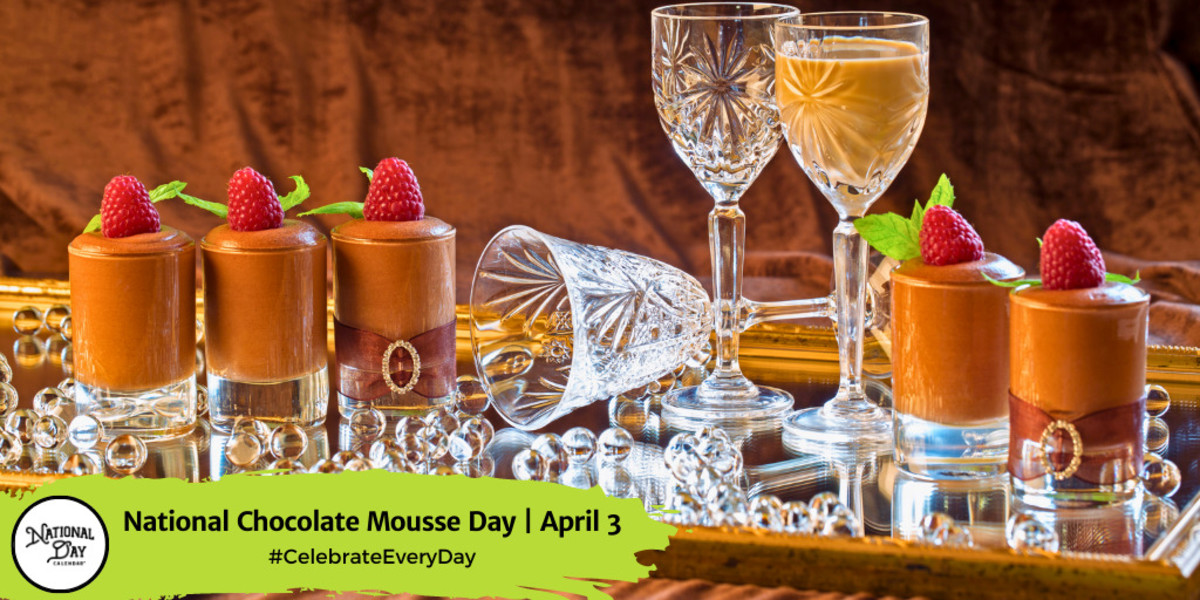 NATIONAL CHOCOLATE MOUSSE DAY
Every April 3rd National Chocolate Mousse Day recognizes the decadent dessert that gained popularity in France in the 1800s. Read more…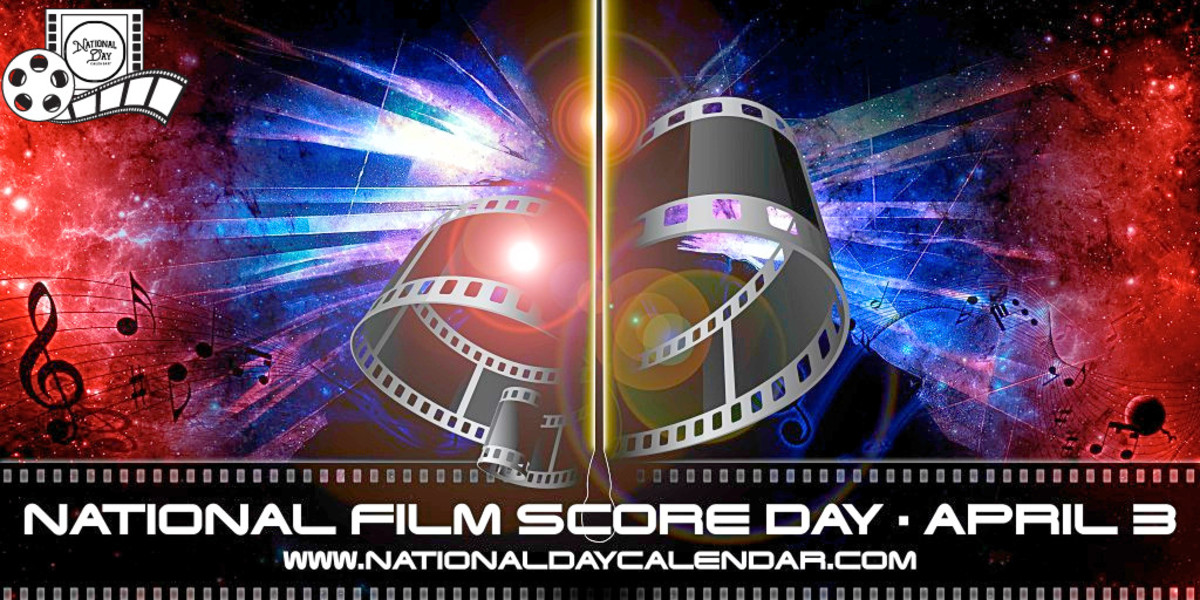 NATIONAL FILM SCORE DAY
On April 3rd, National Film Score Day recognizes the musical masterpieces called "Film Scores" and, more specifically, the very talented composers who create them. Read more…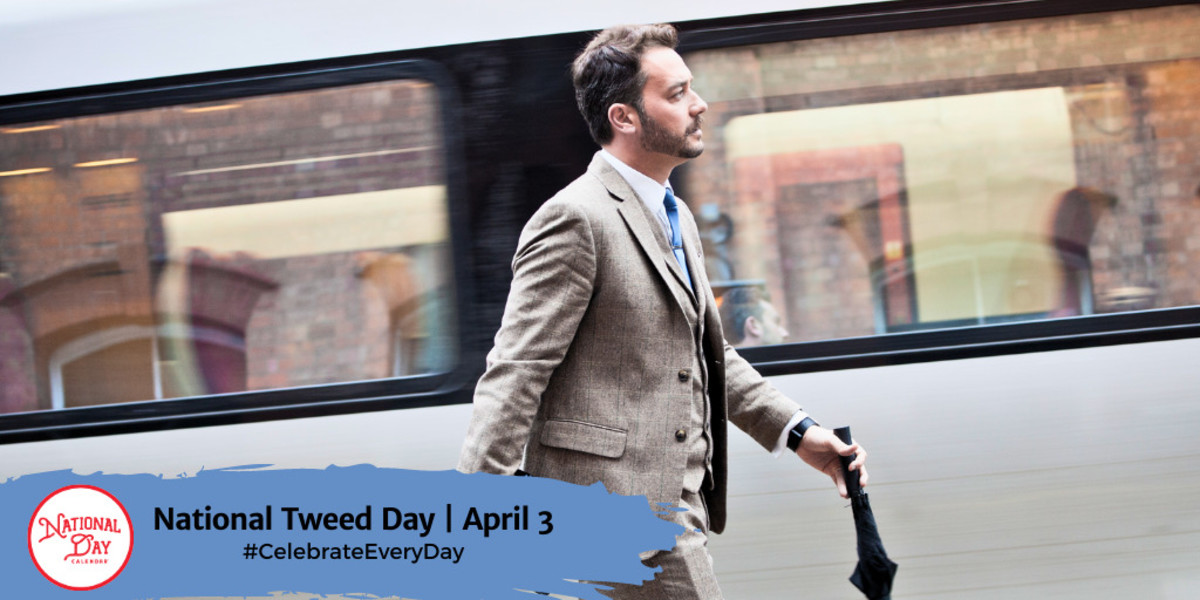 NATIONAL TWEED DAY
On April 3rd each year, National Tweed Day focuses on all things tweed. This day has a couple of approaches to celebrating the day, so you decide which one you believe is the source of National Tweed Day. Read more…
On Deck for April 4, 2023
National Days
National Vitamin C Day
Jeep 4×4 Day
Saam Day Of Action
National Chicken Cordon Bleu Day
National School Librarian Day
National Hug A Newsperson Day
National Walk Around Things Day
Recipe of the Day
Chicken Cordon Bleu for Two
Prep: 10 minutes
Cook: 45 minutes
Total Prep: 55 minutes
Servings: 2 servings
Perfect for a cozy night in, this Chicken Cordon Bleu for Two recipe also pairs well with a Quinoa, Onion and Kale Salad topped with Lemon Dijon Dressing. Add red or white wine and a sweet dessert and you will have a celebration!
Ingredients:
2 boneless skinless chicken breast halves (6 ounces each)
2 slices deli ham
2 slices Swiss cheese
1/4 cup butter, melted
1/2 cup dry bread crumbs
1/2 teaspoon salt
1/8 teaspoon paprika
Instructions:
Preheat the oven to 350°F.
Using a meat tenderizer, flatten chicken breast to 1/4 inch.
Top with a slice of ham and cheese on each.
Roll up the chicken halves and tuck the ends, securing with toothpicks.
Melt the butter in a shallow bowl.
In a separate bowl, mix bread crumbs, salt, and paprika.
Dip the chicken in the butter and then roll in the crumb mixture.
Place chicken in a greased 8×8-inch baking dish.
Bake for 40-45 minutes or until the chicken is no longer pink inside.
April 3rd Celebrated History
1860
Relay teams on horseback begin delivering the first post as part of the Pony Express. The private enterprise consisted of over 80 riders and hundreds of stations along the east-west routes that stretched from St. Joseph, Missouri and Sacramento, California. While the Pony Express only operated for 18 months, during that time it was a success. With the incorporation of the Overland Telegraph Company of California and the Pacific Telegraph Company of Nebraska, the Pony Express' days were numbered.
1995
Due to the absences of Supreme Court Chief Justice William H. Rehnquist and Justice John Paul Stevens, Supreme Court Justice Sandra Day O'Connor becomes the first woman to preside over the highest court in the land.
2010
Apple Inc. releases the iPad, its first-generation tablet computer.
April 3rd Celebrated Birthdays
Washington Irving – 1783
The American short-story writer brought us the classic tales of "Rip Van Winkle" and "The Legend of Sleepy Hollow."
Marlon Brando – 1924
One of Hollywood's most memorable actors, Marlon Brando created a string of rebels, villains, and crooks. He was nominated for eight Academy Awards and earned only one.
Virgil "Gus" Grissom – 1926
One of the Mercury 7 astronauts, Grissom would become a pioneer at NASA. He became the second American to fly in space on July 21, 1961 aboard the Mercury-Redstone 4. When Grissom flew to space a second time on March 23, 1965, aboard Gemini III, he became the first person to fly in space twice. He would tragically die when a fire erupted during a pre-launch test for the first manned Apollo 1 flight.
Jane Goodall – 1934
In 1960, Dr. Jane Goodall first observed chimpanzees creating tools. Before her observance, it was thought only humans created tools.
Sandra Boynton – 1953
The American illustrator and author is best known for her children's board books including The Going to Bed Book, Barnyard Dance, and Belly Button Book! She's also a songwriter, producer, and director.
Eddie Murphy – 1961
The award-winning American actor and comedian gained popularity in the 1980s as a regular on Saturday Night Live. He continued to earn his comedy reputation on the big screen in films such as Beverly Hills Cop, Coming to America and Nutty Professor. In 2006, he played the role of James Early in the romantic musical Dreamgirls and received critical recognition.
Picabo Street – 1971
In 1998, the downhill skier earned Olympic gold in the Super G women's skiing event at Nagano, Japan.
About National Day Calendar
National Day Calendar is the original and authoritative source for fun, unusual and unique National Days! Since our humble beginnings on National Popcorn Day in 2013, we have been tracking the National Days, National Weeks, National Months, and International Days. We became the first calendar of its kind to curate the days all in one place and tell their stories, too! Here at National Day Calendar, we are on a mission to Celebrate Every Day with you! And by you, we mean families, businesses, educators, and strangers we meet on the street. There's more than one day for everyone.
At National Day Calendar, we discovered the National Days have a way of inspiring us. We're honored to tell the stories behind the days and provide you with informational ways to incorporate the National Days into your business, family, schools, and home!