(Last Updated On: April 26, 2023)
April 28, 2023 | NATIONAL SUPERHERO DAY | NATIONAL BRAVEHEARTS DAY | NATIONAL HISTORIC MARKER DAY | NATIONAL ARBOR DAY | NATIONAL HAIRBALL AWARENESS DAY | NATIONAL GREAT POETRY READING DAY | NATIONAL BLUEBERRY PIE DAY | WORKERS' MEMORIAL DAY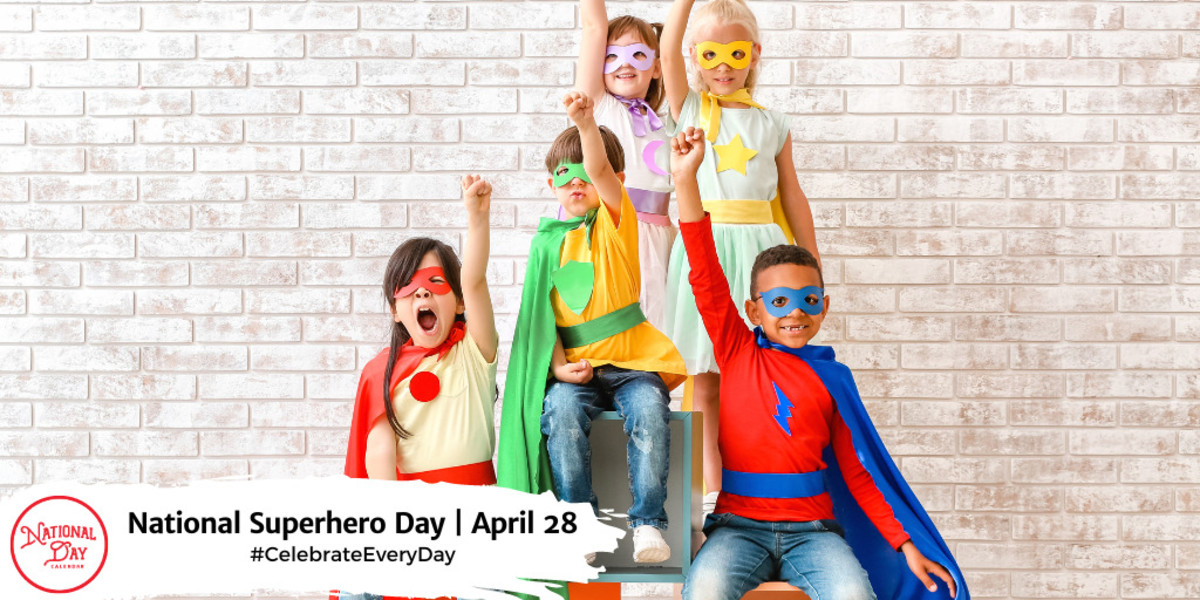 NATIONAL SUPERHERO DAY
Have you ever been rescued from a risky situation or saved from injury or death? Those who come to our aid are called heroes. Some heroes happen to be in the right place at the right time. Others choose to be a hero as a career (though they wouldn't call themselves heroes.) Other still are fictional creations that inspire us with hope. Each year on April 28th, National Superhero Day honors superheroes, both real and fictional. Read more…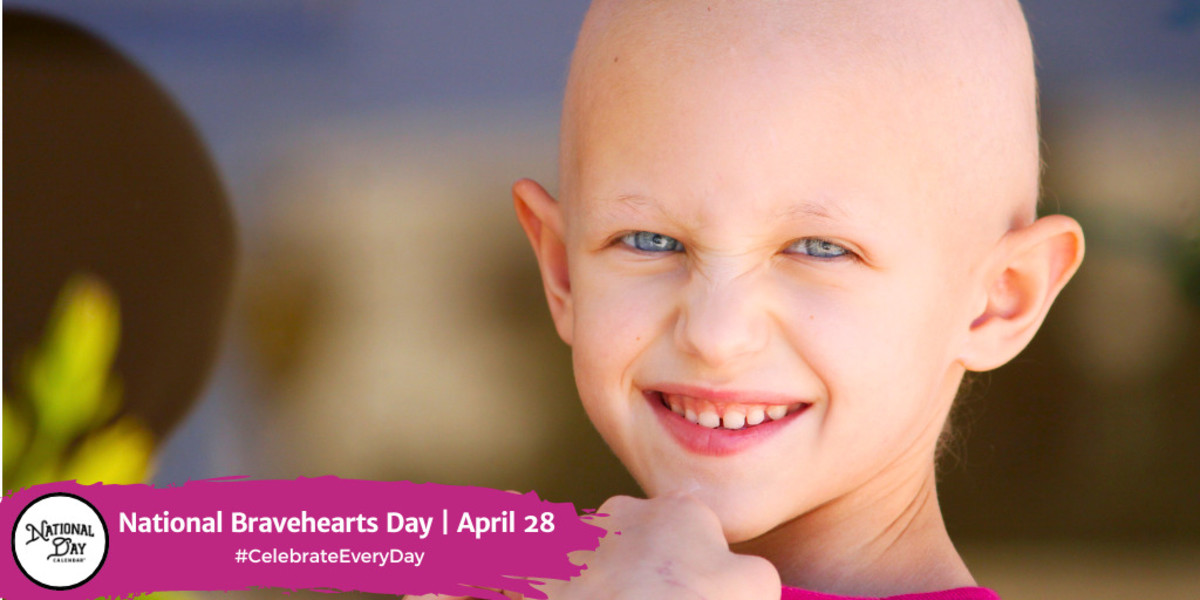 NATIONAL BRAVEHEARTS DAY
Each year on April 28, we celebrate National BraveHearts Day to honor the bravery of families dealing with pediatric cancer. During this time, pay tribute and support the families and friends of those involved in the child's life. Read more…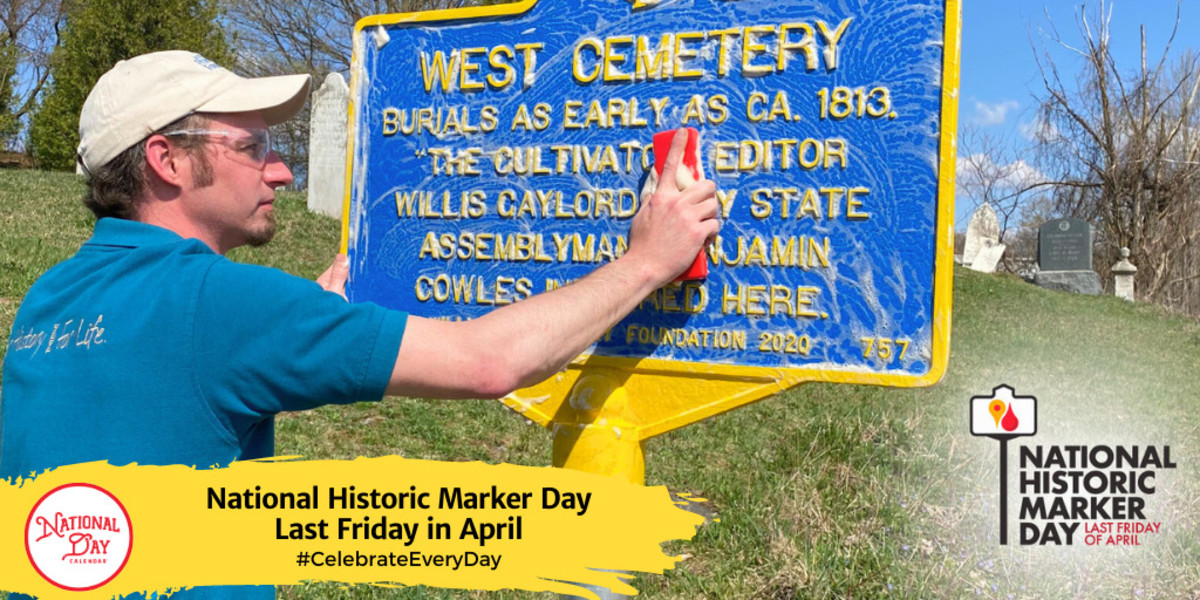 NATIONAL HISTORIC MARKER DAY
Historic markers all across the nation provide a glimpse into the past and preserve history for future generations. On the last Friday in April each year, National Historic Marker Day invites volunteers and communities to come together to maintain their markers. Unfortunately, weather and time take their toll on these small monuments to history. By working together, we not only ensure these markers tell the stories to future generations, but we also take the opportunity to celebrate the history and culture they preserve. Read more…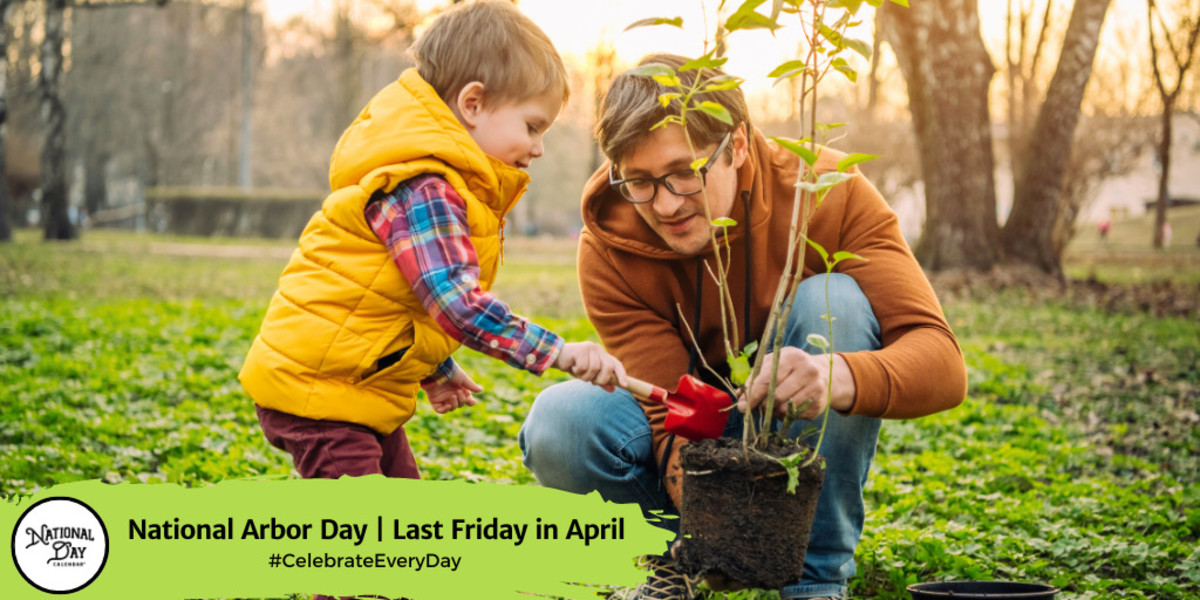 NATIONAL ARBOR DAY
Trees afford us many pleasures. In the spring, their buds let us know warmer weather is on the way. Their summer leaves provide ample shade on a hot day. Have you ever joyfully jumped into a pile of crisp colorful leaves in the fall? And in the winter, tree branches offer shelter to wildlife for our viewing pleasure. Each year in April, National Arbor Day encourages us to celebrate and plant trees. The observance takes place each year on the last Friday in April. Read more…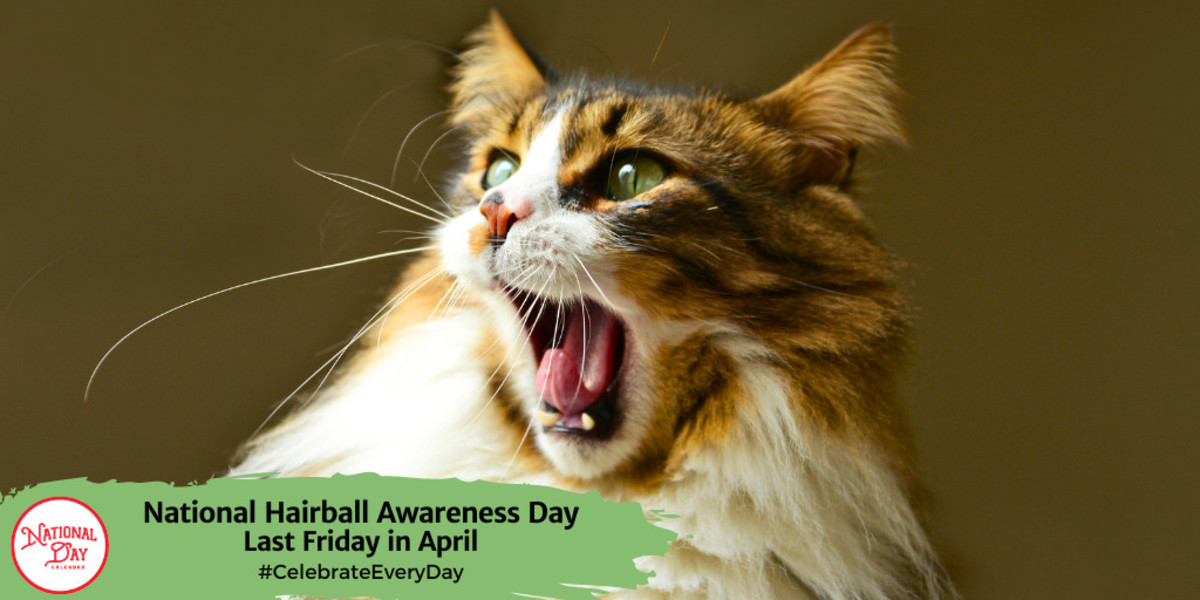 NATIONAL HAIRBALL AWARENESS DAY
Cat lovers have all been there. That onerous sound their cat makes when a hairball is on the rise. On the last Friday in April, National Hairball Awareness Day draws attention to a problem many cat lovers face. Read more…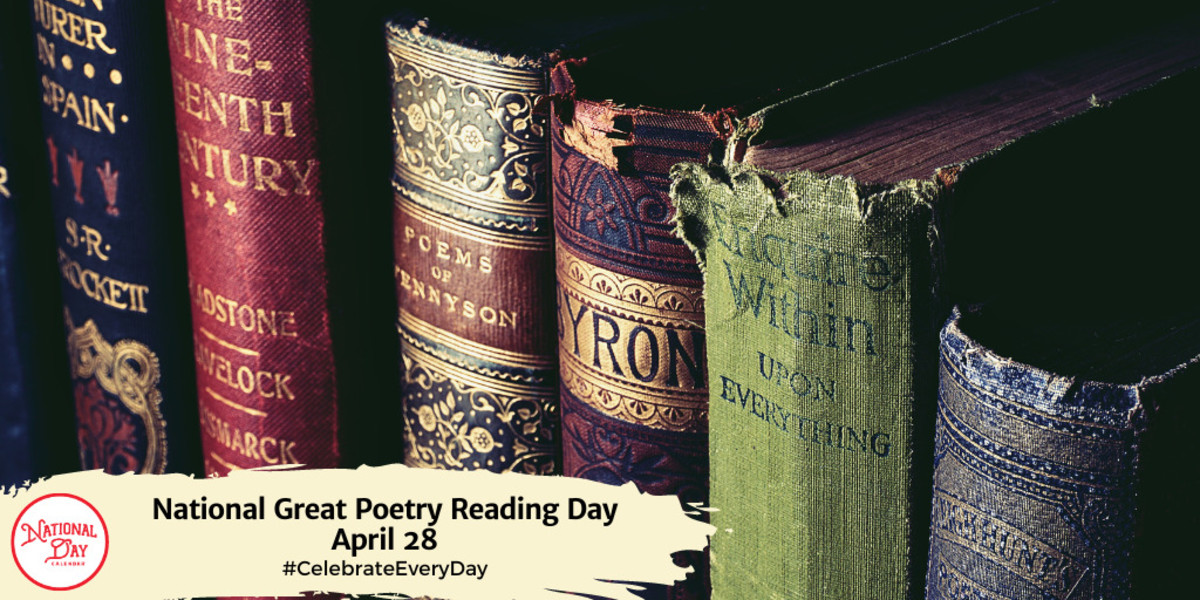 NATIONAL GREAT POETRY READING DAY
At the tail end of National Poetry Month, April 28th marks the observance of National Great Poetry Reading Day. This day celebrates distinguished poetry and the notable poets who wrote them. Read more…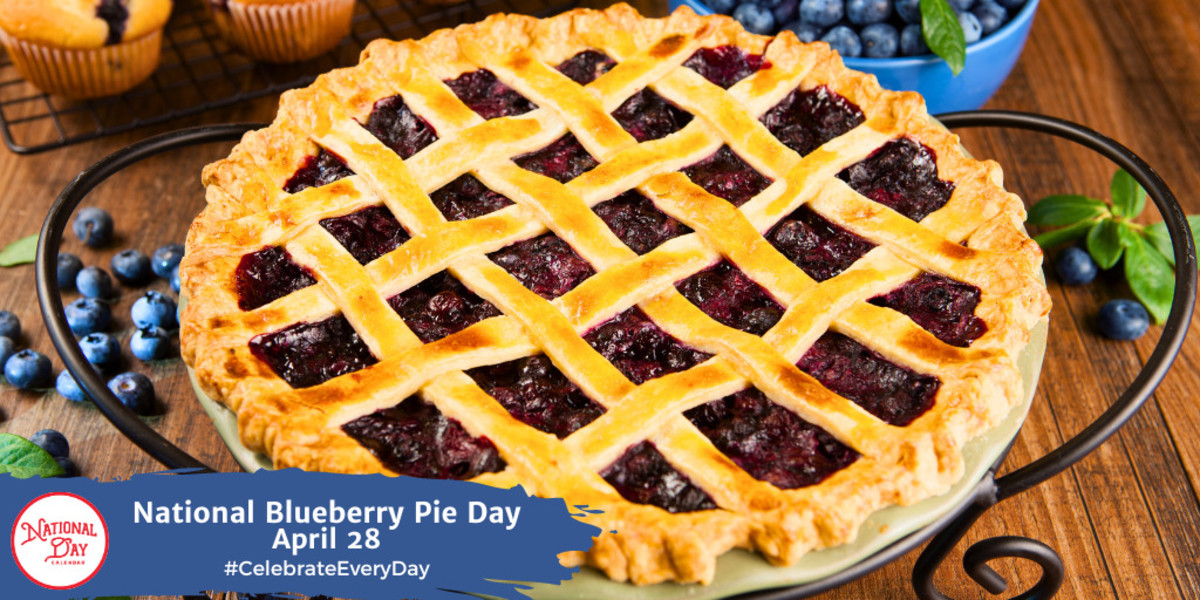 NATIONAL BLUEBERRY PIE DAY
National Blueberry Pie Day on April 28th each year ushers in blueberry pie-making season. Blueberry harvest begins in April and lasts until September giving us a long season full of blueberry enjoyment. Read more…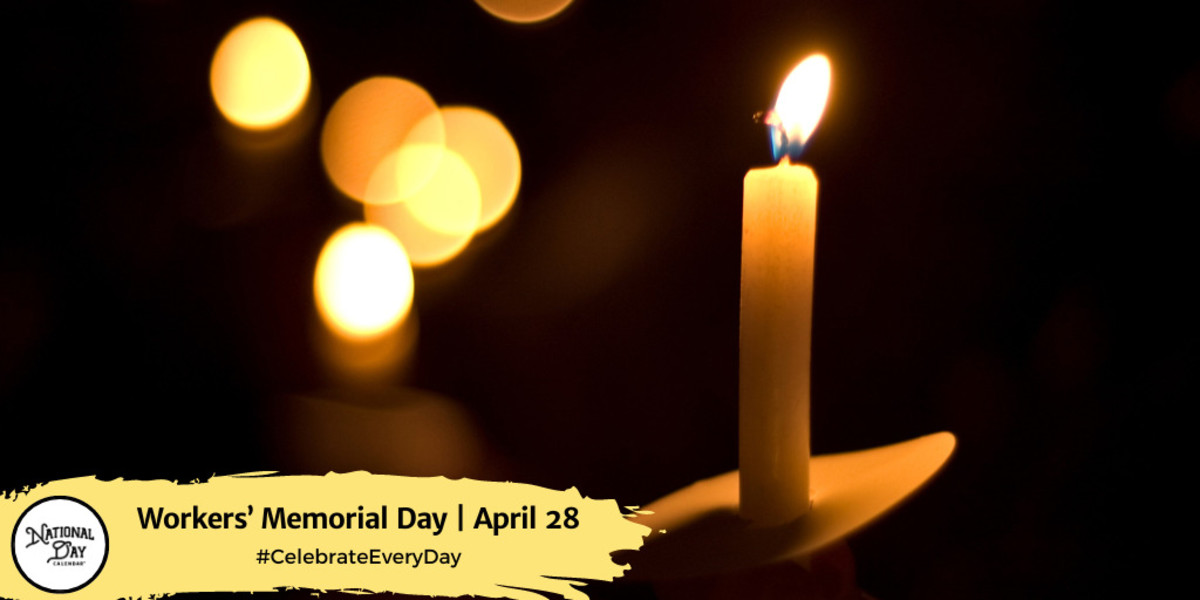 WORKERS' MEMORIAL DAY
Each year on April 28th, Workers' Memorial Day encourages national and international remembrance and action for workers killed, disabled, injured, or made unwell by their work. Also known as International Workers' Memorial Day or International Commemoration Day (ICD) for Dead and Injured or Day of Mourning, the slogan for the day is Remember the dead – Fight for the living. Read more…
On Deck for April 29, 2023
National Days
World Veterinary Day
National First Ladies Day
World Wish Day
Independent Bookstore Day
National Pool Opening Day
National Kiss Of Hope Day
National Sense Of Smell Day
National Rebuilding Day
National Shrimp Scampi Day
National Zipper Day
National Peace Rose Day
Recipe of the Day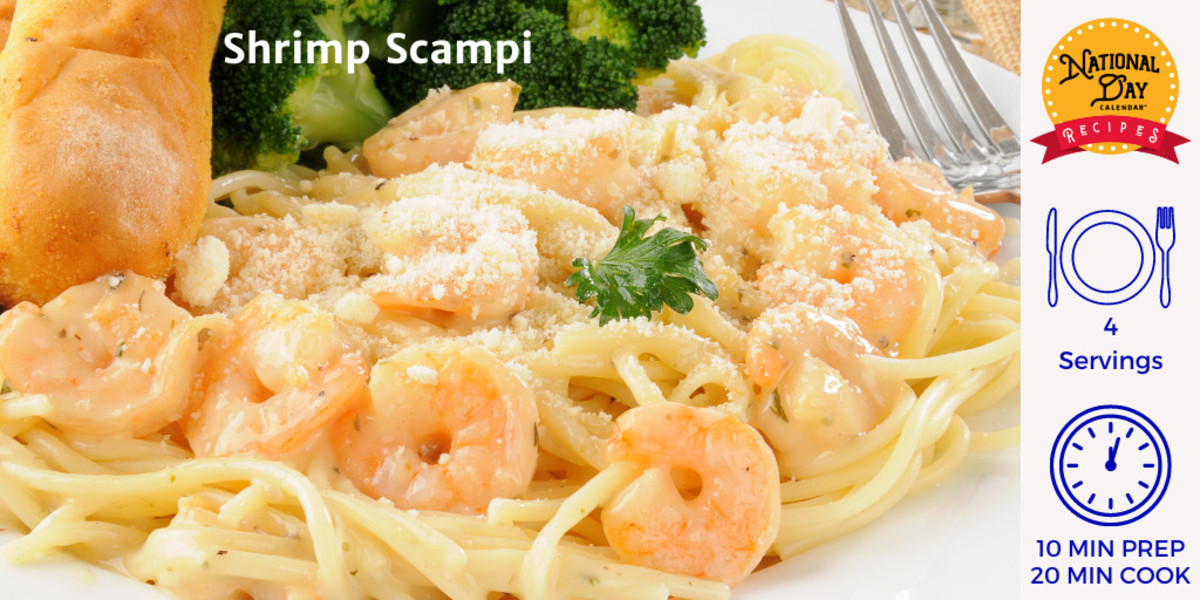 Shrimp Scampi
Prep:  10 minutes
Cook time:  15-20 minutes
Servings: 4
Download Shrimp Scampi Recipe Card
Ingredients:
Prepare angel hair pasta according to instructions on package.
3 to 4 garlic cloves, minced
1/4 cup butter, cubed
1/4 cup olive oil
1 pound uncooked medium shrimp, peeled and de-veined
1/4 cup lemon juice
1/2 teaspoon pepper
1/4 teaspoon dried oregano
1/4 cup dry bread crumbs
1/4 cup minced fresh parsley
Instructions:
In a large skillet, melt butter.
Add olive oil and garlic. Saute' about 1 minute.
Add shrimp, lemon juice, pepper, and oregano and cook until shrimp turns pink. Remove from heat.
Stir in parsley and bread crumbs.
Serve over cooked pasta.
April 28th Celebrated History
1952
The official end of Allied occupation in Japan took place according to the Treaty of San Francisco, or the Treaty of Peace with Japan signed seven months prior. Signed by 49 countries, including the United States and Japan, the treaty restored full sovereignty to Japan on this date. While Nationalist China signed the treaty, neither Red China nor Russia did. Both were still considered at war with the island country.
1955
Helicopter pilot Jean Ross Howard Phelan founded the Whirly-Girls organization along with 13 international charter members. While training at Bell Helicopter School in Fort Worth, Texas, Lawrence Bell nicknamed Ross Howard Phelan a "whirly-girl" inspiring her to use the name for the organization. In the organization's more than six decades, it has promoted the advancement of women helicopter pilots, charitable aviation, mentoring, scholarship and camaraderie.
1992
Agriculture Secretary Edward Madigan revealed the USDA's Food Guide Pyramid. The new guide illustrated the food groups in a hierarchy of recommended servings. It replaced the previous design called the "Food Wheel."
2001
For the budget-friendly price tag of $20 million, American businessman Dennis Tito hitched a ride aboard a Russian supply mission to the International Space Station. His six-day round trip is considered the first of a space tourist.
April 28th Celebrated Birthdays
James Monroe – 1758
During the fifth president's administration, the young country began facing the moral dilemma of slavery for the first time. The Missouri Compromise allowed Missouri to enter the union as a slave state and Maine as a free state. It also restricted slavery north and west of Missouri, setting the stage for future division. Monroe was also the last of the Founding Fathers to be elected to the presidency.
Erich Salomon – 1914
The German photographer was known for capturing photos of notable figures and events. He is considered one of the founding fathers of modern photojournalism.
Harper Lee – 1926
Best known for her Pulitzer Prize-winning novel To Kill a Mockingbird (1960), Harper Lee later accepted a post at the National Council of the Arts. While Mockingbird brought celebrity and wealth to Lee, she didn't publish another novel until 2015. Originally written in 1957, Go Set a Watchman follows up on the main characters in Mockingbird.
Jay Leno – 1950
In 1992, the American comedian became the host of NBC's The Tonight Show. He hosted the show for 17 years. Also a known car geek, he also hosts the television show Jay Leno's Garage.
About National Day Calendar
National Day Calendar is the original and authoritative source for fun, unusual and unique National Days! Since our humble beginnings on National Popcorn Day in 2013, we have been tracking the National Days, National Weeks, National Months, and International Days. We became the first calendar of its kind to curate the days all in one place and tell their stories, too! Here at National Day Calendar, we are on a mission to Celebrate Every Day with you! And by you, we mean families, businesses, educators, and strangers we meet on the street. There's more than one day for everyone.
At National Day Calendar, we discovered the National Days have a way of inspiring us. We're honored to tell the stories behind the days and provide you with informational ways to incorporate the National Days into your business, family, schools, and home!