(Last Updated On: April 21, 2023)
APRIL 25, 2023 | NATIONAL TELEPHONE DAY | NATIONAL DNA DAY | NATIONAL HUG A PLUMBER DAY | NATIONAL LIBRARY WORKERS DAY | NATIONAL ZUCCHINI BREAD DAY | NATIONAL EAST MEETS WEST DAY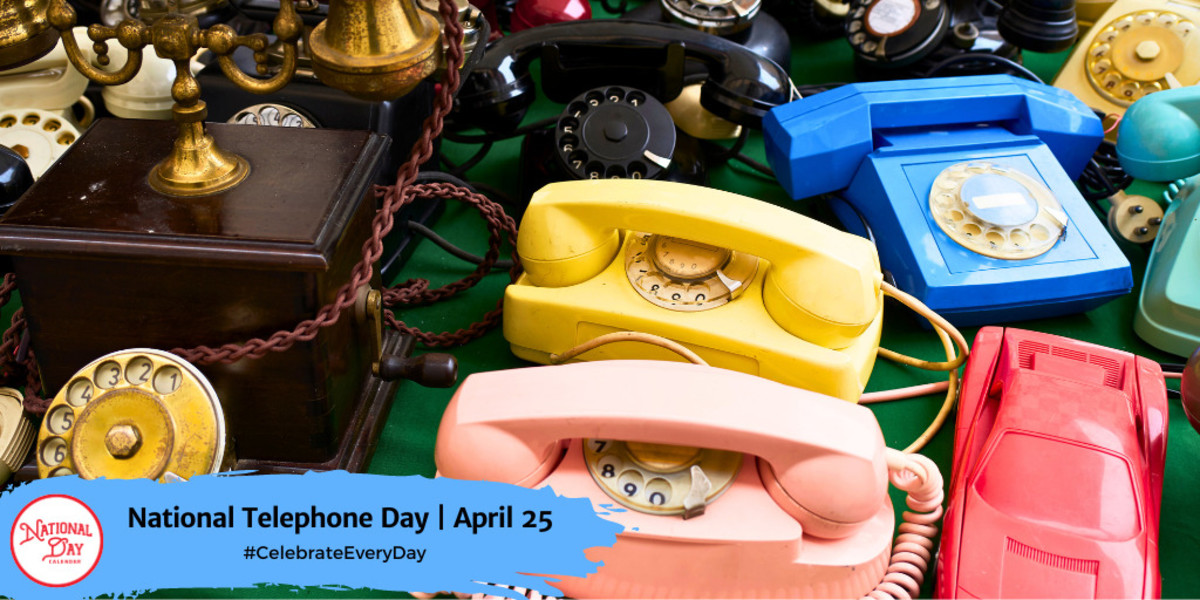 NATIONAL TELEPHONE DAY
On April 25th, we observe National Telephone Day. Around the world, there are 9.82 billion mobile phones. And while some predicted the landline to be obsolete by 2020, there are still about 931 million landlines around the world. Read more…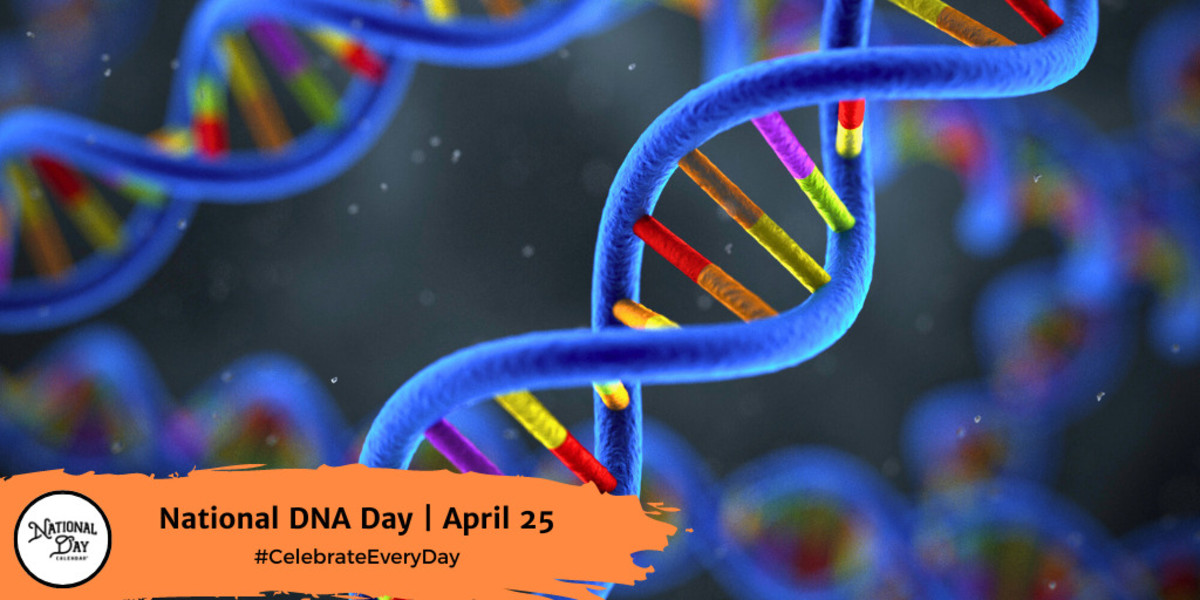 NATIONAL DNA DAY
On April 25th, people across the nation recognize National DNA Day. On this day in 1953, James Watson and Francis Crick formally announced their discovery of deoxyribonucleic acid (DNA) in a short letter published in the science journal, Nature. Read more…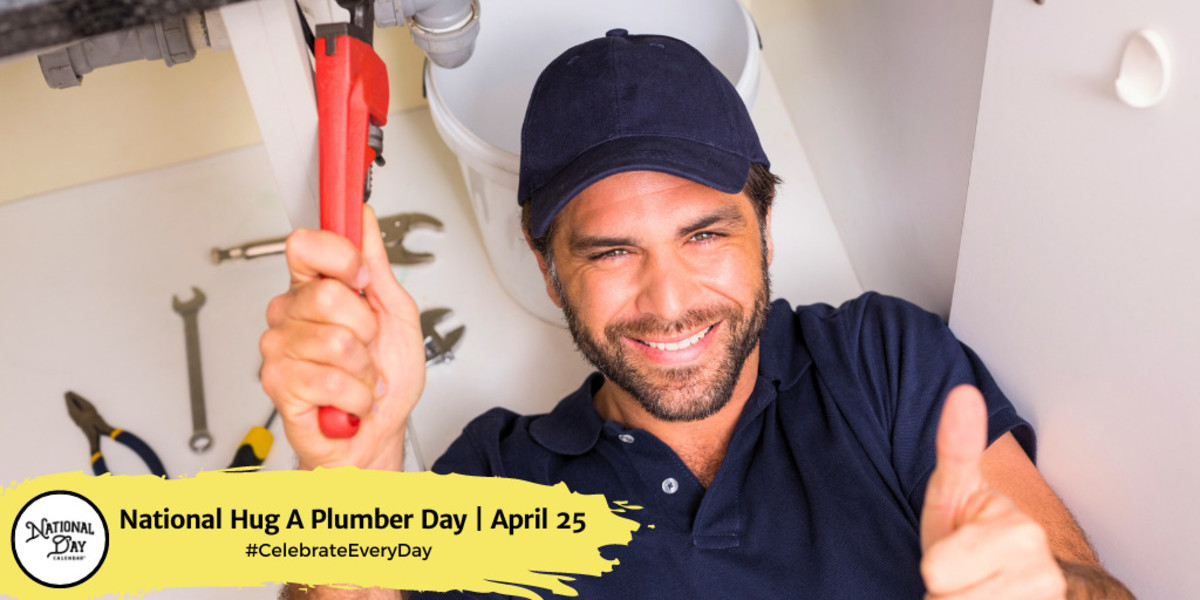 NATIONAL HUG A PLUMBER DAY
National Hug A Plumber Day on April 25th recognizes those who come to our rescue when pipes leak or drains are clogged. Read more…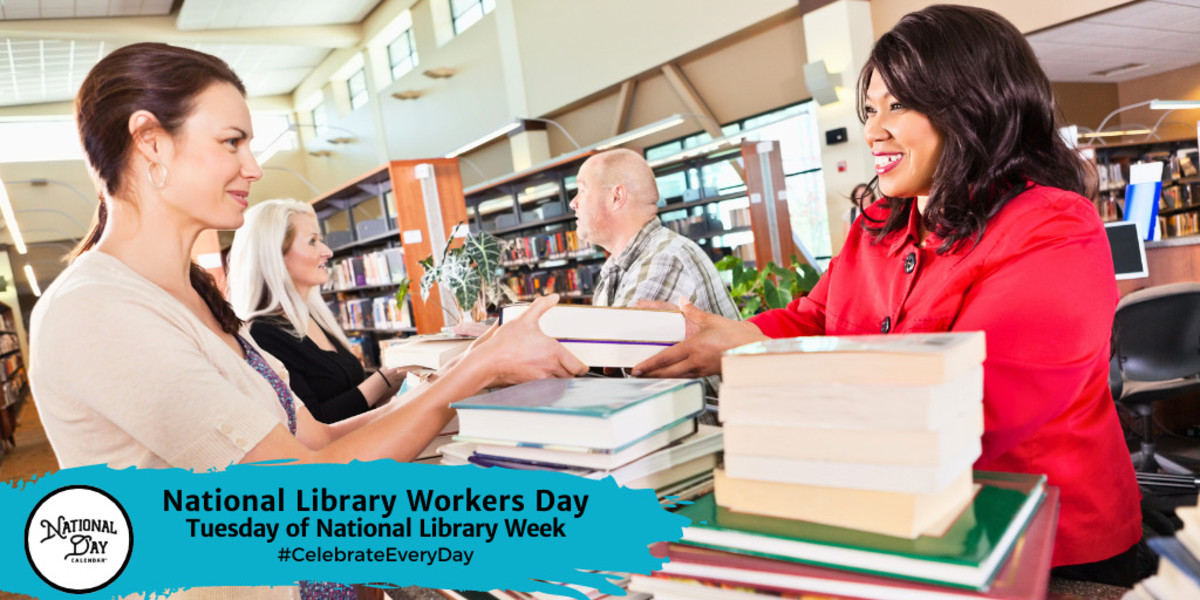 NATIONAL LIBRARY WORKERS DAY
Each year in April, National Library Workers Day recognizes the valuable contributions library staff make every day to their communities through their hard work and dedication. The observance takes place annually on the Tuesday of National Library Week.  Read more…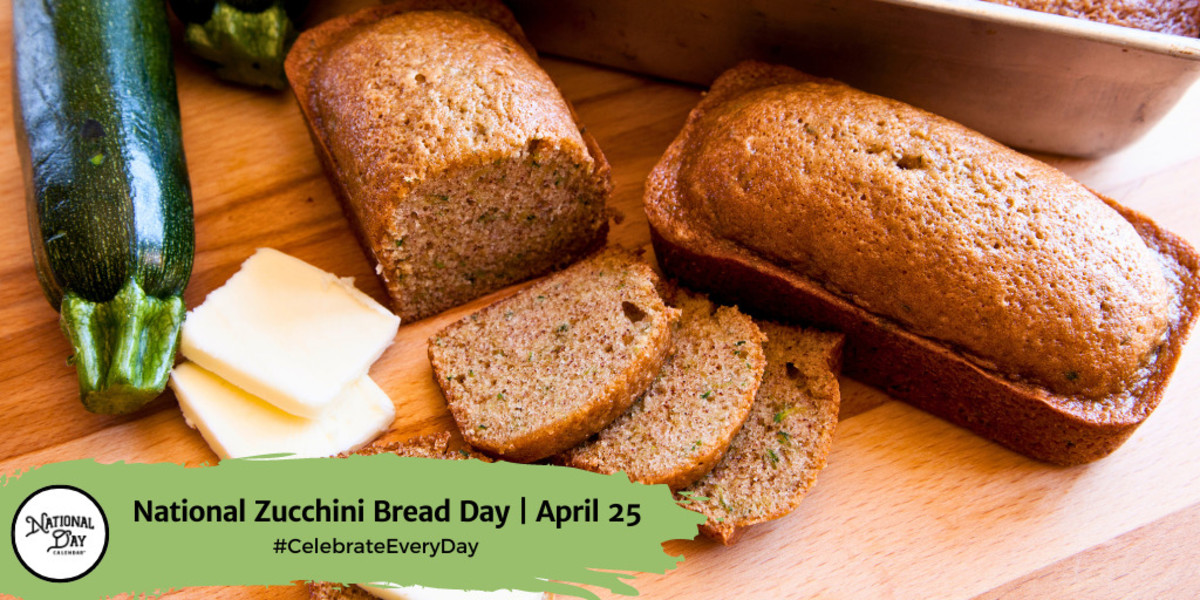 NATIONAL ZUCCHINI BREAD DAY
Each year on April 25th each year, National Zucchini Bread Day encourages bakers to make this delicious bread. Read more…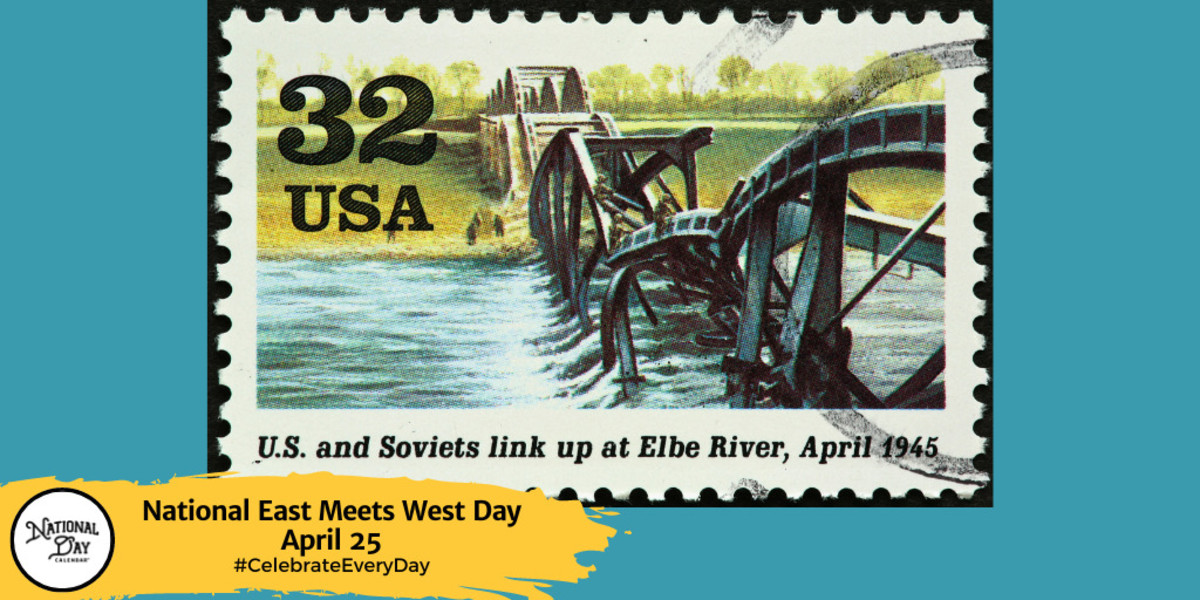 NATIONAL EAST MEETS WEST DAY
National East Meets West Day on April 25th commemorates the day the Eastern Front of the Allied forces met the Western front on the River Elbe. Also known as Elbe Day, this day marked an important step toward ending World War II. Read more…
On Deck for April 26, 2023
National Days
Stop Food Waste Day
Denim Day
National South Dakota Day
National Dissertation Day
National Help A Horse Day
National Library Outreach Day
National Pretzel Day
National Kids And Pets Day
National Richter Scale Day
National Audubon Day
National Administrative Professionals Day
Recipe of the Day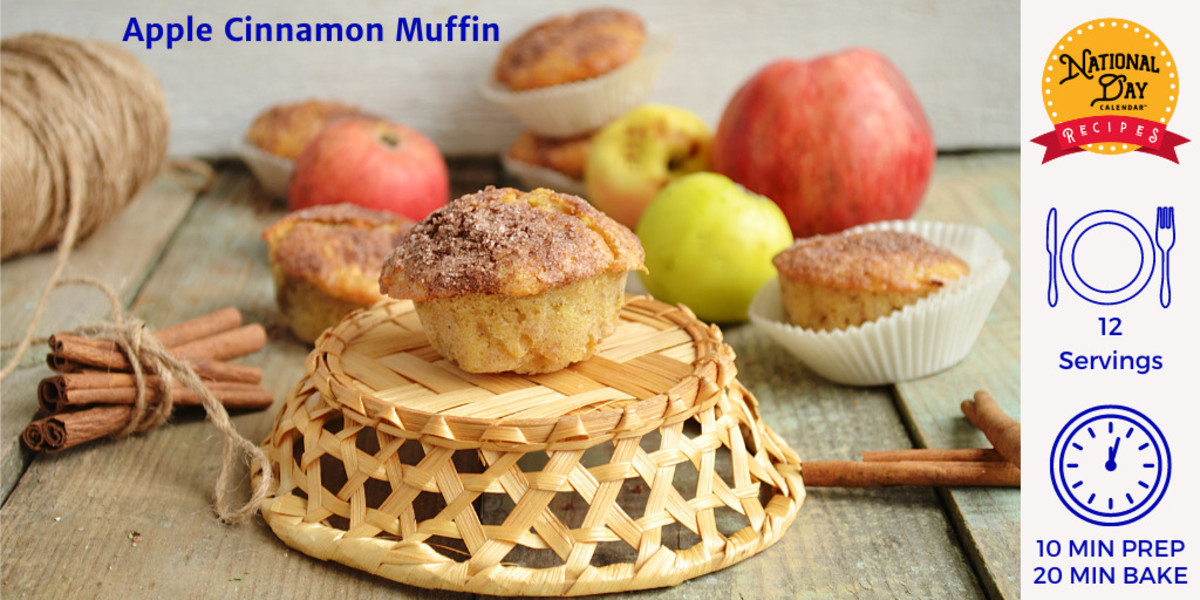 Apple Cinnamon Muffin
Prep: 10 minutes
Cook: 20 minutes
Total Prep: 30 minutes
Servings: 12
Ingredients:
2 1/2 cups all-purpose flour + 2 teaspoons, divided
1/2 cup granulated sugar
2 teaspoons baking powder
2 teaspoons ground cinnamon + 1/2 teaspoon, divided
2 cups diced apples
divided
1/2 teaspoon kosher salt
1 1/4 cups whole or 2% milk
1/2 cup vegetable oil
1 large egg
1 teaspoon vanilla extract
Instructions:
Heat oven to 375°F with rack placed in the center of the oven. Line muffin tin with 12 paper liners or coat with cooking spray, butter or oil.
Toss apple pieces, 1/4 teaspoon cinnamon, and 2 teaspoons of flour in a small bowl and set aside.
In a large bowl, combine flour, sugar, baking powder, cinnamon and salt.
In a separate bowl, mix milk, oil, egg, and vanilla.
Gradually add liquid mixture to the dry mixture, stirring until just incorporated. Fold in the apple mixture.
Fill muffin cups about 1/3 full with the batter. Bake 20 minutes until a toothpick inserted into the center comes clean.
April 25th Celebrated History
1945
U.S. military from the East and Soviet military from the West met on the banks of the Elbe River marking an important turning point of World War II.
1961
The U.S. Patent Office issued patent no. 2,981,877 to Robert N Noyce of Fairchild Semiconductor.
In 1957, Noyce and 7 other engineers founded Fairchild Semiconductor Corporation. There he developed one of the first integrated circuits. In 1968, he co-founded Intel Corporation and the company released the first microprocessor in 1971.
1983
Samantha Smith, a student from Manchester, Maine, receives a reply from Soviet leader Yuri V. Andropov. Learn more about Samantha Smith and Andropov's response here.
1990
NASA astronauts deploy the Hubble Telescope from the space shuttle Discovery.
April 25th Celebrated Birthdays
John Frank Stevens – 1853
The American civil engineer contributed to improved transportation by building the Great Northern Railway and in his role as chief engineer on the Panama Canal.
Guglielmo Marconi – 1892
While many inventors contributed to the success of the radio, Guglielmo Marconi was the first to bring a commercially viable product to market. In 1901, the inventor made history when he broadcast the first radio signal across the Atlantic.
Edward R. Murrow -1908
Noted radio and television news broadcast pioneer, Edward R. Murrow brought the world into people's living rooms by allowing them to hear the action as it happened. Murrow was respected for his integrity in journalism. The Radio Television Digital News Association has awarded journalists in the field with the Edward R. Murrow Award since 1971.
Ella Fitzgerald – 1917
The ever-elegant "First Lady of Song" and "Queen of Jazz" earned 13 Grammys during her 60-year career.
Al Pacino – 1940
The award-winning actor of stage and screen earned critical acclaim in his Tony-winning performance of Does a Tiger Wear a Necktie. Three years later Pacino was nominated for an Oscar for his role in The Godfather.
About National Day Calendar
National Day Calendar is the original and authoritative source for fun, unusual and unique National Days! Since our humble beginnings on National Popcorn Day in 2013, we have been tracking the National Days, National Weeks, National Months, and International Days. We became the first calendar of its kind to curate the days all in one place and tell their stories, too! Here at National Day Calendar, we are on a mission to Celebrate Every Day with you! And by you, we mean families, businesses, educators, and strangers we meet on the street. There's more than one day for everyone.
At National Day Calendar, we discovered the National Days have a way of inspiring us. We're honored to tell the stories behind the days and provide you with informational ways to incorporate the National Days into your business, family, schools, and home!