(Last Updated On: April 13, 2023)
APRIL 15, 2023 | PURPLE UP! DAY | NATIONAL TITANIC REMEMBRANCE DAY | NATIONAL LAUNDRY DAY | NATIONAL TAX DAY | NATIONAL TAKE A WILD GUESS DAY | NATIONAL GLAZED SPIRAL HAM DAY | NATIONAL RUBBER ERASER DAY | NATIONAL AUCTIONEERS DAY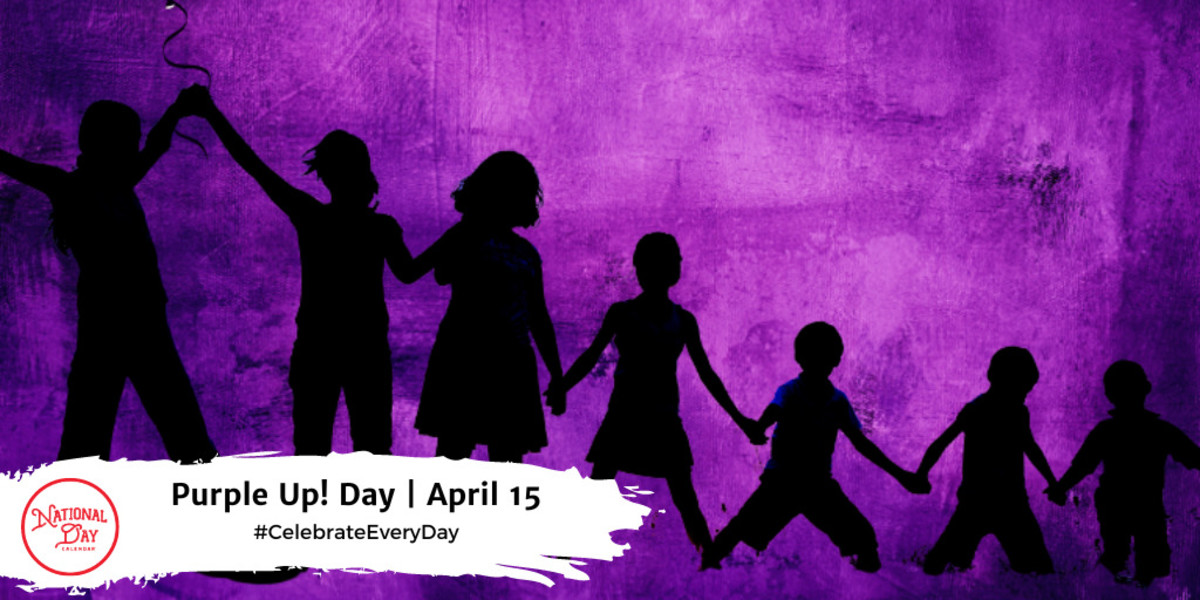 PURPLE UP! DAY
During the Month of the Military Child, Purple Up! Day on April 15th recognizes some of the military's most unsung heroes – their children. The day encourages everyone to wear purple representing all branches of the military and showing unity with each other. Read more…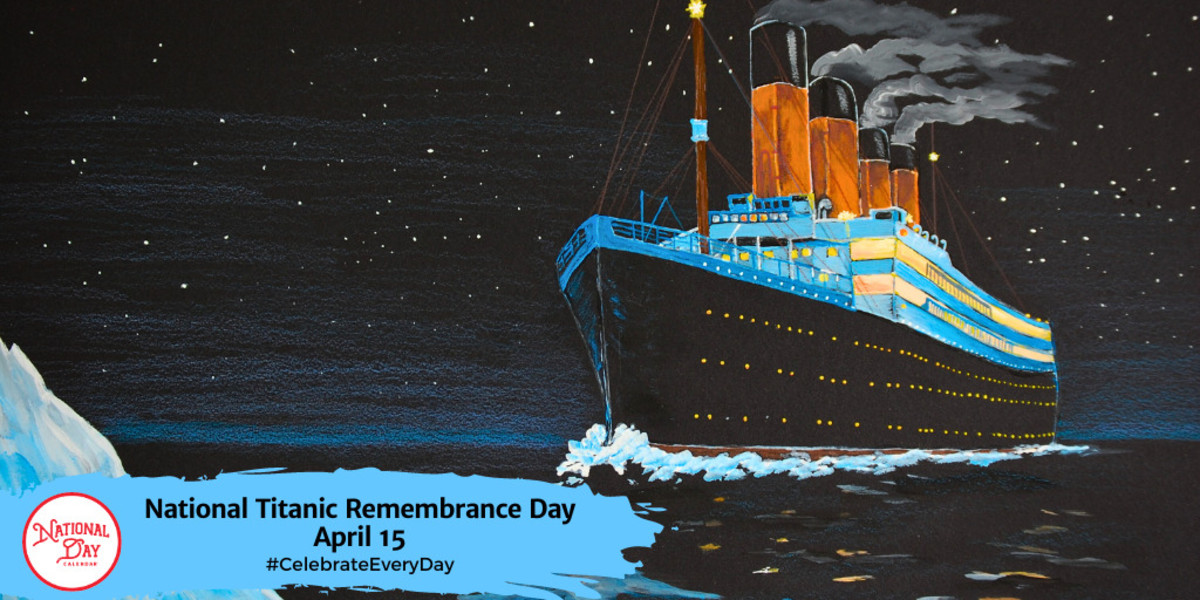 NATIONAL TITANIC REMEMBRANCE DAY
On April 15th, National Titanic Remembrance Day remembers the lives lost when the Titanic sank into the North Atlantic's icy waters in 1912. We remember the more than 1,500 people who died that day. Read more…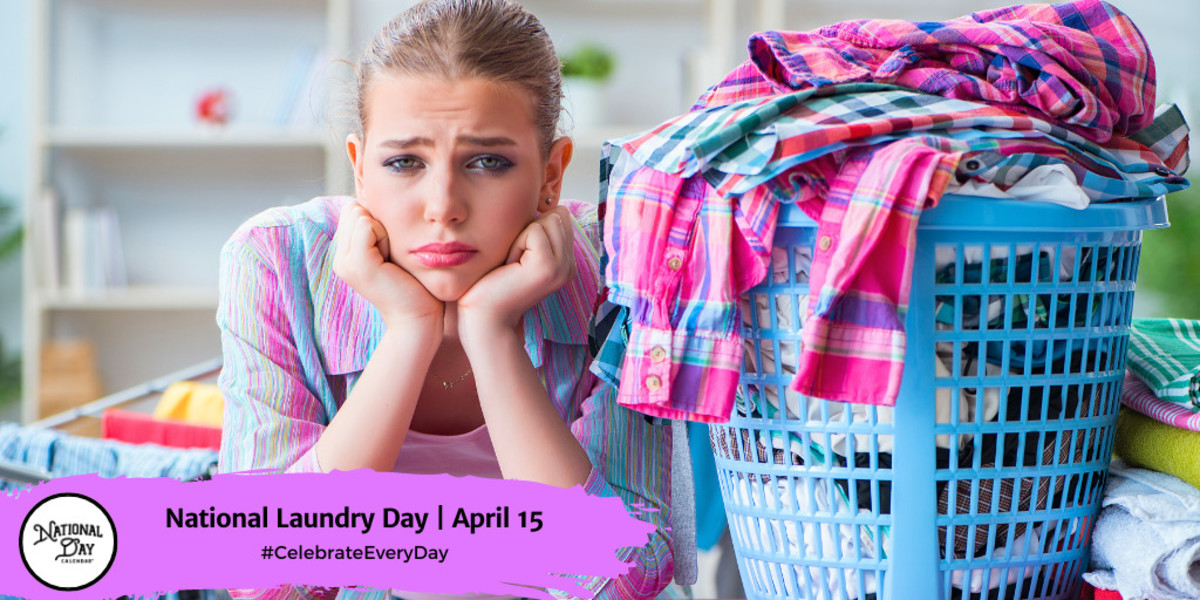 NATIONAL LAUNDRY DAY
Benjamin Franklin may have overlooked one certainty in life: laundry. National Laundry Day on April 15th creates an opportunity to assess our laundry habits and teach our children to develop good ones. Read more…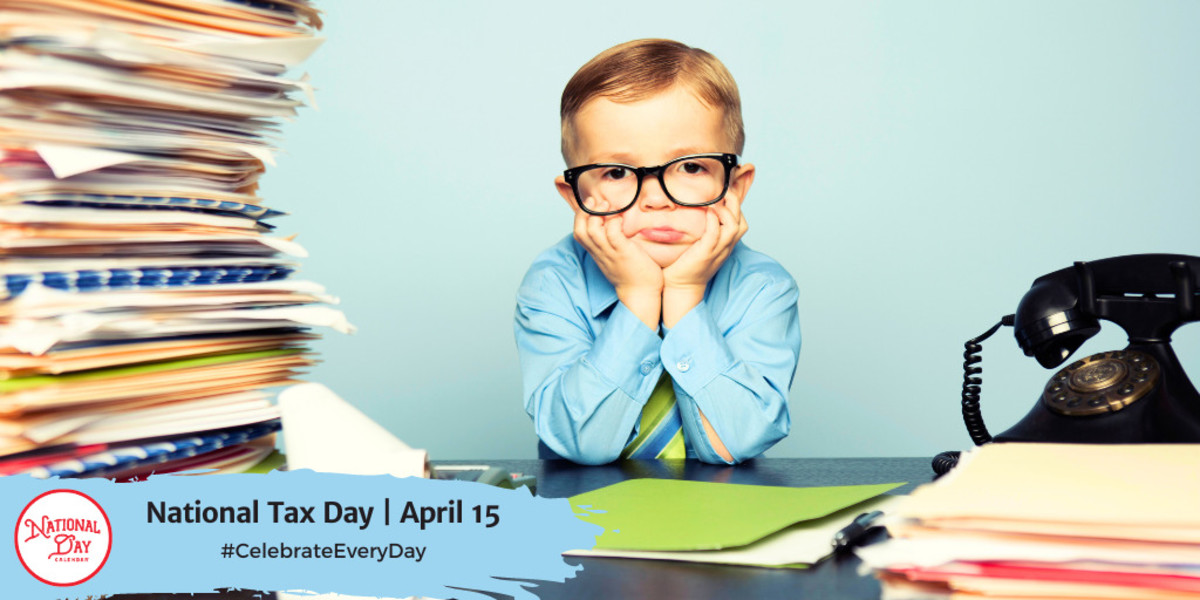 NATIONAL TAX DAY
The 2023 Federal Tax deadline is Tuesday, April 18th.
April 15th of each year is National Tax Day. In the United States, the term "tax day" refers to the day on which individual income tax returns are due to the federal government. The day may also refer to April 15th for state tax returns. Read more…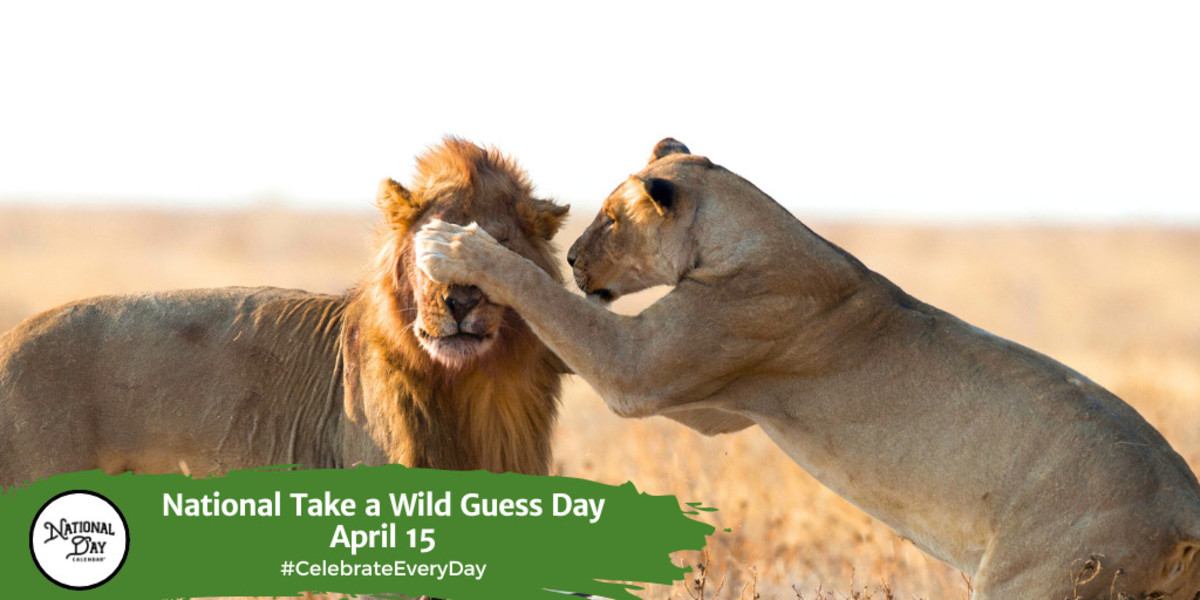 NATIONAL TAKE A WILD GUESS DAY
Is it a calculated risk to celebrate National Take A Wild Guess Day each year on April 15th? It might depend upon how you observe the day. Will you guess how many jelly beans are in a jar? Or will you be estimating your taxes? Depending on how you spend the day, it could be full of hunches and guesses. Read more…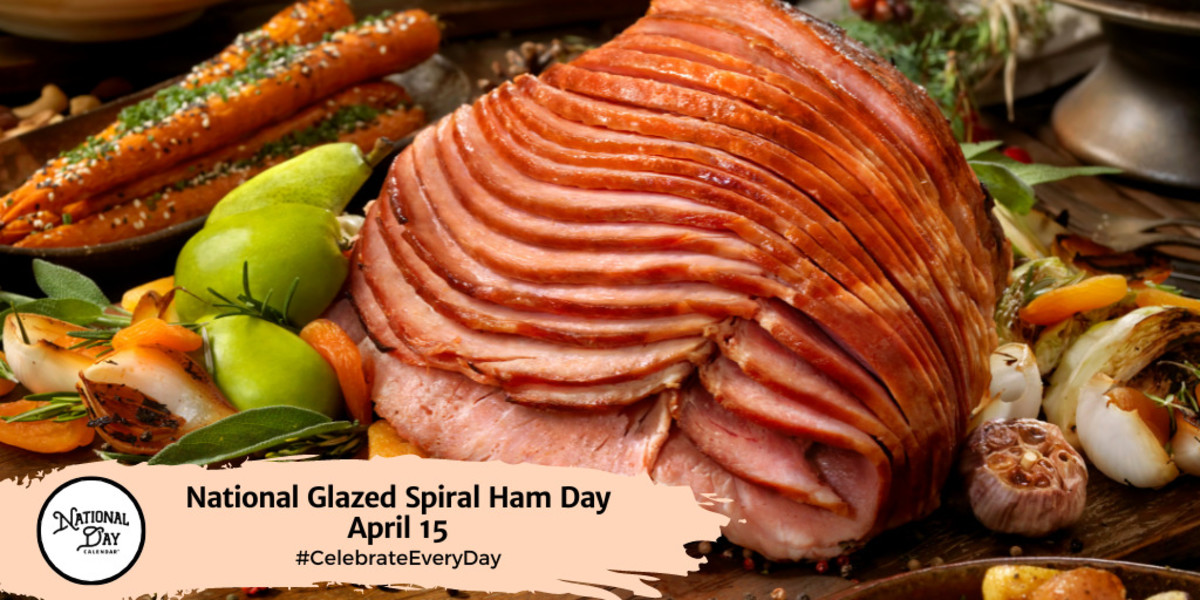 NATIONAL GLAZED SPIRAL HAM DAY
National Glazed Spiral Ham Day on April 15th each year celebrates an innovative and delicious food. This gourmet-looking dish often found at a holiday feast, originated in the basement of Harry J. Hoenselaar. Read more…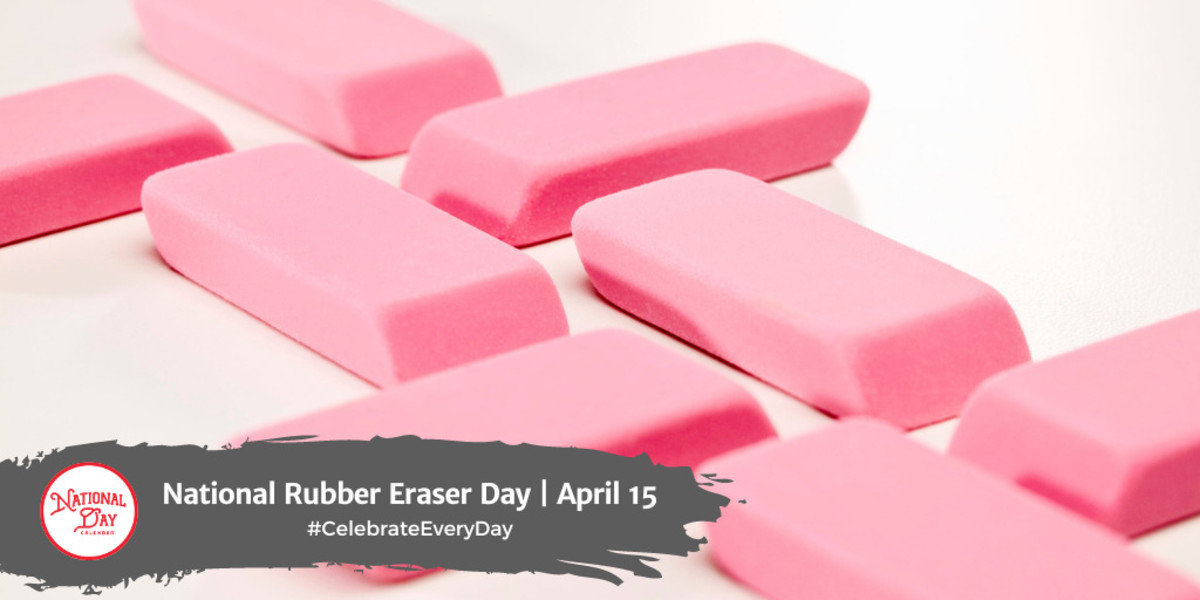 NATIONAL RUBBER ERASER DAY
It's okay to make a mistake. Correcting mistakes since 1770, National Rubber Eraser Day on April 15th commemorates the date the invention first began making written errors disappear. Read more…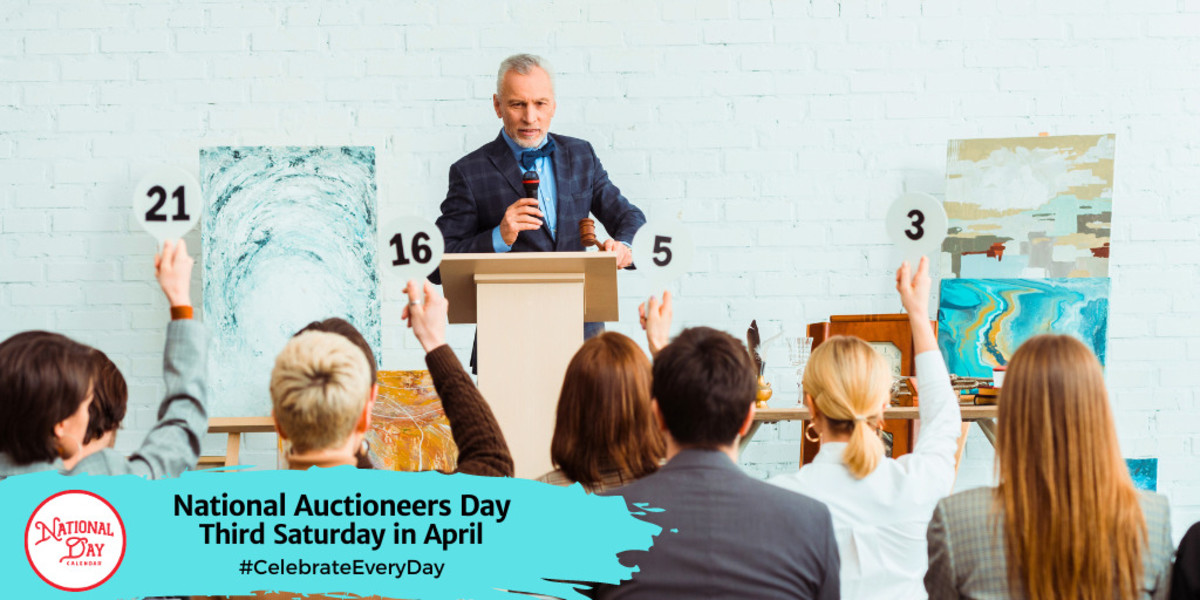 NATIONAL AUCTIONEERS DAY
Each year on the third Thursday in April, National Auctioneers Day recognizes those who hold auctions and take our bids all year long. According to the National Auctioneers Association, it is estimated nearly a quarter-trillion dollars in goods and services are sold by professional auctioneers every year. Read more…
On Deck for April 16, 2023
National Days
National Bean Counter Day
National Orchid Day
National Healthcare Decisions Day
National Wear Your Pajamas To Work Day
National Eggs Benedict Day
Recipe of the Day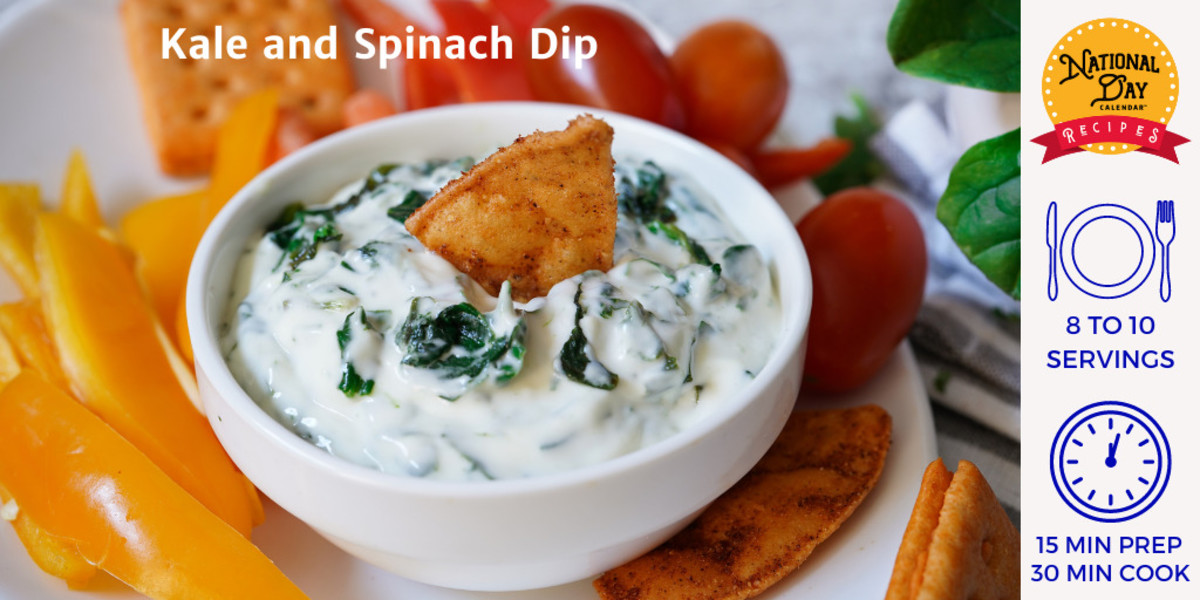 Kale and Spinach Dip
Prep: 15 minutes
Cook: 30 to 35 minutes
Total Prep: 45 to 50 minutes
Servings: 8-10
Ingredients:
1- 8 oz package softened cream cheese
1/2 cup mayonnaise
1/2 cup milk
1 tablespoon oil
1/2 cup finely chopped carrots
1 cup red onion
2 cloves garlic, smashed
1/2 lb kale, roughly chopped
1/2 lb spinach, roughly chopped
1/2 teaspoon salt
1/2 teaspoon freshly ground pepper
1/2 tsp red pepper flakes (optional)
Instructions:
In a large frying pan, heat oil over medium heat. Add garlic and onion and cook until union is soft (about 3 minutes). Add kale and spinach and cook until both are wilted (about 8-10 minutes). Remove from heat set aside to cool.
In large bowl, add cream cheese, mayonnaise and milk together and mix until smooth. Stir in carrots, salt, pepper and red pepper and mix well. Add Kale and spinach and mix until everything is equally distributed. Chill for at least 1 hour.
Serve with toasted baguette slices or crackers.
April 15th Celebrated History
1841
Chief Menominee dies in Kansas a year after his removal from an Indiana reservation. The chief and religious leader of the Potawatomi tribe on a reservation near Plymouth, Indiana, Menominee, refused to willingly give up lands in 1838 as part of the 1836 Treaty of Yellow River. Indiana Troops forcefully removed the village to land in Kansas, during which 42 members of the tribe died. The removal of the Potawatomi Tribe became known as the Trail of Death.
1865
President Abraham Lincoln dies of his wound to the head. Vice President Andrew Johnson took the oath of office at Kirkwood House from Chief Justice Salmon P. Chase.
1912
Titanic sinks in the North Atlantic after hitting an iceberg. More than 1,500 people lose their lives in the icy seas.
1924
The United States mapmaker, Rand McNally, publishes its first edition of the Rand McNally Auto Chum. It would later be renamed Rand McNally Road Atlas. At the time, the book of maps contained no numbered roads and included no index.
April 15th Celebrated Birthdays
Leonardo da Vinci – 1452
The Renaissance polymath is known for his genius in several disciplines. As an inventor, artist, scientist, and mathematician he influenced the generations that followed him. Da Vinci designed human flying machines including a type of helicopter. Some of the world's most treasured works of art include da Vinci's Mona Lisa and The Last Supper.
Henry James – 1843
"It takes a great deal of history to produce a little literature." ~from Henry James' short novel The Europeans (1878)
The American-born author is known for spinning tales that depicted an early realism in literature. Some of his best-known novels include The Turn of The Screw, Daisy Miller, and The American. On January 1, 1916, James received the Order of Merit for his work in literature from King George V.
Emile Durkheim – 1858
The French philosopher devoted his career to sociology and developed the first academic focus in its study at the University of Bordeaux and later the Sorbonne.
Asa Philip Randolph – 1889
In 1925, the civil rights activist organized the Brotherhood of Sleeping Car Porters. He served as the president of the union, which represented thousands of Pullman Porters and maids employed by the Pullman Company.
Bessie Smith – 1894
In the 1920s and 1930s, the Empress of the Blues topped sales for Columbia. And yet the talented jazz and blues singer made her money performing since Columbia paid her no royalties. Smith was often paired with the greats including Louis Armstrong.
Norma Merrick Sklarek – 1928
In 1954, Norma Merrick Sklarek passed her architect license on the first try. Some of the major projects she worked on include The United States Embassy in Tokyo, Japan (1976) and the Mall of America in Minneapolis, Minnesota (1992).
About National Day Calendar
National Day Calendar is the original and authoritative source for fun, unusual and unique National Days! Since our humble beginnings on National Popcorn Day in 2013, we have been tracking the National Days, National Weeks, National Months, and International Days. We became the first calendar of its kind to curate the days all in one place and tell their stories, too! Here at National Day Calendar, we are on a mission to Celebrate Every Day with you! And by you, we mean families, businesses, educators, and strangers we meet on the street. There's more than one day for everyone.
At National Day Calendar, we discovered the National Days have a way of inspiring us. We're honored to tell the stories behind the days and provide you with informational ways to incorporate the National Days into your business, family, schools, and home!