(Last Updated On: March 28, 2023)
APRIL 1, 2023 | NATIONAL LOVE OUR CHILDREN DAY | APRIL FOOLS' DAY | NATIONAL HANDMADE DAY | NATIONAL PLAY OUTSIDE DAY | NATIONAL ONE CENT DAY | NATIONAL SOURDOUGH BREAD DAY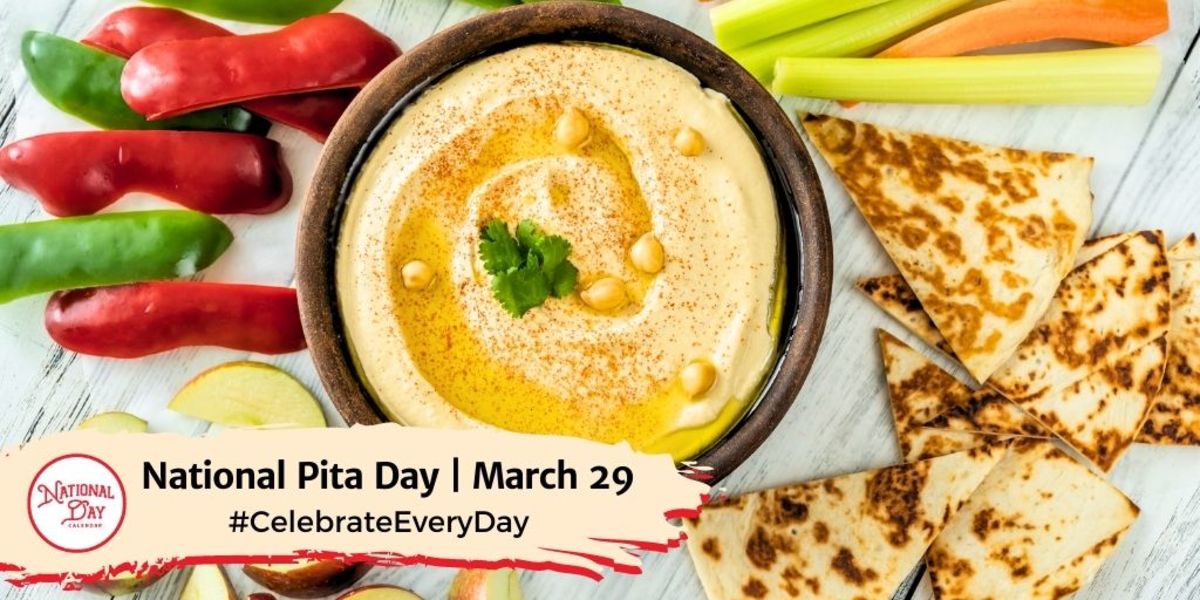 NATIONAL LOVE OUR CHILDREN DAY
National Love Our Children Day on the first Saturday in April focuses on raising awareness on child abuse during National Child Abuse Prevention Month. This day honors all children and encourages us to develop loving, respectful relationships with our children. Read more…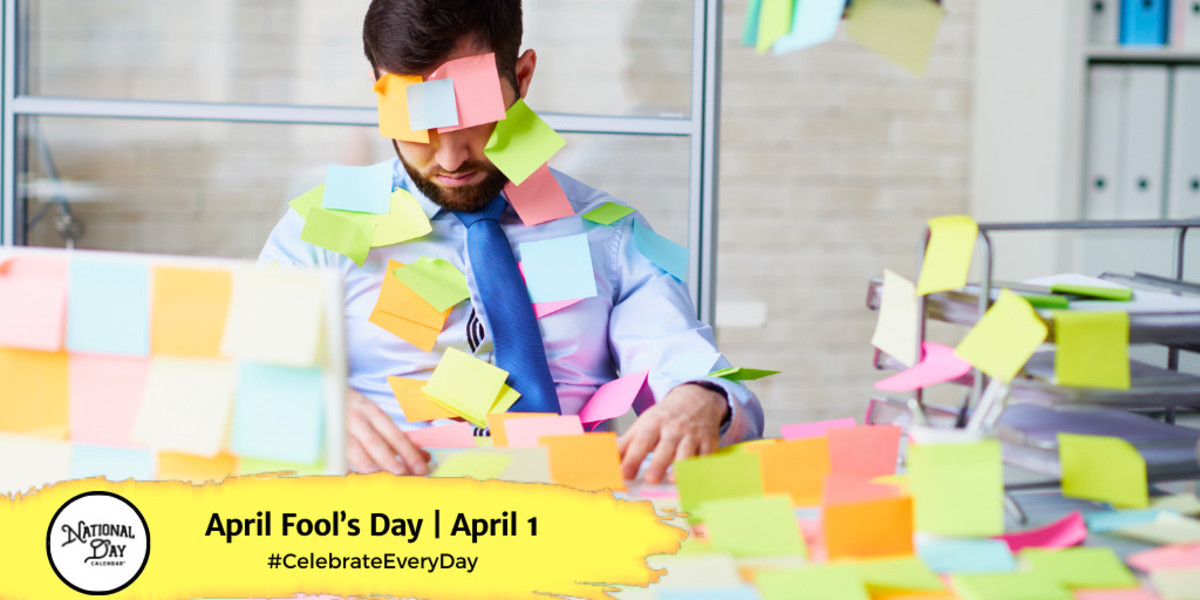 APRIL FOOLS' DAY
April Fools' Day on April 1st has long been a day when practical jokes and tricks are played on the unaware. It's a time when children convince their parents they've broken a bone. Parents get in on the planning, too. Classic April Fools' jokes include caramel covered onions or fake doggy doo-doo in inconvenient places. Businesses launch impractical or unbelievable products for the fun of the day and newspapers print incredible headlines catching readers off guard. Read more…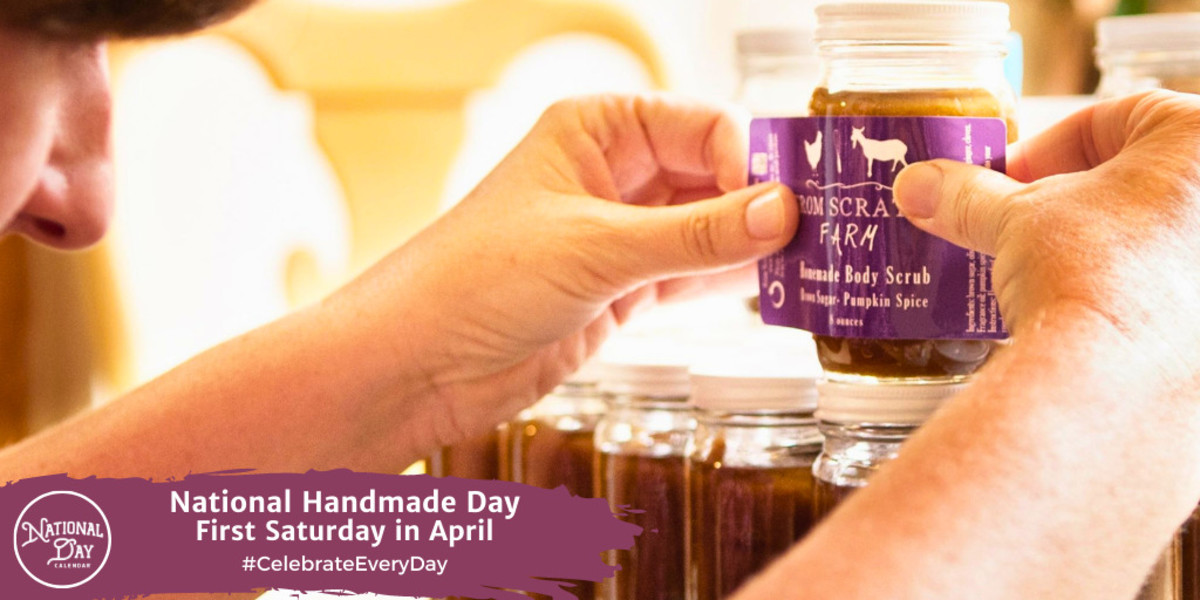 NATIONAL HANDMADE DAY
National Handmade Day on the first Saturday in April recognizes all those who put forth their creative talents into gifts warming the heart and leaving us awed. Read more…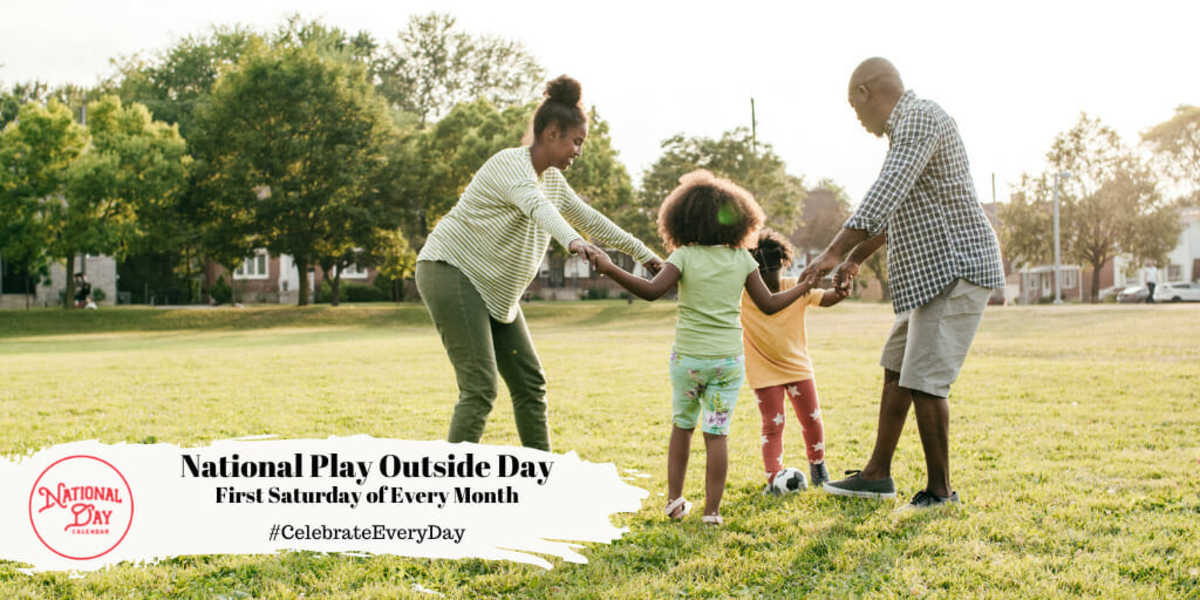 NATIONAL PLAY OUTSIDE DAY
If it's the first Saturday of the month, it's National Play Outside Day. So, no matter what month it is, everyone put down their electronic devices and get outside! Read more…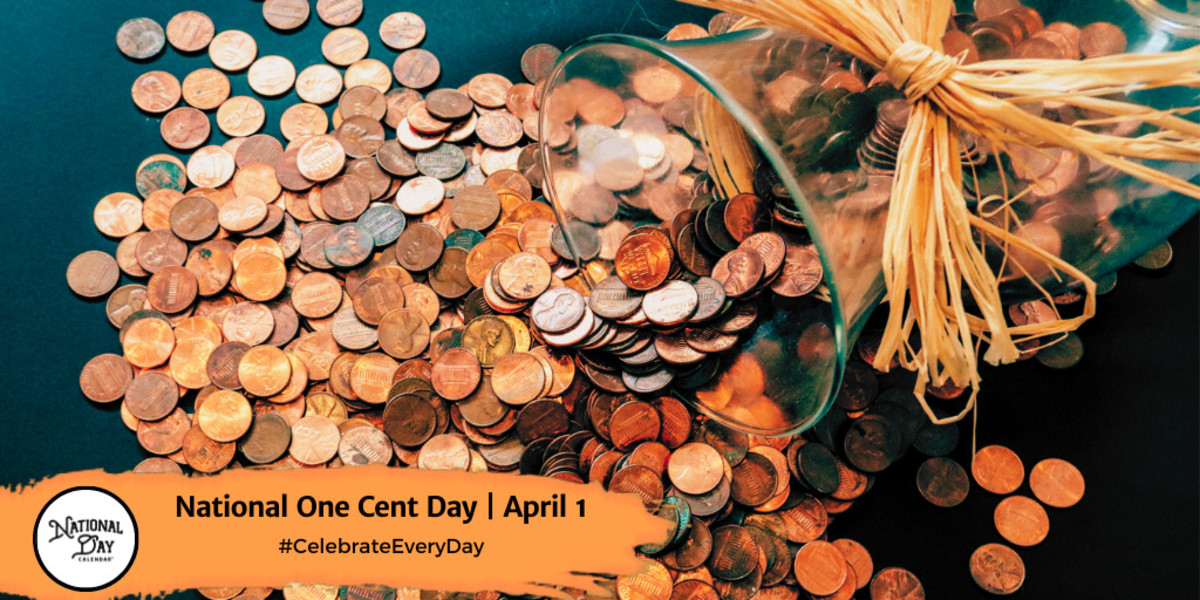 NATIONAL ONE CENT DAY
What do Benjamin Franklin, the phrase "mind your business," April 1st, and National One Cent Day all have in common? The answer is the penny, which we recognize on National One Cent Day. Read more…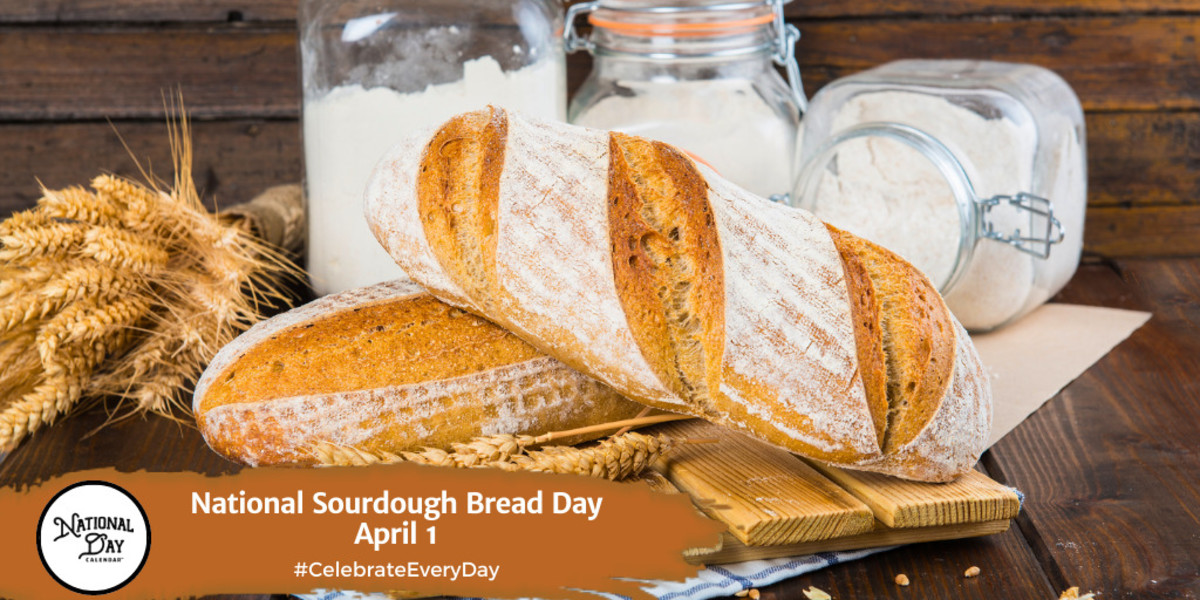 NATIONAL SOURDOUGH BREAD DAY
National Sourdough Bread Day on April 1st recognizes one of the world's oldest leavened breads. Read more…
On Deck for April 2, 2023
National Days
Geologists Day
World Autism Awareness Day
National Education And Sharing Day
National Ferret Day
National Peanut Butter And Jelly Day
National Reconciliation Day
Recipe of the Day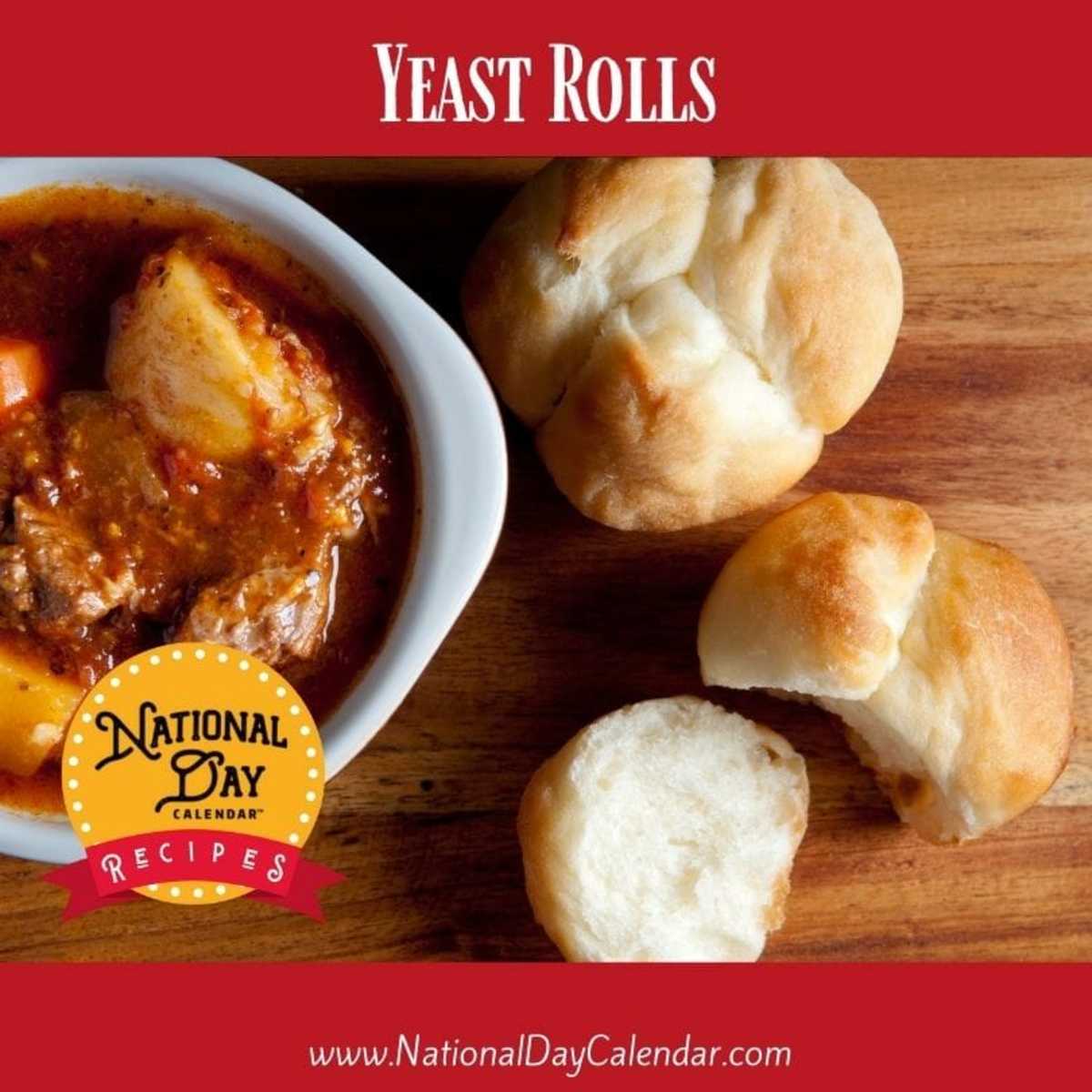 Yeast Rolls
Prep: 10 minutes
Rise: 2 hours 20 minutes
Cook: 15 minutes
Total Prep: 2 hours 45 minutes
Servings: 18
Ingredients:
1package active dry yeast
1/4 cup lukewarm water
3/4 cup lukewarm milk
1/4 cup sugar
1 teaspoon salt
1 egg
1/4 cup margarine or butter
3 1/2 to 3 3/4 cups flour
Instructions:
Dissolve yeast in warm water in a large bowl. Stir in milk, sugar, salt, egg, butter, and 2 cups of flour.
Beat until smooth. Stir in enough of the remaining flour to make the dough easy to handle.
Turn dough onto a lightly floured surface. Knead until smooth and elastic – about 5 minutes.
Oil a large bowl and place the dough in the bowl. Turn once to coat the dough. Cover and let rise in a warm place until the dough doubles in size – about 1 1/2 to 2 hours.
Heat oven to 400 F. Prepare muffin tins using oil, butter, or shortening.
Punch down the dough. Pinch off ping pong ball-sized pieces of dough and roll into balls. Place three into each muffin cup. Cover and let rise for 20 minutes.
Bake for 15 minutes or until golden brown.
Recipe credit: Michele S. – North Dakota
April 1st Celebrated History
1957
Panorama, a BBC television programme, runs a segment on the Swiss spaghetti harvest.
1959
NASA selects its first seven astronauts who become known as the Mercury 7.
They included Scott Carpenter, Gordon Cooper, John Glenn, Gus Grissom, Wally Schirra, Alan Shepard, and Deke Slayton. Of the seven, Alan Shepard would be the first American in space. John Glenn became the first American to orbit the Earth. Gus Grissom would die tragically with two other astronauts (Ed White and Roger Chaffee) when a fire erupted during a pre-launch test for the first manned Apollo 1 flight. They were the first casualties of the NASA space program.
1970
American Motors releases the first Gremlin off the assembly line.
1978
Australian millionaire Dick Smith towed what appeared to be a giant iceberg into Sydney Harbor. It was an accomplishment he had been promising to do for months and now he had. It was also time to chip off chunks and fill everyone's drinks. Well, until his prank was revealed by a sudden rain that washed away fire suppression foam and shaving foam showing a small wooden mountain draped with plastic sheeting loaded on the barge.
1996
The Taco Liberty Bell and other patriotic businesses wipe out National Debt. Or that's what the headlines would have read if their April Fool's prank had gotten carried away. Their full-page ads informed the public that the fast-food chain had purchased the national treasure to offset our nation's debt and encouraged other businesses to do the same.
2019
National Day Calendar releases an article about the successful production of yolkless eggs.
April 1st Celebrated History
Sergei Rachmaninoff – 1873
The Russian pianist and composer produced immensely moving music like his 1901 Piano Concerto No. 2. In 1917, the Russian Revolution drove him and his family out of the country. He eventually settled in the United States where he continued playing and composing until his death in 1948.
Lon Chaney – 1883
Known as the "Man of a Thousand Faces," Lon Chaney literally transformed how we perceive cinema. The actor, make-up artist, and director's pioneering work set the stage for magnificent and compelling artistry and technique. Chaney's influence is still felt throughout the industry today.
Florence Blanchfield – 1884
Florence Blanchfield was the first Army nurse to be granted a regular Army commission. She joined in 1917 and served during World Wars I and II. Her efforts brought about equality in pay and rank to women in the Army and Navy.
Alberta Hunter – 1895
The internationally known jazz and blues singer hung up her microphone in 1954 and pursued a career in practical nursing. Following graduation, Hunter continued her nursing career until 1977 when she picked up her microphone once more.
Anne McCaffrey – 1926
The American Irish writer is best known for her science fiction work, especially her Dragonriders of Pern series. She is a science fiction writer of firsts, becoming the first woman to win both the Hugo Award (1968) and the Nebula Award (1969).
About National Day Calendar
National Day Calendar is the original and authoritative source for fun, unusual and unique National Days! Since our humble beginnings on National Popcorn Day in 2013, we have been tracking the National Days, National Weeks, National Months, and International Days. We became the first calendar of its kind to curate the days all in one place and tell their stories, too! Here at National Day Calendar, we are on a mission to Celebrate Every Day with you! And by you, we mean families, businesses, educators, and strangers we meet on the street. There's more than one day for everyone.
At National Day Calendar, we discovered the National Days have a way of inspiring us. We're honored to tell the stories behind the days and provide you with informational ways to incorporate the National Days into your business, family, schools, and home!