FEBRUARY 22, 2023 | ASH WEDNESDAY | NATIONAL SUPERMARKET EMPLOYEE DAY | NATIONAL MARGARITA DAY | NATIONAL COOK A SWEET POTATO DAY | NATIONAL CALIFORNIA DAY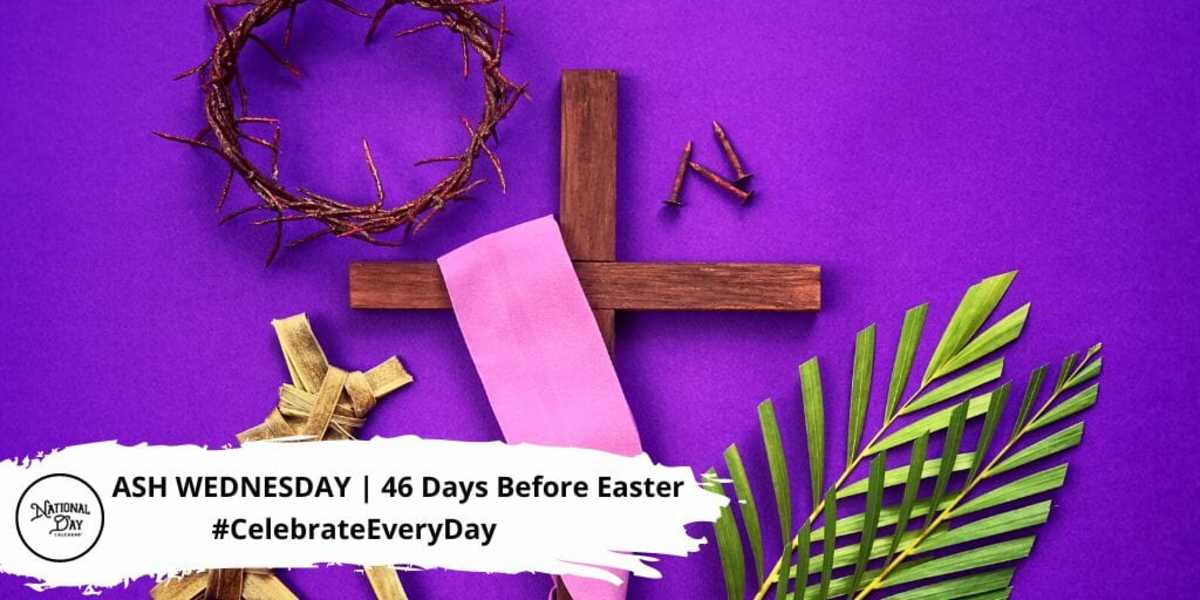 ASH WEDNESDAY
Ash Wednesday signals the beginning of Lenten season for Christians. It takes place 46 days before Easter and the day after Shrove Tuesday. Read more…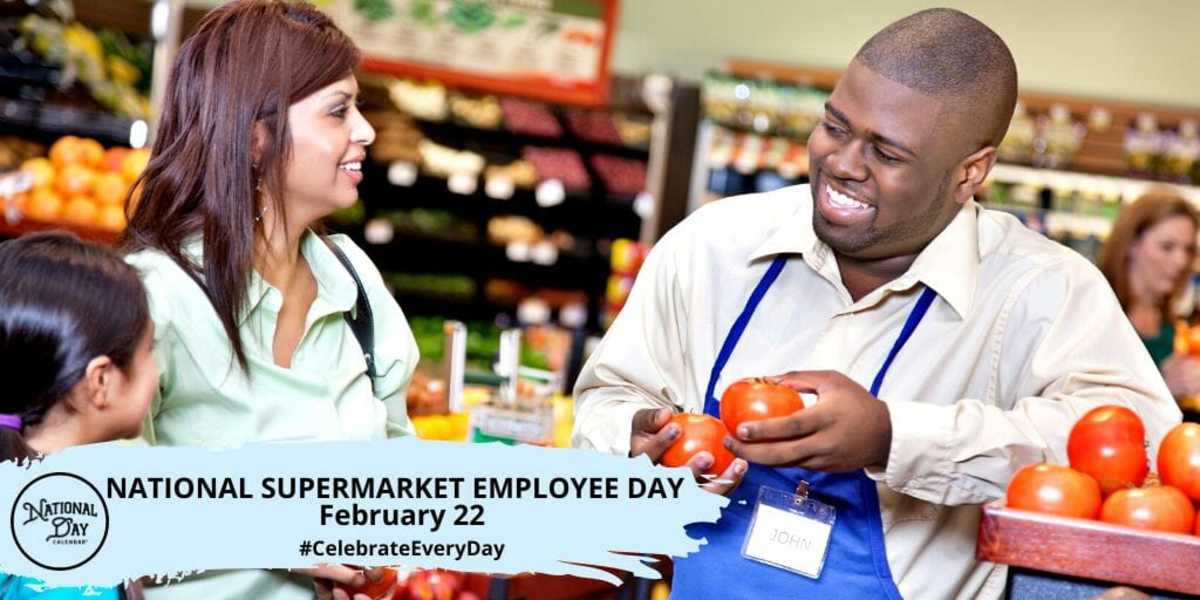 NATIONAL SUPERMARKET EMPLOYEE DAY
Supermarket employees are a vital element of our supply chain and community. That's why Supermarket Employee Day on February 22nd is a time for the food industry to acknowledge employees at every level. Read more…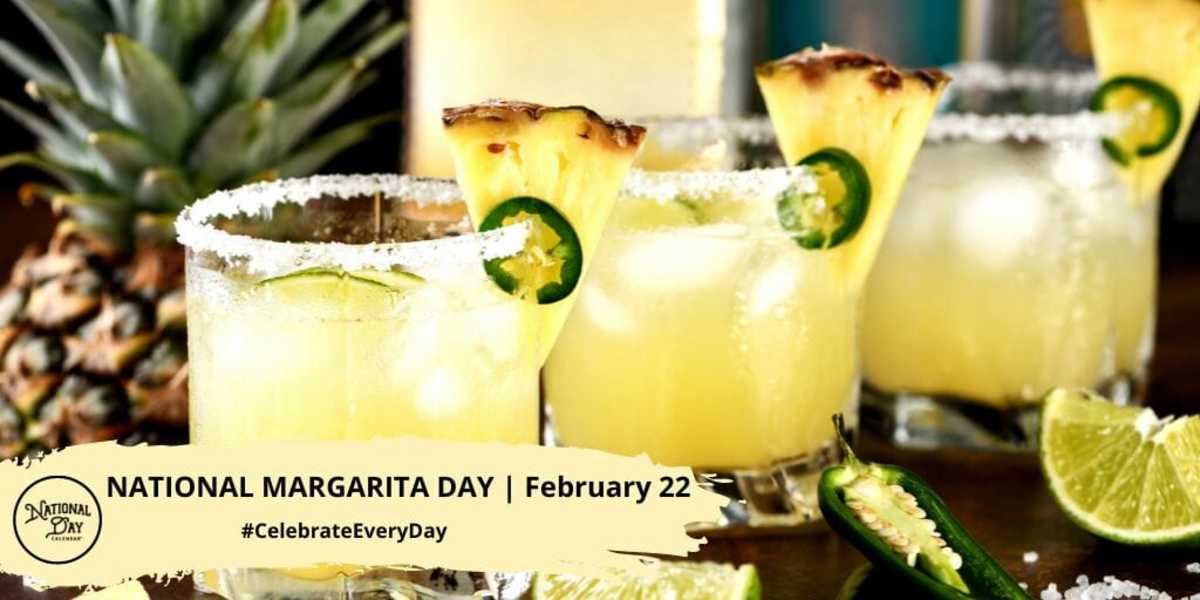 NATIONAL MARGARITA DAY
National Margarita Day on February 22nd rims a glass with salt and serves up a beverage that tastes like the summer sun. Whether you enjoy them on the rocks or blended, this day is for you! Read more…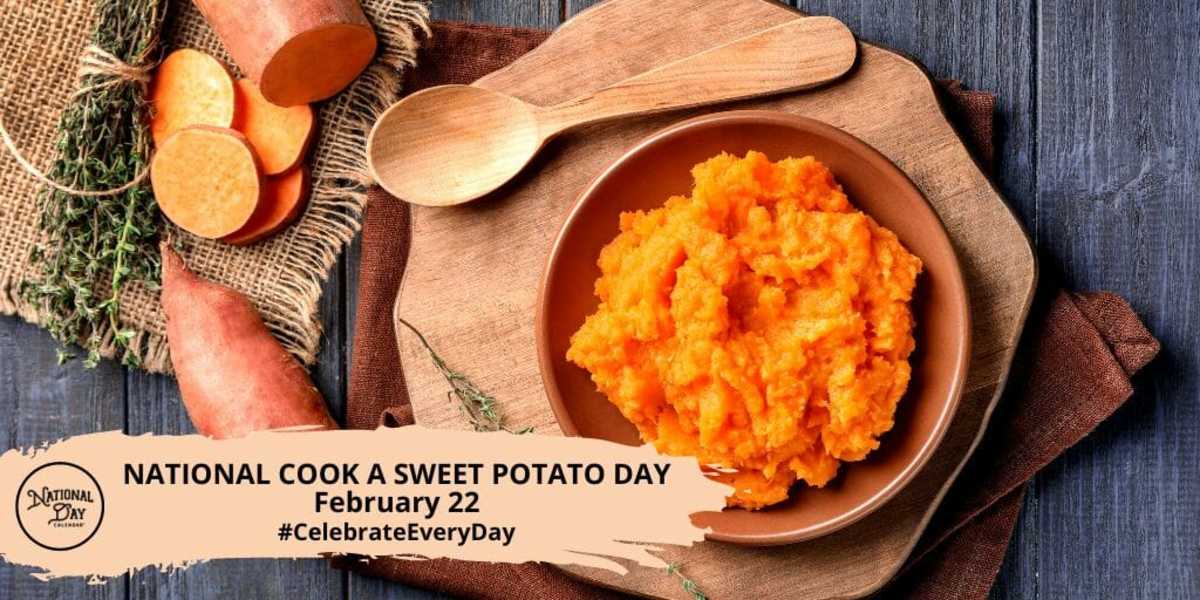 NATIONAL COOK A SWEET POTATO DAY
Across the United States, National Cook A Sweet Potato Day on February 22nd celebrates a root vegetable packed with flavor and a bit of history, too. The sweet potato is eaten and loved, each day, by millions of people across the nation. Read more…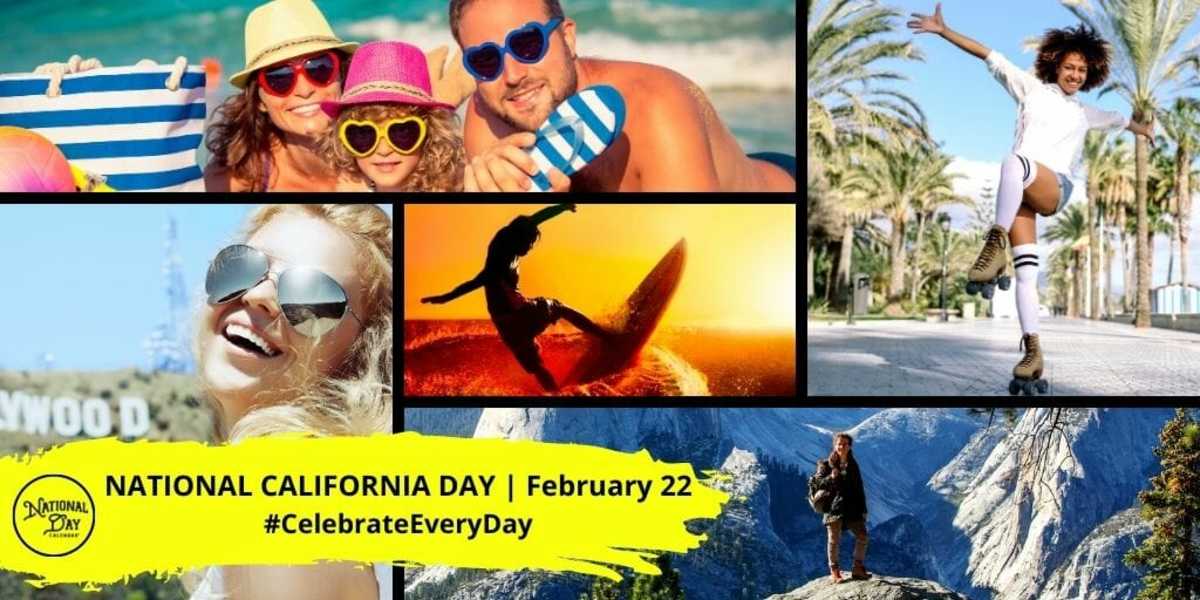 NATIONAL CALIFORNIA DAY
On February 22nd, National California Day recognizes the Golden State. Read more…
On Deck for February 23, 2023
National Days
NATIONAL TILE DAY
NATIONAL TOAST DAY
NATIONAL CHILI DAY
NATIONAL DOG BISCUIT DAY
NATIONAL BANANA BREAD DAY

Recipe of the Day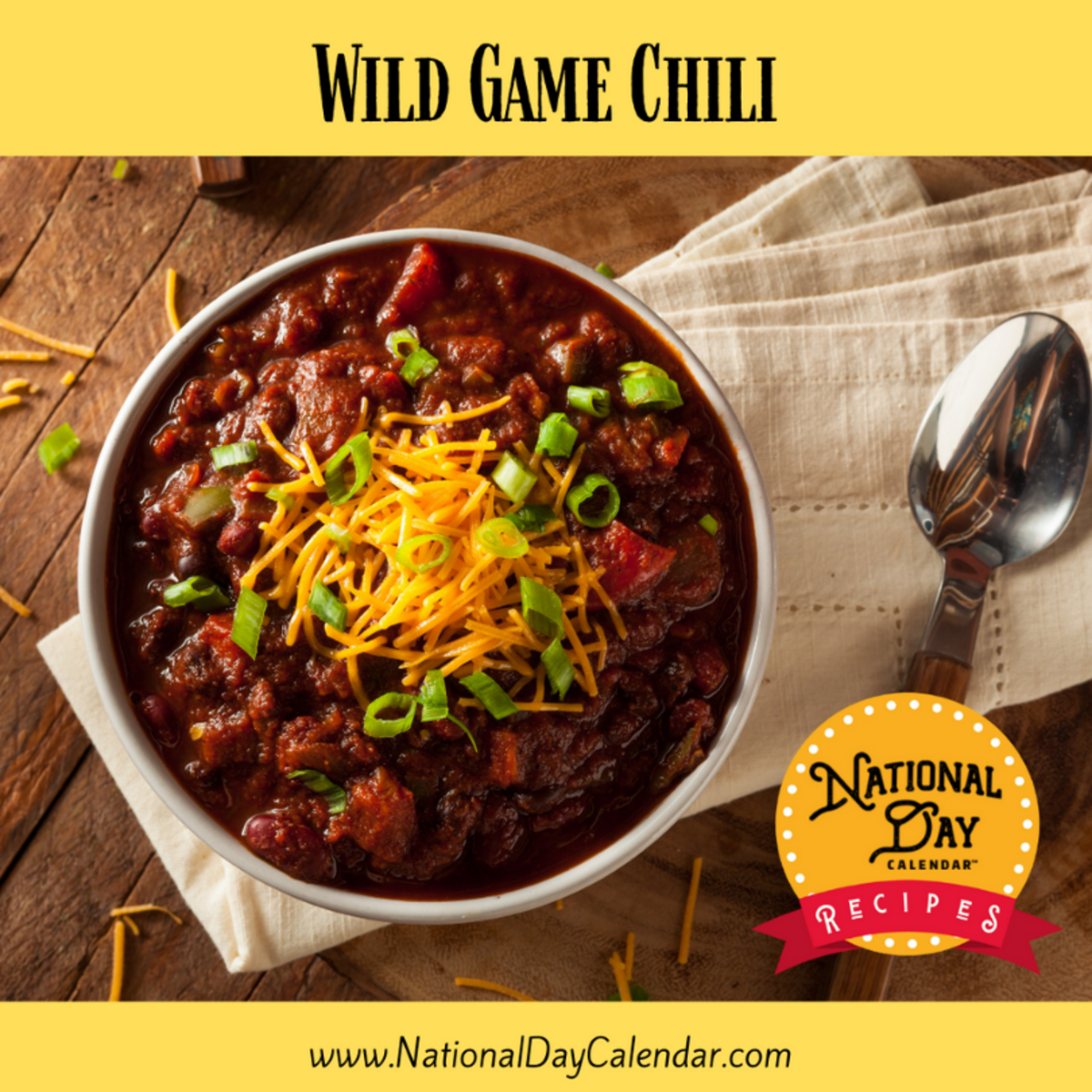 Wild Game Chili
Prep time: 15 minutes
Cook time: 1 hour
Total Cook: 1 hour 15 minutes
Servings: 16
Ingredients
2 tablespoons olive oil
2 onions, diced
2 green peppers diced
3 cloves garlic, minced
1 pound bacon, cut into 1 inch pieces
1 lb ground venison, elk, or moose
1 lb ground bison
1 lb ground pork
2 packages of seasoning mix
1 15-ounce can black beans, drained
1 15-ounce can kidney beans, drained
1 15-ounce can chili beans
1 28-ounce can diced tomatoes
1 4-ounce can green chilis
1 cup frozen or fresh corn
1 16-ounce jar of chunky salsa
1 6-ounce can tomato paste
1 tablespoon liquid smoke
1 bottle/can of beer
Instructions
In a large stew pot or Dutch oven, saute onions and peppers in olive oil over medium-high heat until onions are translucent. Add garlic and cook until fragrant – about 1 minute. Add bacon and cook until crisp. Mix in ground meats and chili seasonings. Brown meat, breaking it up into crumbled pieces. Stir in the remaining ingredients. Let simmer uncovered until the chili has reduced by 1/4 and is thick.
Salt to taste.
Serve topped with sour cream, cheddar cheese, or cottage cheese.
This chili freezes well in sealed containers or freezer bags.
Recipe Credit: Michele S. – North Dakota
February 22nd Celebrated (and Not So Celebrated) History
1879
Just like inventors, businesses are trial and error. Frank Woolworth learned that soon after he opened his first 5 Cent Store in Utica, New York on this day in 1879. The budding entrepreneur with a vision of customers flocking to his store for the 5 cent items they could afford didn't give up. He had that Get Up spirit and opened another store in Lancaster, Pennsylvania but added 10 cent items as well. Soon, he expanded, and in 1912 after merging with other retailers, Woolworth & Co stores were in 37 states.
1959
The first Daytona 500 NASCAR race finished in a thrilling dead heat, requiring judges to review video footage to decide the winner. Lee Petty in a'59 Oldsmobile and Johnny Beauchamp in a '59 Ford Thunderbird crossed the finish line in a photo finish, but there was no technology at the finish line. Three days after the 47,000 spectators went home, judges declared Petty the winner over Beauchamp. in his 1959 Ford Thunderbird.
1980
Known as the Miracle on Ice, the US Men's Olympic hockey team upset the Soviet Union in a 4-3 win to advance to the final round. Lake Placid, New York, hosted the 1980 Winter Olympics, and in the midst of the Cold War, and a dominant Soviet hockey team, the game was a match the whole world was watching.
1988
The Grammy Award for Best Rap Performance goes to…DJ Jazzy Jeff & The Fresh Prince for "Parents Just Don't Understand"!! DJ Jazzy Jeff and Will Smith won the first Grammy Award ever presented at the Grammy's for Rap music.
1997
One sheep, two sheep, three sheep four…zzzzz. Counting sheep earned a whole new meaning when scientists in Scotland at the Roslin Institute announced the first successful birth of a cloned sheep named Dolly.
February 22nd Celebrated (and Not So Celebrated) Birthdays
George Washington – 1732
We know him as the first President of the United States. He was a farmer, a revolutionary, a statesman, and a general. In colonial America, Washington was a common man with a grade school education. He had strengths and weaknesses – some apparent and some revealed much later. Washington was born owning slaves and made his conscience known about the practice as he aged.
William Joseph Klem – 1874
"For it's one, two, three strikes you're out at the old ball game!" Someone had to call the balls and strikes and one of those people was William Joseph Klem. As a professional umpire in Major League Baseball, Klem pioneered the way the world looked at and treated umpires. He brought a dignity to a profession that was often looked upon as lesser than politicians and they were paid less! The fans in the cheap seats can thank him for the hand signals that let you know the call, whether you like it or not. After 37 years as an umpire, Klem left a lasting impression on the sport that is still felt today.
Zitkala-Sa – 1876
She was not only a woman of many names but also one of many cultures and it was her mission to preserve the one most at risk – her Sioux culture. Born Gertrude Simmons, she achieved her mission through many different methods. Zitkala-sa wrote articles, essays, short stories, and books; she was an educator and collaborated with William F. Hanson on the first opera by a Native American – The Sun Dance. In 1926, Zitkala-sa founded the National Council of American Indians.
Robert Wadlow – 1918
He was larger than life but only lived to the age of 22. In those short years, Wadlow grew to 8-feet 11 inches tall, and at the age of 19, he became the world's tallest man at 8-feet, 4 inches tall. Wadlow died in 1940, but he's still the tallest man who ever lived.
Edward Gorey – 1925
If Edward Gorey's surname evokes surreal images and dark tales, then his name fits. The German illustrator and author was known for his macabre work in the mid-20th century. Some of his works include The Beastly Baby, The Gashleycumb Tinies, and The Doubtful Guest.
Michael Chang – 1950
Wins are important celebrations. For Michael Chang, winning the 1989 French Open was significant. Defeating Stefan Edberg was the pinnacle of the day and the major celebration. However, the cherry on top was the fact that Chang was the youngest player to ever win the title.
About National Day Calendar
National Day Calendar is the original and authoritative source for fun, unusual and unique National Days! Since our humble beginnings on National Popcorn Day in 2013, we have been tracking the National Days, National Weeks, National Months, and International Days. We became the first calendar of its kind to curate the days all in one place and tell their stories, too! Here at National Day Calendar, we are on a mission to Celebrate Every Day with you! And by you, we mean families, businesses, educators, and strangers we meet on the street. There's more than one day for everyone.
At National Day Calendar, we discovered the National Days have a way of inspiring us. We're honored to tell the stories behind the days and provide you with informational ways to incorporate the National Days into your business, family, schools, and home!